November 2, 2018
Greenwich Swim/Dive Team Takes Another FCIAC Championship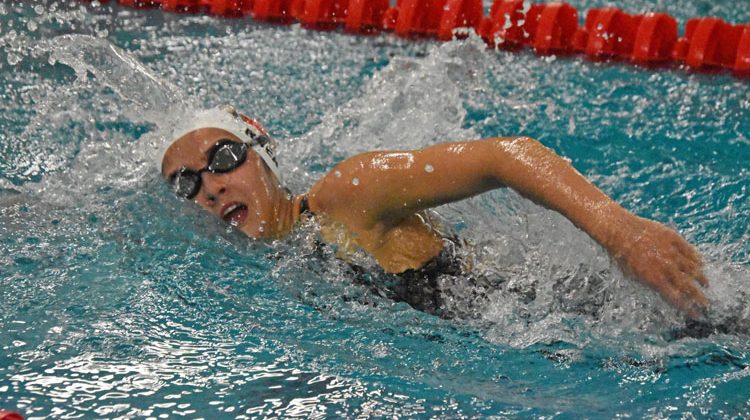 By Paul Silverfarb
Sentinel Editor
Winning never gets old for Lorrie Hokayem and the rest of the Greenwich High School girls swimming and diving team. After an undefeated regular season, the Lady Cardinals began play postseason play in grand fashion, taking the Fairfield County Interscholastic Athletic Conference championship Thursday night at the GHS pool.
"I am extremely proud of the team," said GHS senior Alison Brea. "I think we were all really supportive of each other and it was a great team effort. I think everybody stepped up the blocks and really swam their hearts out. I am so proud of this team as a whole. We were great tonight. We lost 14 seniors last year, so that was something that we knew that we had to get past this year and we did that."
In yet another highly-talented field, it was Big Red that took home the gold, posting 363.50 points. The next closest team was Darien, as the Blue Wave took home second overall with 298 points. In third was Wilton High School, as they ended the night with 265 points. In fourth place was Ridgefield with 257 points and Staples High school rounded out the top five with 254 points.
"This is a great team," Hokayem said. "We've been working really hard. We have a lot of young kids, as there are a lot of freshmen and sophomores. This team swam a really great trials and really had a fantastic finals. We had different people step up at different times. It was a great day. Winning FCIACs two years in a row is not easy because the competition is amazing."
Even before the teams put a toe in the pool at Greenwich High, the GHS girls' diving team took care of business during the FCIAC diving championship a few days earlier and gave the team a huge advantage leading up to the swim finals. In total, four Greenwich High swimmers took the top six spots.
Leading the way was senior Maddie Muldoon, as she finished with a tally of 454.45 points. Not to be outdone was teammate Regina Frias, as the junior placed second overall with 443.30 points. Right behind her with the bronze was senior Annabelle Pollack, as she ended the night with 441.45 points. Rounding out the scoring for Big Red was junior Kathryn Kirsch, a she took home the sixth spot and netted 400.65 points.
All the girls dove insanely great and I am so proud of them," said GHS diving coach Sergey Meshcherskiy. "We had some competition from Darien and New Canaan was strong as usual. Seniors Maddie and Annabelle were leaders for us the entire season and they were key to us finishing where we did. I so proud of them. At a championship meet, it's not about time and about speed, it's about skill and about concentrating at the right moment for certain dives."
Leading the way for Greenwich in the pool during the FCIAC swimming finals was Meghan Lynch, as the sophomore took first place in both the 200-yard individual medley and the 100-yard freestyle. In addition, she helped anchor the 400-yard freestyle relay to the top spot and her 200-yard medley relay team finished third overall.
"This was really exciting," said Lynch. "I knew it was going to be a close one because we had a lot of close meets in our dual meets. It was great because I am so close to my times and we haven't even gone easier in practice. This meet is always the toughest and I am glad that we won it. It shows that all our hard work pays off."
Because of her dominance in the pool, Lynch tied Staples High School's Marissa Healy for co-MVP honors for the FCIAC championship meet.
"I felt really good in the pool," Lynch said. "After my races I was kind of tired, but I think that will get better as we start to ease off a little bit in training. I felt good and it is great to be a part of a team that's an FCIAC champion."
Individually Lynch got things rolling in the 200-yard IM, as her time of 2:01.55 was the fastest by over three seconds, as Staples' Esme Hunter took second with a time of 2:04.90. Lynch kept the good times rolling in the 100-yard free, as she outdueled Darien's Kelly Dolce and took top honors with a time of 51.34 seconds. Dolce touched the wall with a time of 52.69.
"Meghan was absolutely phenomenal," said Hokayem. "She's in a league ahead of everybody else. She's such a great athlete and such a great teammate. She's the best swimmer in the state. She's a great competitor and someone that you definitely want to anchor a relay or compete in a championship heat."
In addition to Lynch, Big Red had a plethora of finishers that scored some key points for the team.
Sophomore Hannah Seward competed in the 100-yard butterfly and finished the event second overall, netting a time of 57.69. She also took to the pool during the 50-yard freestyle and touched the wall with a top five finish. Her time of 24.71 was good enough for fourth place overall.
Competing in the longest event of the night, the 500-yard freestyle, GHS senior Allison Brea was neck-in-neck with Wilton's Anais Wentzel. However in the end, it was Brea who touched the wall first, posting a time of 5:12.55 that was good enough for the silver. Wentzel's third-place time was 5:12.89.
"My races were definitely tough, as I had to swim some of the longer races and do it against some really tough competition," Brea said. "But I am really happy with my results. I had two personal best times today and I couldn't be happier with the way I swam."
Brea also competed in the 200-yard freestyle event and placed 11th overall, posting a time of 1:57.87 and just missed out on a top 10 finish, as New Canaan's Nicole Vanderlee grabbed 10th with a time of 1:57.57.
Greenwich senior Emily Warner also was solid throughout the FCIAC championship meet. She competed in the 200-yard freestyle and posted an eighth-place time of 1:57.45. She also battled in the 100-yard freestyle and ended the night 11th overall with a time of 54.09.
Also competing in the 100-yard freestyle was junior Jenna Handali, as she finished eighth in the championship heat with a time of 53.69. Eight was the magic number for Handali, as the junior grabbed that spot in the 50-yard freestyle as well, netting a time of 25.03.
Joining Lynch in the 200-IM was sophomore Samantha Ennis, as she won the consolation heat championship and posted a time of 2:12.70, which would have given her a sixth-place finish in the championship meet.
Ennis fared better in the 100-yard backstroke, as her time of 59.04 placed her sixth overall. Ennis just missed out on a top five spot, as Westhill/Stamford's Faith Somody grabbed a time of 58.68.
GHS freshman Caterina Li gave some big time points for Greenwich down the stretch. Her time of 1:08.71 in the 100-yard breaststroke placed her sixth overall and she edged out Wilton's Wentzel, who touched the wall seventh with a time of 1:08.91. Li also represented GHS in the 200-yard IM, finishing 11th overall and posting a time of 2:15.46.
Greenwich added a second swimmer to the top 10 list in the 500-yard freestyle, as senior Kortney Knudsen ended the night seventh overall, finishing with a time of 5:20.74. Knudsen also competed in the first individual event of the night, the 200-yard freestyle, finishing 16th overall (1:59.35).
When it came to the relays, Greenwich's 400-yard freestyle team highlighted the night. The team of Warner, Seward, Handali and Lynch outpaced the field and took home the gold, netting a time of 3:31.28. Ridgefield was second with a time of 3:32.74.
Competing in the first event of the night, the 200-yard medley relay, the GHS foursome of Ennis, Lynch, Seward and Alexan de la Sierra picked up the bronze, netting a time of 1:48.66. They were mere inches away from second place, but Trumbull took that spot with a time of 1:48.62.
In the 200-yard freestyle relay, Handali, de la Sierra, Knudsen and Warner finished with a time of 1:40.30 and that was good enough for fifth on the night.
Tags:
CIAC
,
ctdive
,
ctswim
,
FCIAC
,
greenwich
,
Greenwich Diving
,
Greenwich High School
,
Greenwich Swimming
,
Lorrie Hokayem