October 18, 2018
Town Announces First 'Experience Greenwich Week'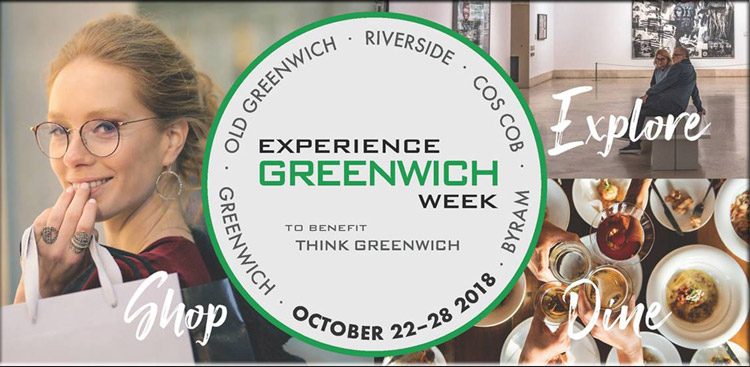 The Town of Greenwich announced its first annual "Experience Greenwich Week," a town-wide economic development enhancement initiative that will take place Oct. 22 to 28. The initiative will feature in-store promotions, experiences and dining specials at more than 150 merchants spanning Greenwich, Byram, Cos Cob, Riverside and Old Greenwich. Participants include retail stores, restaurants, fine arts galleries and the Bruce Museum. Experience Greenwich Week was developed to promote local businesses and to drive awareness to the town's many offerings for visitors from across the U.S. in addition to local and regional residents.
"Our goal with Experience Greenwich Week is to support the local businesses that make our town a true destination," says Peter J. Tesei, First Selectman. "With this initiative, we can help support the many cultural institutions, art galleries, incredible restaurants and shops that make Greenwich what it is today."
Experience Greenwich Week will offer a variety of promotions and events appealing to visitors and residents of all ages, including a screening of The Rocky Horror Picture Show at the Byram Veterans Association, a trunk show and refreshments at Richards of Greenwich, hayrides to the pumpkin patch and Touch-a-Truck at Sam Bridge Nursery & Greenhouse and the annual Adopt-A-Dog Howl and Prowl.
The town's Art Walk, consisting of 18 fine arts galleries, will be accompanied by a public art mural project showcasing several contemporary murals by local and regional artists throughout Greenwich.
Experience Greenwich Week Passports will be available at participating merchant locations and will include the chance to win one of more than 25 "Greenwich Experiences," as featured on the Event Schedule page on the event's website. To enter to win, guests must visit six participating merchants, dine at two participating restaurants and experience two participating art galleries between Oct. 22 to 28.
A portion of the event's proceeds will benefit Think Greenwich, a town-wide initiative designed to promote Greenwich as a premier destination to live, work and play.
For more information and a complete list of participating merchants, please visit experiencegreenwichweek.com or call 203-531-3047.