October 11, 2018
Walking to Remember Donna Marie Camillo, Fight Childhood Cancer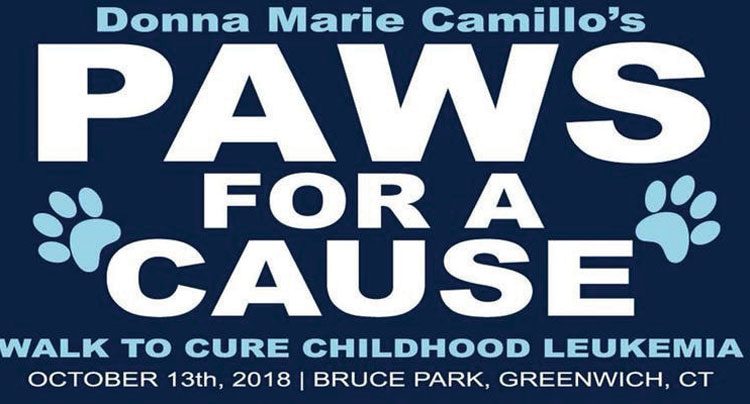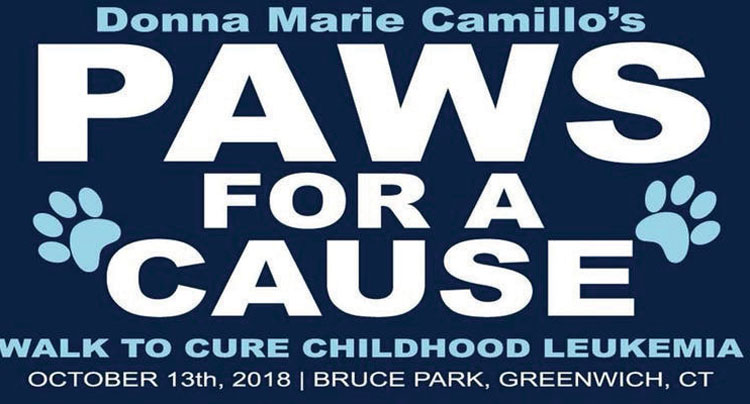 By Paul Silverfarb
Sentinel Editor
It is said that sometimes a tragic event brings out the best in people. Fred Camillo is one of those believers.
After a last year's highly successful inaugural Donna Marie Camillo's Paws For A Cause walk to cure childhood leukemia, the event will be back in Greenwich this Saturday, at Bruce Park.
"We have had a lot of these in the past few years and have a bunch more to go," Camillo said. "But having these events, not only to honor a person but to help an organization as well, helps bring a community together. It shows that we are there for each other. It's about doing things for others and not for ourselves, and this community really proves that all the time. There's always an event and always a charity, and people are giving. They are giving, not only their money, but also their time and effort, and it reaffirms your faith in humanity. Sometimes, the most tragic circumstances truly bring out the best of the human spirit."
This year's event will kick off in Bruce Park, on Wood Road, at 9 a.m., and will benefit the Leukemia & Lymphoma Society and Lynn Gulli. An elementary school student at Julian Curtiss School, Gulli has been battling acute lymphoblastic leukemia since April, 2017.
"She's battling leukemia now and she's just an energetic and outgoing young woman who everybody loves," Camillo said. "We are all going to be there for her and we are not going to walk for her, we will walk with her. Lynn is going to be at the walk, too, and that will be very special."
Gulli's parents started The Willow Project, which is a community fund that supports Greenwich families that have children battling cancer.
The walk is Camillo's tribute to his sister, Donna Marie Camillo, who lost her life to leukemia back in 1968, at the age of 11. For years leading up to the first annual walk, Camillo was pondering this walk and knew that the time was now to get the ball rolling on Paws For A Cause.
"If I didn't do it last year, I would never do it," Camillo said. "I wanted to do a yearly thing to honor my sister. When she died of leukemia, in 1968, there was no cure; now there's a 90% cure for childhood leukemia. What I wanted to do is keep on doing this until there is a 100% cure. And, when there's a 100% cure, I would do something for all childhood cancers. Instead of giving half the money to the Leukemia and Lymphoma Society, I'll give it to Sloans, who helped me, and the other half to organizations and half to a kid that's battling cancer or leukemia.
Last year, Paws For A Cause benefited Cos Cob resident Zack Price, who is battling childhood cancer. Since last year's walk, Price has been improving and will actually be at this year's walk.
And, of course, while it was important to have people walk throughout Bruce Park to raise money for a good cause and to remember his sister, Camillo calls the event Paws For A Cause for a reason, as he wanted to make sure that his four-legged friends were able to participate (on a leash).
To register for the walk or to donate, click here.
Tags:
childhood cancer
,
childhood leukemia
,
Donna Marie Camillo
,
Fred Camillo
,
julian curtiss school
,
leukemia
,
Leukemia & Lymphoma Society
,
Paws For A Cause