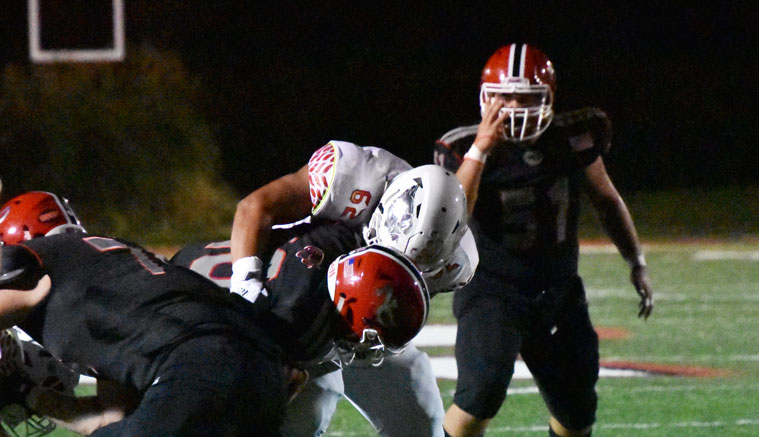 By Paul Silverfarb
Sentinel Editor
In the battle of top teams in the FCIAC, as well as the State of Connecticut, the Greenwich High School football team exploded out of the gate against New Canaan High School, scoring 21 points in the first six minutes en route to a 42-14 victory over the Rams Saturday night at Dunning Field.
This is so amazing," said GHS senior wideout Lance Large. "To play a team like that and to play the way that we played really shows the team that we are. It was a lot of fun and my teammates were great. The coaches really set us up great and we had a great game plan. It also helps that we came into this game, probably, with the best week of practice all season. The scout teams really helped prepare us because New Canaan has some outstanding players."
For Greenwich head coach John Marinelli, the victory is certainly bittersweet. Of course he wants to see his team play well and come out with a victory. However, in order to get that victory against one of the premier teams in the state, that means Marinelli would have to win against, not only the team that he was an assistant on, but the football program that his legendary father, Lou Marinelli, heads.
"It's such an emotional week," said John Marinelli. "I don't want [New Canaan] to lose and I don't want [Lou] to lose. It's a tough week.
Tysen Comizio had himself a game against New Canaan, as the senior running back not only led the team in rushing yards, but also paced Big Red in its aerial assault. On the ground Comizio took home 90 yards on 20 carries and also grabbed three receptions from GHS quarterback Gavin Muir and added 115 yards.
Comizio also netted a touchdown both in the air and on the ground.
In addition to Comizio, Muir was once again a solid contributor, as the GHS quarterback finished the game going 13-for-20 for 241 yards and netting three touchdowns. In addition, Muir called his own number twice and crossed goal line both times.
"He's under the radar and he likes that," John Marinelli said. "Wherever he goes to school next year, they'll have a great one. That kid is competitor. He's a captain of the baseball team too. He just competes, competes and competes. He doesn't want to be outworked."
Not to be outdone was the receiving duo of Stephen Bennett and Lance Large. Both senior wideouts grabbed the ball three times and both finished with one touchdown piece. Bennett netted 75 yards on the day, while Large finished with 42.
"Our receivers are good," John Marinelli said. Our receivers get open. They are all smart. There's no a receiver on our starting line that has below a 4.1 GPA. They are smart and know how to get open. We took advantage of things
Once again, Greenwich's defense was lights out. Although they gave up their first points since the opening quarter against Trumbull High School back on Sept. 8, they were still dominating against New Canaan. Ryan Raybuck wasn't to be denied, as he finished with an interception, a fumble recovery and seven tackles. Jack Feda took home six tackles and Evan Weigold pitched in with 4.5. Mozi Bici grabbed four, while Emilio Camou took home 3.5 solo tackles.
The group of Charlie Ducret, Hunter Cusimano and Nick Veronis each finished the game with three tackles.
In addition, Bici finished with two of the team's three sacks on the day. Edward Iuteri pitched in with the other.
"We are pretty amped us," Iuteri said. "To see all our work in practice pay off like this is a great feeling. There's nothing better than that. We had a hard week of practice, so to see everybody step up was great. We were looking to come out here and start off with a punch, and we did that. We knew that this game was going to be a dog fight.
Greenwich started out against New Canaan in grand fashion, scoring three time in the first six minutes of the contest.
Big Red received the opening kickoff and the 10-play drive was capped off when Muir stepped back and found Large in the corner of the end zone for the 7-0 lead with 9:51 to play. The key to the drive was Comizio's 16-yard scamper on third down and 5.
After the Rams were forced to punt on their first possession, Greenwich gained control of the ball on the NCHS 41-yard line. On the fourth play of the drive, Muir ran it in for the 1-yard score, however it was 36-yard pass completion to Bennett that set up the score and 14-0 lead with 7:02 to play in the first.
Raybuck kept the good times rolling for Big Red. On the ensuing kickoff, NCHS fumbled the ball and Raybuck was there for the recovery. And one play later, Muir was at it again, as he found a wide-open Bennett in the corner of the end zone for the 32-yard touchdown reception and 21-0 lead with 6:44 to play in the first.
"A 7 p.m. game on a Saturday is kind of weird," John Marinelli said. "But I give them all the credit in the world. They came out ready to play and they brought the intensity. I was worried about if they couldn't match it or if they are going to come out as fast because they needed this game. But the way that we came was just impressive."
To read much more on the game, check out Friday's Greenwich Sentinel.