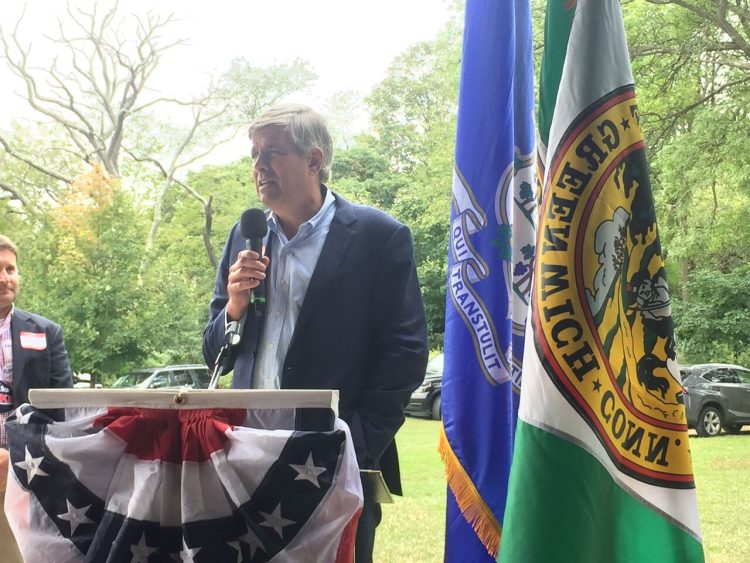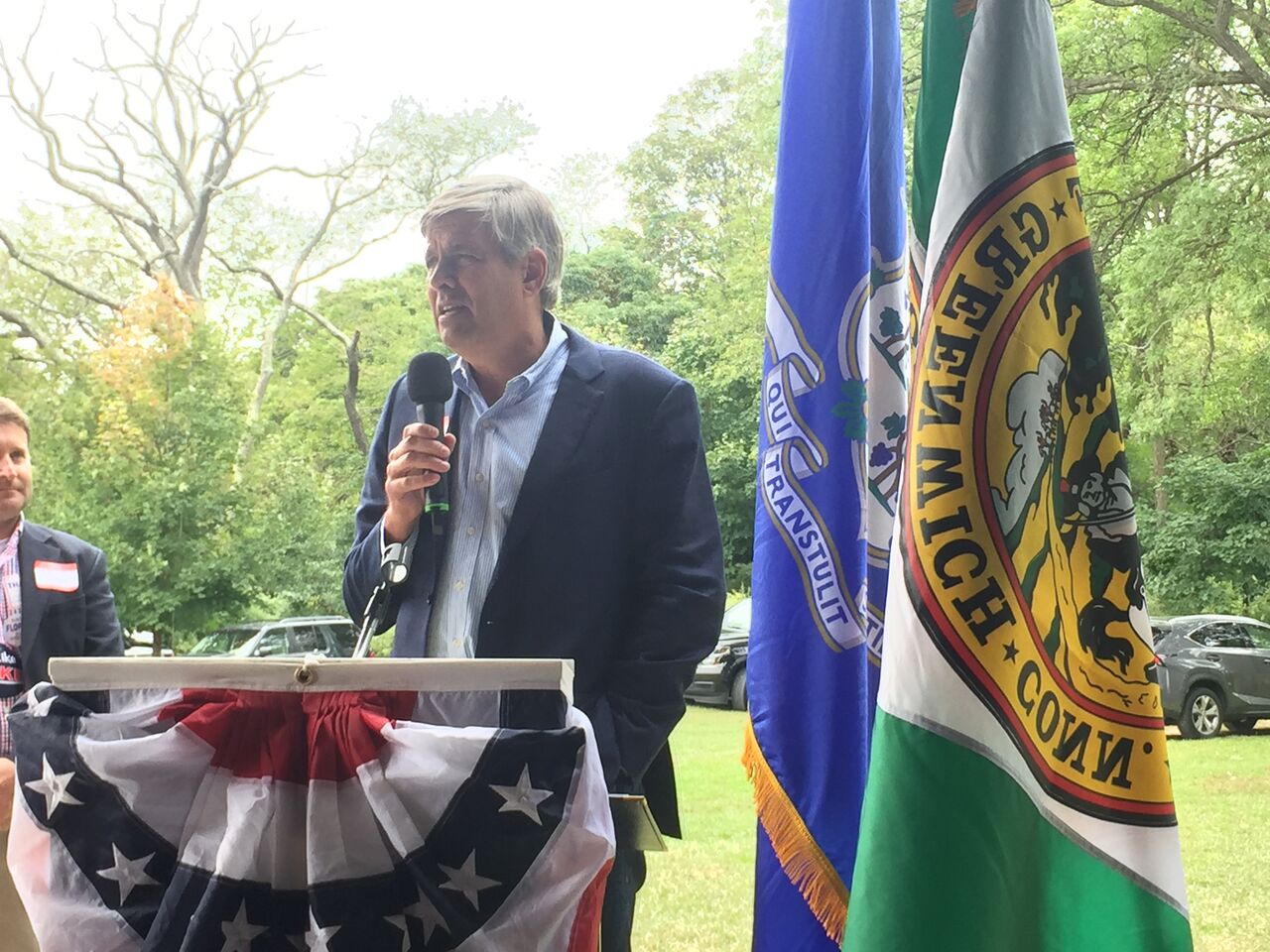 By Richard Kaufman
Sentinel Reporter
The theme of this year's Cos Cob Republican Club and Republican Town Committee's annual clambake and campaign rally is, "Take Back Connecticut," and the GOP candidates for statewide office, as well as Greenwich's delegation to Hartford, are eager to do just that.
Last Sunday, town Republicans and several candidates gathered at Greenwich Point to officially kick off the campaign season. The mid-term election will be held on Tuesday, Nov. 6. 
Greenwich RTC Chair, Richard DiPreta, said the GOP has had enough of the "downward economic spiral" in the state of Connecticut. He said that Democrats will introduce higher taxes, more spending and tolls. 
"I say enough is enough. Our Republican candidates, with [gubernatorial candidate] Bob Stefanowski at the top of the ticket, is the answer. Less taxes, less spending, smaller government, what Republicans stand for."
Stefanowski, a former businesses executive at UBS and General Electric, from Madison, Conn., spoke briefly last Sunday to a crowd of nearly 300 people.
He talked about the importance of turning Connecticut's economy around, and rebuked the current governor, Dannel Malloy, and those who share the same views on policies. Stefanowski is facing off against Greenwich resident, Ned Lamont.
"People are tired of this economy, they're tired of Dan Malloy, and they realize Ned Lamont is going to be a continuation of the horrible economic policy of Dan Malloy, and that's how we're going to win this thing," Stefanowski said.
Stefanowski said that while it's important to win the governor's race, it's imperative for Republicans to capture the House and Senate.
Greenwich resident, Harry Arora, who is battling incumbent Jim Himes to represent the 4th Congressional District, said he's running to help turn the state around.
"I believe America is the greatest country on earth and we need to make sure we have policies so it stays forever the greatest country on earth," he said.
Other speakers included state GOP Chair, J.R. Romano; State Treasurer candidate, Thad Gray; Attorney General candidate, Sue Hatfield; and Comptroller candidate, Kurt Miller.
Greenwich's delegation to Hartford spoke as well, and touted its accomplishments in office over the last several years. Each candidate pointed to the balance in the legislature as reasons why things were able to get done in Hartford, and that a majority rule would act as a roadblock on certain Democratic policies. 
State Sen. Scott Frantz will run against Alex Bergstein for the 36th district; Fred Camillo is taking on Laura Kostin for the 151st; and Michael Bocchino is going up against Stephen Meskers for the 150th. Livvy Floren (149th) is running unopposed. 
Frantz laid out the reasons why he's optimistic for the future of the state of Connecticut.
Frantz mentioned the two bipartisan budgets which were passed in the last eight months, and the addition of a spending cap, bonding cap, and volatility cap as changes that will help Connecticut stay on the right path.
"I'm an optimist because the voters finally get it. They're sick and tired of majority party rule, single party rule," Frantz said. "Look at what we've gotten done. There's been nothing quite like this in multiple generations. It's so terrific for all of you people who pay taxes to live here in the state of Connecticut."
Camillo said that Democrats are trying to put President Donald Trump on the ballot, when the real problem has been the Democratic leadership up in Hartford over the past eight years.
"[They've] driven the state into a ditch. They're doing everything they can to get away from that record. When you go out there in the community, all we ask is you talk about the records. Our records and our visions for what's going forward," Camillo said. 
Camillo noted that Republicans have stopped tax increases over the past two years, and fought for a phase-out of taxes on pensions and social security.
"We pushed the estate level exclusion from $2 million up to a federal mark. These are all things that will help people stay in the state of Connecticut," Camillo added.
Bocchino praised Stefanowski and talked about the importance of winning in the legislature. 
"We need to get rid of those people who are going to support Dan Malloy's policies and are going to do the same thing for Ned Lamont. We need to take majority rule," he said.
Bocchino said the GOP will be sending out a series of emails to those who have signed up, reminding Greenwich residents of what the delegation has already accomplished.
"We are at a critical moment here in the state of Connecticut. This is our time. Do not let this time pass us by without taking full advantage of it. Let's take back Connecticut, and it starts now," Bocchino said.