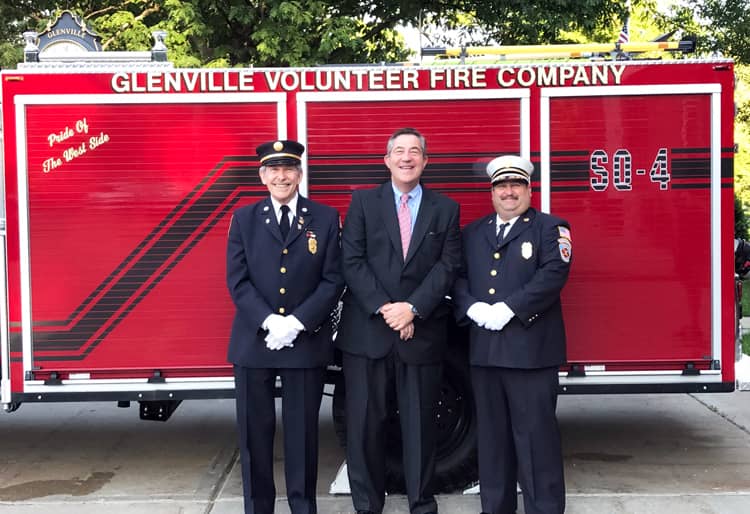 By Elizabeth Barhydt
The Glenville Volunteer Fire Company's new specialized fire truck, used to reach areas that previously posed logistical challenges like narrow streets in the Back Country as well as parking garages in town and wooded areas like Camp Seton, was paid for exclusively by fundraising efforts.
The custom-built Brush Truck was purchased using funds raised by volunteers, who are continuing their fundraising efforts this year in support of the fire company as they honor Edward Dadakis with the fourth annual David N. Theis Award for Service to the Community.
This year's award ceremony will be held on Oct. 4, at Tamarack Country Club in Greenwich.
"I was completely surprised," said Dadakis, talking about the moment he received word that he was going to be honored. "While I am known for my political work, I've done a lot of other work quietly. There are so many organizations and charities that deserve all our support and it is nice to be recognized for that too. It gives me a chance to highlight them."
The award was created as a way to memorialize the life and work of former Selectman Theis, who passed away unexpectedly in 2014. The event serves to celebrate Theis' community spirit.
That's music to Dadakis' ears.
"This award is so humbling, and that is because I knew Dave Theis so well," Dadakis said. "Dave was proudly patriotic, he believed in the honor of government service, and he would always go the extra step to help others."
Terry Betteridge, Icy & Scott Frantz and Livvy Floren are previous honorees.
"The Glenville Volunteer Fire Company is an outstanding example of community," Dadakis said. "It's what Greenwich is all about. It's all about community."
"These guys are just like you and me, regular people, and they are the ones that run into danger."
For more information about how to donate, the annual fundraiser and to purchase tickets, visit Glenvillefire.org or call 203-532-9606.