September 17, 2018
Greenwich Honors Former First Selectman John Margenot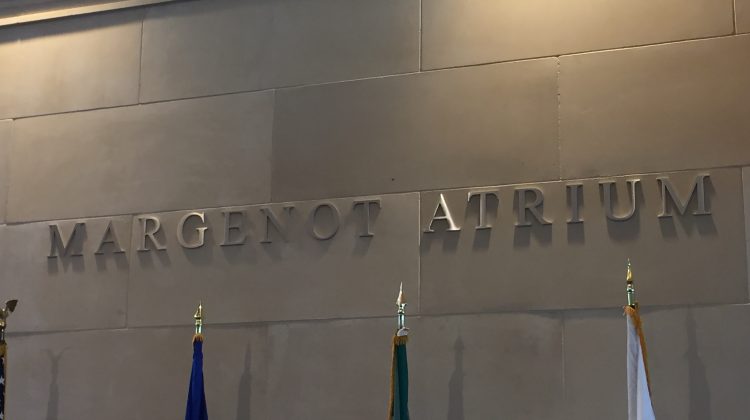 By Richard Kaufman
For years, John Margenot dedicated his life to public service in Greenwich, most notably as a five-term First Selectman.
On Sept. 8, that service was recognized and his mark on the town was forever preserved, as the atrium inside the Public Safety Complex that connects the fire department with the police department was dedicated in his honor. 
"Margenot Atrium" spelled out in large, silver lettering is now affixed on the wall, and a plaque and photo of Margenot were unveiled as well. 
Margenot grew up in Greenwich and attended Mason Street School, Havemeyer School and Greenwich High School, where he was a class president. As a young boy, he volunteered during World War II as an enemy plane spotter at the top of the old Greenwich Town Hall. He then began his service to the town as a Representative Town Meeting member from 1959-1969. 
After a brief hiatus to help raise his children, Margenot joined the Board of Estimate and Taxation and the Budget Committee, from 1979-1981. He was recruited to run for Selectman, where he was on the board from 1981-1985. He served as First Selectman for five terms, from 1985-1995, a record at that time which was later broken by current First Selectman, Peter Tesei, when he was elected last November. 
Margenot eventually retired and began to volunteer on various boards and commissions in town. He volunteered with Greenwich Hospital, The Old Timers' Athletic Association and Hill House, and he currently sits on the Board of Ethics.
Margenot arrived at the ceremony last Saturday in grand style on the back of Engine 23, a 1947 antique Mack pumper truck, which picked him up at his home in Cos Cob.
Margenot, with his wife Dolly and children in attendance, briefly addressed the crowd of nearly 150 people, and said he was somewhat overwhelmed by the tribute. He spoke of his time as a public servant in Greenwich.
"It was a very interesting period of my life, one I enjoyed very much. There were some strange events that occurred, but we always came out standing. We didn't crawl or head home. We got it done," he said. "I've always enjoyed participating and being part of the action, and I don't believe in sitting back."
Several speakers gave brief remarks about Margenot and what he's meant to the town. Current First Selectman, Peter Tesei, said Margenot has "set the standard" for those who succeeded him. 
Tesei added that Margenot has shown him many positive attributes and qualities that he tries to emulate in his service to the town.
"This truly is a special day, a day that has brought people together. That togetherness and that unity and purpose is really the hallmark of who John Margenot is," Tesei said. "How appropriate to be in a place that brings people together in service for the better of our community, and that's in the lifesaving services here [at the Public Safety Complex]." 
Hilary Griffin, the youngest of Margenot's five children, said that her father helped make Greenwich a better place to live.
"John Margenot believed, and still believes, that treating others with human kindness can, in fact, strengthen a country, a town, a community and, in this case, Greenwich," she said. "Our father's leadership style was to lead in a kind, gentle manner through consensus building and getting all ideas on the table, picking out the good parts and putting it into a package."
Margenot's son, Richard, a current RTM member, spoke of the outlandish phone calls his father used to get from residents when he was First Selectman.
"People used to call with the strangest concerns, and, at 10:30 p.m., we would get calls about mean swans in the Mill Pond," Richard said. "And, you'd take the call."
Richard added that his father would often times ask for more work, which exemplified the kind of man he was in his different roles. 
"Dad, you are a legend. You don't quit. We've got coaches and teachers in town that say, 'Keep your head up and your legs moving.' That was another one of your lines," he said.
Margenot's friends, Dick Krisky and Sam Telerico, spoke as well about their relationships and frequent golf outings with each other over the years. The Greenwich delegation to Hartford issued a citation from the state to Margenot, honoring his work and service to the town.
State Rep. Fred Camillo (R-151) said Margenot's commitment to Greenwich has never wavered.
"Whenever we go to events, such as Memorial Day events, John never misses them," Camillo said. "He is the true definition of a public servant, and truly dedicated to the town."
From now on, whenever anyone enters the Public Safety Complex, located at 11 Bruce Pl., John Margenot's legacy will be on full display, and his commitment to the town will not be forgotten. 
Tags:
greenwich
,
greenwich fire department
,
Greenwich Police Department
,
John Margenot
,
Peter Tesei
,
Town of Greenwich