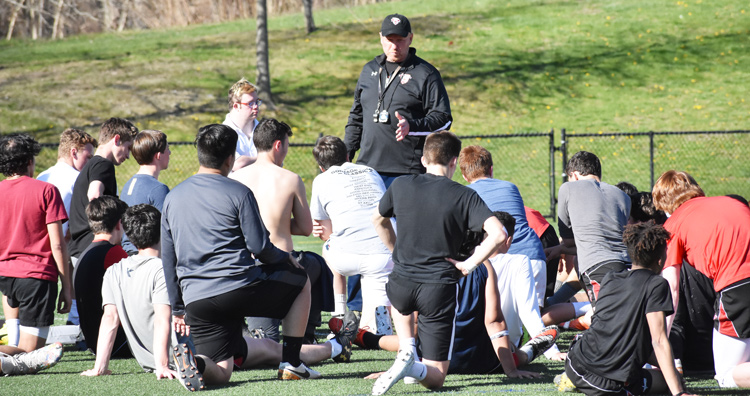 By Paul Silverfarb
Sentinel Editor
According to Greenwich High School rugby head coach Joe Kelly, the Department of Children and Families (DCF) has exonerated him and his coaching staff of the claims about the leaders of the program.
Kelly and the coaching staff for the rugby team were suspended for 45 days while DCF conducted its preliminary investigation. Kelly and his coaching staff are back, preparing for next year's rugby season, but the head coach is still fuming. While the time away from the team was trying on Kelly, the effect it had on the rest of the coaching staff will linger for quite a while.
"This culture of guilty before proven innocent is really hard on teachers and coaches," said Kelly.
On Wednesday, the DCF sent a letter to Kelly that stated: "DCF has concluded that abuse or neglect has not been substantiated as a results of this investigation."
"They decided that there was nothing that was substantiated," Kelly said.
"The coaches do a lot for the kids," said William Doyle, a parent of one of the students in the program. "I think the coaches are great people and give a lot of time to the program. I don't think it's handled fairly. In this situation you are guilty until proven innocent, which is totally wrong. I generally try to go down to the tournaments and help out the coaches because they do a lot of work. The players' parents all try and help out whenever we can. The coaches are great people. It was an unfortunate situation and I think it's very unjust that they are guilty until proven innocent. They took 45 days to do this thing and I think it could have been handled in two days."
According to Kelly, the parent of a student who broke the school's code of conduct and was subsequently suspended for two weeks was livid about the situation and threatened the staff and program.
Kelly said that he reported the incident right away to Greenwich High School.
Then, on June 12, the morning that Kelly was being honored by the Greenwich Old Timer's Association, Kelly received an email that he and several coaches were suspended under a preliminary investigation by the Department of Children and Families because of an accusation.
"This father went to the school and he tried to get his revenge on us for suspending his kid," Kelly said.
The official letter from DCF, which will be coming to Kelly shortly, will read that they could not substantiate any of the charges and that they could not find further evidence to back the charges that were given.
For Kelly, who has been coaching GHS rugby for eight years, this situation has been really eye-opening. In the suspension, they told him and the coaching staff to immediately halt all contact with all the players and students. That was the heartbreaking aspect for Kelly, who coaches to give back.
"I have had three children involved in the program, two that graduated and a third is on the team now," said Dawn Stevens. "The coaching staff created a culture of inclusiveness. No matter what your level of play, if you want to be a part of this team the coach accepts everybody. It's fabulous what he's teaching these kids."
In the course of the eight years that he has led the GHS rugby program, Kelly has become a legal guardian of one child, helped others that have troubled homes, and has worked closely with parents who are having difficulty with their children.
"I have had kids that have run away, and parents call me begging me to help find them," Kelly said. "We, right away, go into the network of their friends and tell the parents that the kid is okay and is at somebody's house right now and is safe. Myself and the coaches live in this town. We participate, not just in coaching, but helping the best we can in this town, and contribute."
Although Kelly said that DCF has found that the accusations were unsubstantiated, the head coach is still quite frustrated.
"There's no, 'I'm sorry' and that's why I am taking it upon myself to let everybody know that this is not right," Kelly said. "The school won't apologize because they have a procedure in place. It's a bad procedure, but it's a procedure. We weren't allowed to communicate with anybody from the school. You're hung out there to dry and the feeling is really tough. Thankfully the community really backed me. My phone was ringing off the hook right away from people offering their support and if there's anything that they could do."
"As a coach, your reputation is everything," added Kelly. "You put yourself out there as a coach."
What Kelly is proposing is to change the procedure.
"I don't know how I am going to do that," Kelly said, but he made it clear he is going to try to change the procedures to make them more reasonable and fair for everyone involved."