July 27, 2018
Longtime GHS Headmaster Leaves for GCDS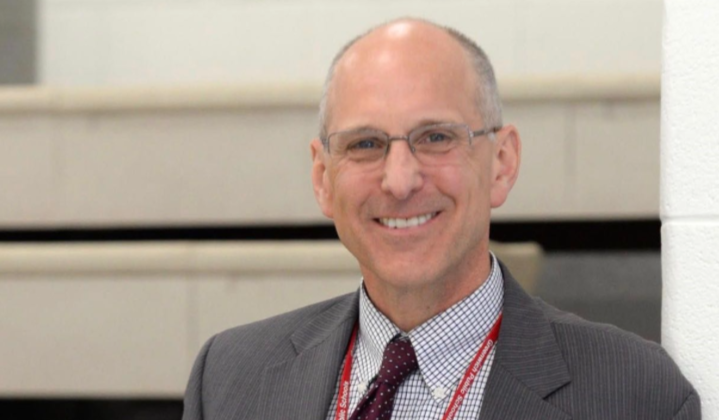 By Richard Kaufman 
On Thursday evening, Greenwich Public Schools announced that longtime Greenwich High School Headmaster, Dr. Chris Winters, has accepted a position with Greenwich Country Day School as the head of their new upper school. Winters will begin his new role on Sept., 30.
The process for appointing an Interim Headmaster/mistress will begin immediately. A national search for the new Greenwich High School Headmaster/mistress will commence in the fall, according to the District.
"GHS is a wonderful educational institution–one I have been honored to lead for the past nine years and have been connected to for most of my life. I have cherished the opportunity to work with such a highly trained and dedicated staff, a committed and caring group of students, and a very supportive PTA and parent body," Winters said in a statement released by the school district.
"I leave with confidence that as a collaborative community of learners dedicated to academic excellence, personal integrity, and interpersonal responsibility, GHS equips our students with a core body of knowledge and the capacities listed in our Vision of the Graduate," Winters added. "I thank the Greenwich Board of Education and Town for the chance to serve as Headmaster of a school I love. Always a Cardinal and always cheering 'Go Big Red!'"
Winters has led GHS since 2009, and has been an integral part of the school's success over the years. Under Winters' leadership, Greenwich High holds a performance ranking in the top two percent of the country, and is ranked as the second highest comprehensive high school in the state of Connecticut, according to U.S. News and World Report.
During Winters' tenure, the high school has experienced a 65 percent increase in the number of Advanced Placement tests administered, while maintaining a consistently high mean score.
Winters served as the leader of the Secondary Schools Review Committee, and led the district in developing the Vision of the Graduate. The successful Advancement Through Individual Determination Program (AVID) expanded under Winters' leadership as well. According to the statement from the District, of the roughly 225 AVID students that have graduated from GHS, 100 percent have been accepted to college and have earned millions of dollars in scholarships.
Winters' departure comes on the heels of Superintendent Dr. Jill Gildea's decision to re-locate to Utah to lead the Park City School District. Former Eastern Middle School Principal, Ralph Mayo, will step-in as interim Superintendent.
"Dr. Christopher Winters has effectively led Greenwich High School to a top tier, top two percent ranked, educational community. Focused efforts on the Vision of the Graduate supporting academic, personal and interpersonal growth of more than 2,700 youth annually," Gildea said in the District's statement. "Along with Dr. Winters, Greenwich High School celebrates our students' accomplishments and motivates staff and students toward additional future success. We wish Dr. Winters well on this next step in his educational journey. He will be sorely missed by our entire educational community."
According to the announcement on the Greenwich Country Day School website, the search for the first ever Head of Upper School, grades 9-12, at GCDS began last November. GCDS reviewed 54 résumés, conducted phone interviews with 23 candidates, and met on campus with seven distinguished candidates. Following the unanimous agreement of the search committee, which was comprised of trustees, faculty, and parents, Winters was appointed to the position.
"As a former GCDS trustee, Chris has a deep understanding of Country Day's community and values. He believes that while education is about academic preparation, it is also about enabling children to develop a finely tuned moral compass," said GCDS Headmaster, Adam Rohdie, in the announcement.
In a letter to the GCDS community, Winters said he's "deeply honored" to come aboard as the head of the upper school.
"It is my past experience with GCDS (serving on the Board, working with Adam on different projects, and sharing common goals in educating young people) that drew me to this role. GCDS is about learning, engagement, creativity, and excellence. I share the values and expectations of our community and am thrilled to build on this foundation as we create what will become a nationally renowned high school," Winters said, noting that leaving GHS was a difficult decision to make.
"I look forward to meeting all members of the community, learning about your children's interests, sharing with you my passion for education, and serving this wonderful community with humility, compassion, and unwavering faith in what we can accomplish together," Winters said.
To read the announcement and Winters' letter in full, click here.
Prior to being named interim Headmaster for GHS in 2009, and later accepting the permanent position in January of 2010, Winters held the position of Director for Curriculum, Instruction & Professional Learning (CIPL) for the District from 2007-2009.
Winters also worked as the Coordinator of the English as a Second Language (ESL) Program ('03-'06), and as Folsom Housemaster at GHS from ('06-'07).
Winters began his career in education in 1990 as an ESL teacher in the Bronx, N.Y., at Morris High School, after serving for two years in the Peace Corps in the Republic of Mali, West Africa. In 1998, he moved to Roxbury Elementary School in Stamford, Conn., before coming to GPS in 1999.
Winters received a bachelor of arts degree in Political Science from Middlebury College in Vermont in 1986; a master's degree in Education (TESOL) in 1992 and a master's of education in TESOL in 1997 from Teachers College, Columbia University. Winters also has a sixth-year degree in Administration from Sacred Heart University in Fairfield, Conn. He received his superintendent's certification from the University of Connecticut's Executive Leadership Program in 2005, and a doctorate in education from UConn's Neag School of Education in Storrs in 2013.
Tags:
GCDS
,
GHS
,
greenwich
,
Greenwich Country Day School
,
Greenwich High School
,
Greenwich Public Schools
,
Town of Greenwich