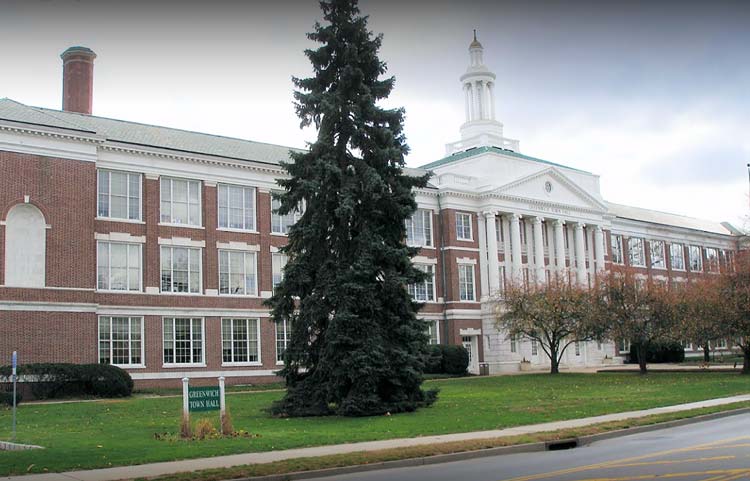 By Richard Kaufman
Updated – Friday, July 20, 2 p.m.
Last Friday, Katie DeLuca, Director of the Town's Planning & Zoning Commission, announced that potential text amendments regarding Floor Area Ratio (FAR) and schools in Greenwich have been withdrawn from consideration
"Top schools, preservation of community character and enhancing neighborhoods are goals we all share," said DeLuca in a statement released last Friday. "How these goals are achieved has been the focus of recent debate with respect to the pending text amendment to increase the allowable floor area in residential zones for educational institutions. 
"These should not be mutually exclusive goals and the public hearing process is how the community at large works together to ensure that the right balance is struck," she added, noting that the application process to discuss the text amendment began in May and has stretched into the summer months when people are away on vacation. 
"Given both the timing and the strong sentiment expressed on both sides of the issue, the text amendment regarding FAR increase for educational institutions in residential zones has been withdrawn. Those interested in this topic are encouraged to continue to work with planning staff during the upcoming months so that a mutually agreeable proposal can be put forth to the Commission for consideration in the future," DeLuca said.
DeLuca said that other P&Z text amendments, which involve the special permit and exception processes, will be taken up and considered during the scheduled July 24 public hearing at 7:15 p.m., in the Town Hall Meeting Room.
Last Thursday during the Board of Selectmen meeting in which DeLuca made a presentation on the amendments, P&Z was urged to postpone all potential changes to code until the fall so concerned residents could have more time to be informed and give feedback.
Peter Tesei, Greenwich's First Selectman, said earlier this week that DeLuca and the P&Z Commission were "very responsive" in their decision to withdraw the FAR text amendment proposal.
"We were pleased that they responded to our request to withdraw one of the amendments that related to school facilities," Tesei said. "Clearly, we'd like to have all of them postponed until the fall, so it gives people a greater ability to understand their impact. We'll look forward to hearing what [the P&Z Commission] says on July 24."
During last week's Board of Selectmen meeting, DeLuca said that increasing FAR would make schools less likely to purchase surrounding properties for expansion. Instead, schools would be able to increase campuses using their existing land. 
DeLuca pointed out that under the current regulations, Greenwich High School has maxed-out its FAR capacity to the point where a garden shed can't even be constructed. She also mentioned Brunswick's acquisition of the Tudor property, and Greenwich Academy and Greenwich Country Day School purchasing nearby homes and tearing them down to expand.
Those against giving area schools more FAR have argued that expansion would ruin the character of neighborhoods and cause headaches for homeowners.