July 20, 2018
GFD Promotes 4 to Lieutenant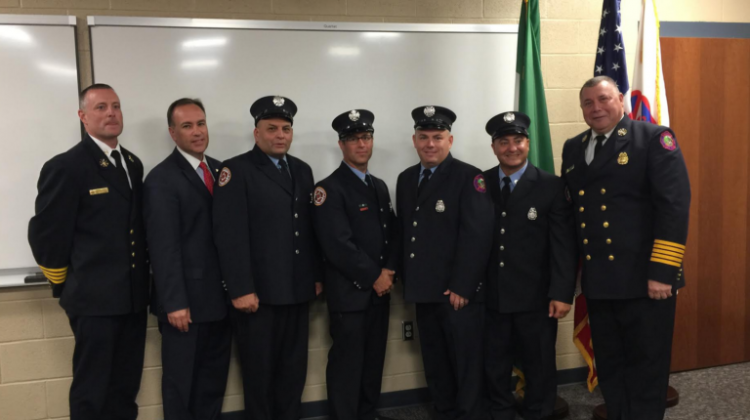 By Richard Kaufman
On Monday morning in the third-floor training room of the Greenwich Fire Department, Mike Stanco, Christopher Povella, Russell Paltauf and Daniel Natale were promoted to the rank of Lieutenant in front of family, friends and fellow firefighters. First Selectman and Fire Commissioner, Peter Tesei, administered the oaths.
Before the ceremony, Fire Chief Peter Siecienski praised the Town's investment in public safety, saying the department in-turn invests in their personnel. 
"The four lieutenants we have here today are certainly an example of that," Siecienski said. "They represent the quality, expertise and commitment that each of our firefighters display on a daily basis."
Stanco, who is a certified Fire Service Instructor, Fire Officer, Fire Marshal and EMT, has been with the GFD since 2005. He has a bachelor's degree in exercise physiology from Southern Connecticut State University, and a master's in fire/arson investigation from the University of New Hampshire. 
Stanco previously worked in Waterbury as a firefighter with his now fellow Lieutenant, Russell Paltauf. "It's awesome," Stanco said of the fact that he and Paltauf both came to Greenwich, took the test together and were also promoted together. 
"We push each other," Stanco said. "We studied together. When I was like, 'Hey, let's watch some TV,' Russ would be like, 'Let's keep going' and vice versa."
Stanco will be assigned as a lieutenant to Group 2, Engine 4 in Glenville. 
Paltauf has been with the GFD since Sept. of 2006, and overall has 25 years of career-firefighting experience. He has a bachelor's degree from Western Connecticut State University, and is a certified Fire Service Instructor, Fire Investigator and EMT. Paltauf will be assigned to Group 3, Engine 4 in Glenville.
"I came into this profession because I want to be able to help people," Paltauf said, adding that he comes from a family of firefighters. "It's always nice to be able to help, especially in this day and age when there's so much division and everybody wants to point fingers at everybody else. It's a good time to just be out there and help others."
Natale was hired in Feb. of 2001, and will now be assigned to Group 4, Engine 3 in Byram. Natale holds a bachelor's in construction management from Connecticut State University, and is a certified Fire Service Instructor, Fire Officer 2, and EMT.
Natale said he enjoys being able to help the community he lives in. "I love this," Natale said. "It's great and I'm very happy."
Povella, who will be assigned to the Group 1 Truck Company at GFD's headquarters, brings nearly 18 years of experience as a Greenwich firefighter to the role of Lieutenant. He studied business administration at SUNY Westchester, and has a certification as a Fire Investigator and an EMR. 
"This is special," said Povella, who took the Lieutenant's test several other times in the past. "I was able to pass this last one with a little extra hard work. Every time you take it you learn from your mistakes."
The promotions address the fire department's critical supervisory gap on the Tower Ladder Truck, which previously had three firefighters assigned with no officer. The Tower Ladder is the most expensive apparatus the Town of Greenwich owns. 
The position upgrades also create parity with all engine company operations, which have a Lieutenant assigned to each engine.
"This action today is one that has been in process for a while. It's the third attempt that we sought to have these positions elevated," Tesei said before administering the oaths. Tesei added that Monday should serve as a valuable lesson to all. "Those of you who want to give up, don't. Eventually you will prevail, and you will achieve the outcome. Don't give up and persevere."
Tesei thanked the firefighters' families for supporting them and their willingness to provide important services to the Town. 
"There's no greater service a municipality provides than life-saving services," Tesei said. "It's a priority for me, and a priority for the Town. We're very grateful and thankful for your service."
Tags:
GFD
,
greenwich
,
greenwich fire department
,
Town of Greenwich