July 13, 2018
Meet Phillips and Hear the Stories of Our Town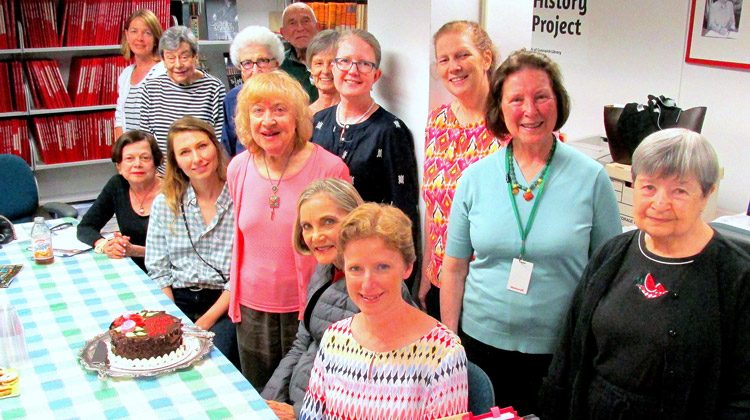 By Anne W. Semmes
Greenwich historian Marian Phillips is a story teller. She can make Greenwich come alive through the ages. Picture that scene on a Sunday morning in Old Greenwich in yesteryear.
The horse-drawn trolley makes a stop before the Ficker residence on Forest Avenue on its Sound Beach Avenue route. The driver, Charlie, must take Mrs. Ficker to church in Stamford. But Mrs. Ficker is busy arranging her hair." Daughter Mary is dispatched to Charlie to request, please wait until her mother's hair arranging is done. "So Charlie waited. That was the way it was," says Phillips, "in Old Greenwich in the early 1900's."
That Mary Dodge Ficker oral history is one of nearly 90 oral histories Phillips has done in her 43 years of volunteering for the Greenwich Library Oral History Project (OHP).
Phillips remembers the Chickahominy stories told by the late U.S. Representative for the Fourth District Albert Morano. "He talks of being a child in Chickahominy during the flu epidemic, when the carpenters couldn't keep up the demand for wooden coffins because people were just dying in droves. He talks about the way the Italian families kept pigs and chickens in their back yards." At slaughtering time, with "no adequate refrigeration, the families would, one by one, slaughter their pigs and all the neighbors would be invited in to enjoy the meat."
Phillips marvels at an oral history describing how it took an hour and a half for a horse and buggy ride from Belle Haven to the Palmer Hill Henry O. Havemeyer estate "because the roads were unpaved, and after the winter the roads would be deeply rutted."
For her "Service Excellence" as oral historian,  Phillips was recently presented with "The Greenwich Library Oral History Project Excellence Award" by her OHP colleagues shortly before her 98th birthday this April. A tribute was read: "To Marian: A raconteur who knows the melodies and lyrics from all the songs in the Classic American Song Book; leader of our training classes; chair of the Readers Advisory Committee… wise and gracious…Her interviews are classics."
Queried about her love of the American Song Book in her Greenwich apartment, she says, "I can sing almost anything. I grew up with radio." She recalls those radio days in the 1920's, 30's and 40's, "the era of the big bands, when we would sit on the steps on summer nights, with the neighborhood kids, listening to the songs on the radio, and sing songs like "When the red, red robin comes bob, bob, bobbin along," and 'Bye Bye Blackbird,' and 'Sonny Boy,' the big Al Jolson hit."
Phillips, who would marry Benjamin Phillips and have four daughters, and live on Wesskum Wood Road in Riverside, was interested in local politics, worked with the League of Women Voters, and was savvy about town government. She was thus recruited by the fledgling Oral History Project, founded in 1973, to interview Selectmen and town officials.
One of those early interviews was with Bradford McGill from the Planning and Zoning Commission. "It was on a blistery hot July afternoon at the end of the work day," she tells, when McGill offered, "How about a gin and tonic?" "I couldn't resist although my tolerance for alcohol is very low," and afterwards, listening to the playback, she thought, "Oh dear, I sound rather giggly here. But he was a treasure of information!"
She was privy to the founding history and credo of the Town's Planning and Zoning Board of Appeals from her interview of the Board's first chairman, William Crawford. The credo? "Make any applicant, before they go before the Board of Appeals, really prove any hardship that they have suffered because of the decision of the P&Z."
Now, with seven grandchildren and three great grandchildren, Phillips has a ready audience for her story telling. "Occasionally," she says, "I'll find an oral history that I think would interest any of them," and, "When I turn it over to them they are always enthusiastic."
But one oral history sharing made an even stronger impact. Phillips sent off to her three grandsons a transcript of an interview with one of the early developers of radar, Greenwich's Lee Davenport. "I had told them what it was about and they fought over it, " she says.  In the transcript Davenport tells of the unfortunate incident in France during WWII in the town of St. Lo. "We were battling the Germans," tells Phillips,  and moving faster than Eisenhower's headquarters in London knew, because it was before the advent of radio and two-way communication between the battlefield and headquarters. Eisenhower's headquarters sent out bombers from England to bomb what they thought were the Germans battling us. But our troops had pushed them back so our own troops were bombed by our bombers."
It turns out that Phillips' brother-in law, the late Colonel Glover S. Johns, Jr., was the officer in charge of those American troops at St. Lo. "He was infuriated by what he saw as the stupidity of the brass in London.  When he returned he wrote a book which he published in 1958, 'The Clay Pigeons at St. Lo.'"
With her 98th birthday now behind her, Phillips is not slowing down. She recently completed yet another training class. "Out of a class of six or so," she says, "maybe one or two will end up doing interviews."  To this reporter Phillips reminds, "There are bound copies of our interviews available in Greenwich Library, and they are fascinating reading for anyone who loves the Town. If I start reading any one of them its's like eating salted peanuts or Fritos. You just don't want to stop. You want to go on and on."
Tags:
greenwich
,
Greenwich Library
,
Marian Phillips
,
Oral History Project