June 29, 2018
Greenwich's Dadakis to be Honored With David N. Theis Award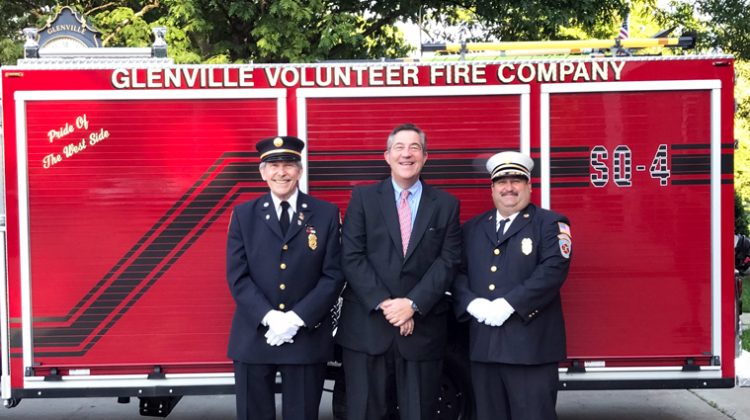 By Paul Silverfarb
Sentinel Editor
Greenwich resident Ed Dadakis has been doing his best serving the town that he loves for decades now.
The Glenville Volunteer Fire Company will honor his lifelong dedication to Greenwich by presenting Dadakis with the David N. Theis Award.
"I was completely surprised," said Dadakis, talking about the moment he received the word that he was going to be honored. "This is a town that I grew up in. It's a town that, when I got home from college, I immediately got involved with. While I am known for my political work, I also did things that are non-political. I have been on the RTM for 36 years. I started the RTM when I was the youngest member, and now I am one of the oldest members.
"I find Greenwich to be a community that is open to people," added Dadakis. "It encourages people to participate and wants people involved. To be recognized for it is amazing, and it's like icing on the cake."
The Glenville Volunteer Fire Company is honoring Dadakis during its annual fundraising event on Thursday, Oct. 4, at the Tamarack Country Club. According to the Glenville Fire Company, the Dave Theis Award is awarded to a deserving individual from Greenwich, who selflessly and compassionately serves the town's residents, organizations and institutions in an admirable and tireless manner.
Terry Betteridge, Scott Frantz and Livvy Floren have been previous honorees during the annual fundraising event.
To say the award is meaningful to Dadakis is an understatement. The award was created as a way to memorialize the life and work of former Selectman Theis, who passed away unexpectedly back in 2014. The award, as well as the entire event, will serve to commemorate and celebrate Theis' spirit.
That's music to Dadakis' ears.
"This award is so humbling, and that is because I knew Dave Theis so well," Dadakis said. "Dave was proudly patriotic, he believed in the honor of government service, and he would always go the extra step to help others. So, to receive this award is meaningful and especially meaningful because I knew Dave."
"The Glenville Volunteer Fire Company is an outstanding example of community," Dadakis said. "It's what Greenwich is all about. It's all about community and doing things that you can do for your community."
Dadakis said that it's an emotional experience for him every time he steps foot inside the Glenville fire station. Inside the facility is a small piece from the World Trade Center with a plaque under it that honors the tragic day of Sept. 11, 2001.
"The Glenville fire fighters were standing by and were prepared to go to New York if needed," Dadakis said. "You sort of think about that and it's emotional. These guys are just like you and me, regular people, and they are the ones that run into danger."
The invitations for the reception at Tamarack Country Club, located at 55 Locust Road in Greenwich, will be mailed to previous event attendees on Aug. 1. However anybody is welcome to attend the event. For more information about the annual fundraiser and to purchase tickets, visit Glenvillefire.org or call 203-532-9606.
Tags:
David N. Theis Award
,
david theis
,
Ed Dadakis
,
Glenville
,
Glenville Volunteer Fire Company
,
greenwich