June 20, 2018
Dedication of Strickland Road Historic District Marker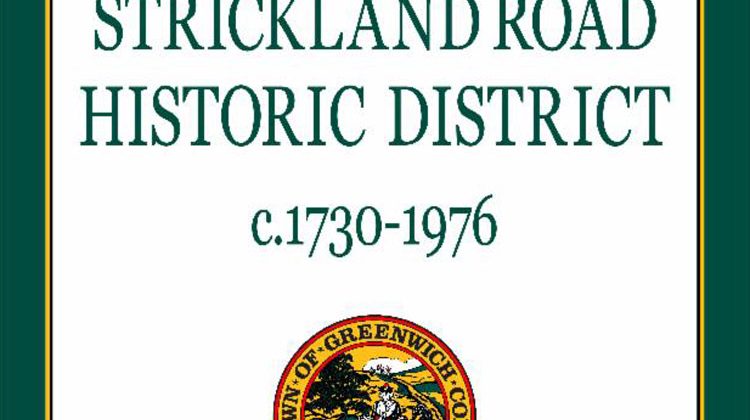 The Greenwich Preservation Network will dedicate a new historic district marker for the Strickland Road Historic District in Cos Cob on June 25 at 1:30 p.m. Elected officials, historic preservationists, Cos Cob residents and business owners will gather to dedicate the permanent marker, located in the grassy area of Strickland Road by Mill Pond, between Putnam Avenue and Loughlin Road. Cornerstone Contracting is a sponsor of the marker; Charles Hilton Architects designed it pro bono.
Strickland Road Historic District
The Strickland Road Historic District encompasses the area known historically as the Lower Landing, a former maritime center and later home to the Cos Cob art colony. The historic road follows Strickland Brook from the Post Road to Cos Cob Harbor where a tidal dam, built by David Bush in 1763 at the mouth of the brook, created Mill Pond.
The port area flourished well into the 19th century, attracting tradesmen and merchants, but waned after the railroad came to Greenwich in 1848, bringing with it summer residents and artists. The district is distinguished by the town's only National Historic Landmark, Bush-Holley House, a centerpiece of the Greenwich Historical Society's campus. The Historic District also features well-preserved Colonial homes set close to Strickland Road, stylish Victorian houses with sweeping front lawns, a cluster of early 20th-century Craftsman style bungalows, and a group of post-World War II houses on Mill Pond Court.
The Strickland Road Historic District was listed on the National Register of Historic Places in 1990. Although the Strickland Road Historic District is primarily residential today, historically its buildings had also been used for commercial purposes on a limited basis. The Strickland Road Historic District is architecturally significant as a small cohesive, residential community distinguished by its architectural variety and excellent state of preservation. It reflects the historical development of the Village of Cos Cob in the Town of Greenwich from 1730 to 1960.
Greenwich Preservation Network
The Greenwich Preservation Network was founded by Chairman Diane Fox under the auspices of the Greenwich Historical Society with a mission to educate and provide information to Greenwich residents regarding the value in preserving significant architectural and historic structures and streetscapes.
Tags:
dedication
,
greenwich
,
Greenwich Preservation Network
,
Historic District Marker
,
Strickland Road