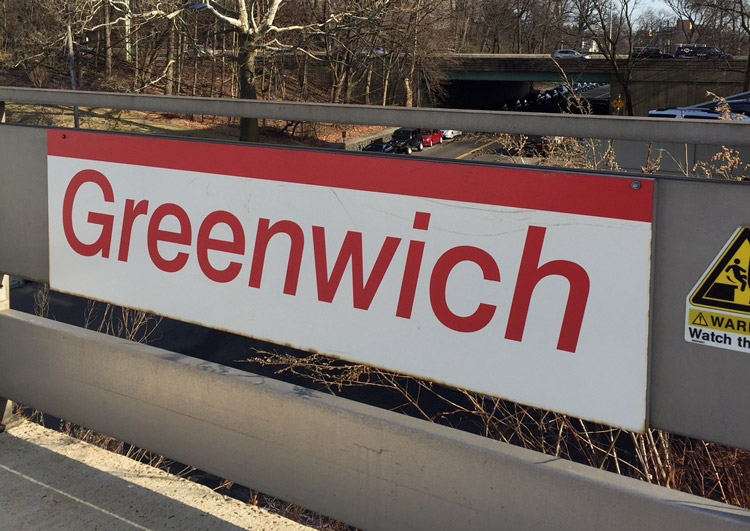 The Museum and Metro-North are partnering to offer a "One-Day Getaway" package that includes discounted rates for both train tickets and admission to the Bruce Museum from any station on the Metro-North Railroad.
"We want people to take the train instead of their car for leisure travel. This isn't just for commuters, this is for everybody," says Kamala Sibaran-Browne, Manager of Promotional Partnerships for MTA Metro-North Railroad.
The Getaway program increases accessibility to tourism hotspots in Connecticut, Hudson Valley, and beyond. "This program works for people who do not have cars or do not want to drive to an attraction," says Sibaran-Browne. "It is a nice way for them to come to those places without having to worry about parking, traffic, or lost time. The Greenwich station is a short walk from the Museum."
Travelers receive a discounted admission rate to the Bruce Museum of $4.25 for adults and $3 for seniors 65 and over, children between ages 5 and 11, individuals with Medicare, and persons with disabilities. Train fares are reduced and vary depending on the station customers are leaving from. For example, a round-trip Getaway fare from Grand Central Terminal to Greenwich is $17.25 for adults, $13.50 for seniors, individuals with Medicare, and persons with disabilities, and $2 for children between 5 and 11. Children under 5 receive both free admission to the Museum and free train fare.
While the program offers easy access from New York City to Greenwich, it also appeals to Connecticut residents along the New Haven line. "People can take the train almost anywhere in Connecticut through the New Haven line and reach Greenwich," says Sibaran-Browne. The savings are appreciable, too: Round-trip Getaway fare from Fairfield Station to Greenwich is $5.75 for adults, $4.50 for seniors, and $2 for children ages 5-11. The One-Day Getaway package is available at ticket offices and full-service ticket vending machines.
The Metro-North TrainTime app provides live updates on track and schedule changes and lists upcoming train schedules and track numbers. For more information about the One-Day Getaway offer, click on the "Visit Us" section of brucemuseum.org