June 1, 2018
FBOG Community Corner: Together We Grow Our Business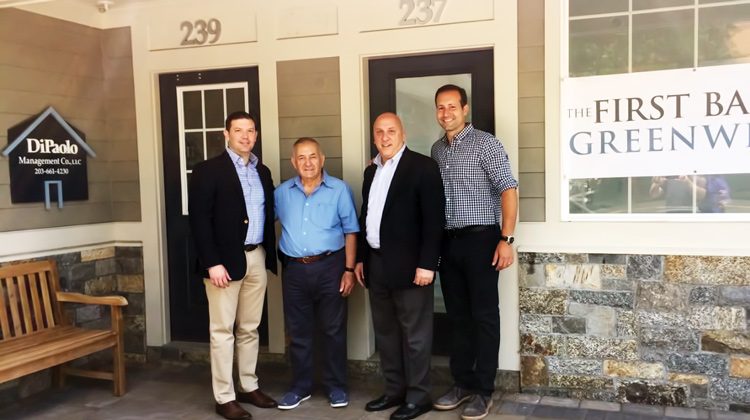 By Richard Kaufman and Julia Chiappetta
When dreams and visions are coupled with hard work, dedication and support from the community, good things happen. Greenwich resident Tony DiPaolo and his son, Daniel, are living proof of that.
Several years after Tony came over to the United States as a boy, in 1968, from the village of Introdacqua, Province of L'Aquila, Abruzzo, Italy, he and his wife rented an apartment in a small building, at 239 Post Road, in Cos Cob.
Tony eventually started a painting business, which turned into construction and then, much later, into real estate development and a business called DiPaolo Management, LLC. His dream was to one day own the building where he and his wife lived.
"I loved the little hub of Cos Cob," Tony said. "It reminded me of my village back home and where many Italians had settled here close by."
After five years, Tony purchased a home for his growing family on Strickland Road, where he still resides. In 2000, Tony's son, Daniel, joined his father in an effort to expand their real estate portfolio. Fast forward to 2018, and the DiPaolos own properties from downtown Greenwich up through Riverside.
Small businesses, especially in Cos Cob, are vital. "They're extremely important. The average retail space here is 1,000 square feet," Daniel said, noting that his favorite part of his job is getting to experience the whole process of real estate development from start to finish.
"Capturing a vision, engaging in the design of it," said Daniel. "It's very rewarding."
DiPaolo Management's most recent project involved the renovation of several buildings in Cos Cob behind Chicken Joe's, which are now home to businesses such as Beam & Barre and Noble Nails.
The area, which is unofficially and aptly referred to as "DiPaolo Plaza," also features an apartment building, the same building in which Tony had rented an apartment in decades ago.
His dream came true.
When the DiPaolos decided to purchase properties in Cos Cob, they contacted the The First Bank of Greenwich, and began to develop a strong business relationship with Frank Gaudio, President and Chief Executive Officer, and Evan Corsello, Senior Vice President and Chief Leading Officer.
"This a real community bank. Everyone knows your name, and Frank and Evan's doors are always open to us," Tony said. The DiPaolos are even on the Greenwich Advisory Board for the First Bank of Greenwich, which includes several other business owners from around town.
Daniel noted that the bank and DiPaolo Management feed off each other, which is beneficial to everyone involved.
"The bank provides the fuel for us to drive projects within the community which is our common goal," Daniel said.
Gaudio, who prides himself on being hands-on and involved with the community through the First Bank of Greenwich, fully supports the DiPaolo's vision for Cos Cob.
"This project is symbolic of what the bank should be doing for the community. It's why we're here," he said.
With Chicken Joe's scheduled for a face-lift in the near future, Tony and Daniel will try to continue their vision of improving the look and feel of Cos Cob, the place that welcomed Tony many years ago.
Tags:
business
,
DiPaolo Management
,
FBOG
,
FBOG Community Corner
,
First Bank of Greenwich
,
greenwich