May 23, 2018
More than 100 Participants Take Part in Fishway Open House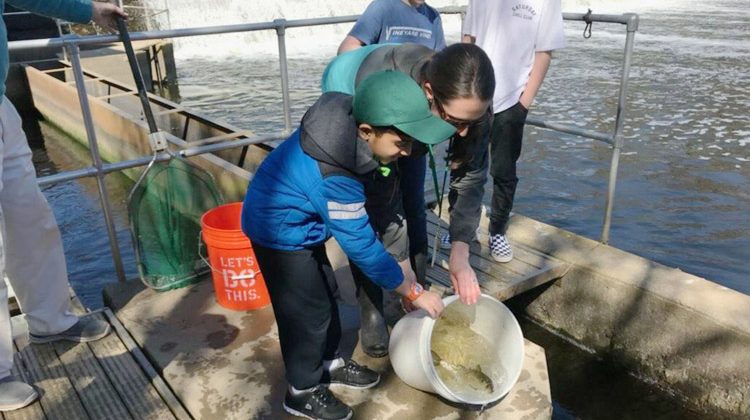 April 21 was World Fish Migration Day, a one-day global celebration to create awareness on the importance of migratory fish. An overwhelming number of events took place around the world: 552 events in over 63 countries. The Greenwich Conservation Commission participated in this event and held an Open House at the Mianus River fish ladder.
The fish ladder, which was constructed in 1993, allows diadromous fishes such as alewives and blueback herring (collectively referred to as river herring) to gain access to important spawning and nursery habitat in the Mianus River. During the two-hour Open House, over 100 participants were given a tour of the fishway, learned about its history, the natural history of the fish that utilize it, and how it is operated. Some participants even helped Conservation Staff net in the ladder's resting pools to get a better look at the species that utilize the fish ladder.
Inside the fish ladder is an electric counter that counts the fish as they pass up and into the Mianus Pond. Within the last month, already 25,000 herring have passed through the fish ladder, and the Conservation Commission expects to see those numbers continue to rise over the next two months. They'll also be on the lookout for juvenile American eels, called glass eels, ospreys, and crabs.
The fish ladder couldn't function without the team of volunteers who visit once a week to record the counter numbers, weather conditions, and net in the resting pools. If you're interested in volunteering with the Greenwich Conservation Commission next year, or for more information, contact Sarah Nahabedian, Conservation Resource Manager at 203-622-6461 or sarah.nahabedian@greenwichct.org
Tags:
Fishway Open House
,
greenwich
,
Mianus River