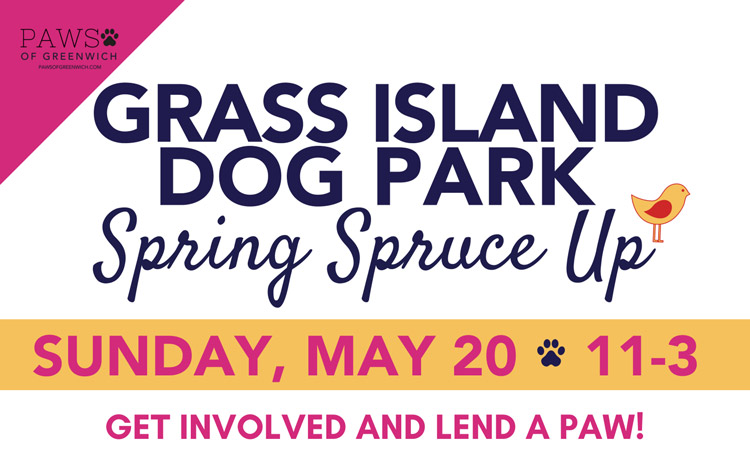 PAWS of Greenwich a local animal advocacy nonprofit and a network of Greenwich-area dog lovers, owners, and businesses, will join forces this Sunday, May 20 from 11 a.m. to 3 p.m. for a paw-some day of clean up and pet-friendly activities at Greenwich's Grass Island Dog Park.
The second annual dog park clean-up furthers PAWS of Greenwich's goal of revitalizing the town of Greenwich's only dog park – located off exit 3 in downtown Greenwich on Grass Island. The park was built on land "fill" debris, overlooking the swells of the town's Waste Treatment Plant. The park lacks an essential grass cover and is mainly mud, dirt, rocks, and hazardous debris "fill" that comes up through the ground, harmful to dogs and their owners. PAWS of Greenwich will continue their efforts to clean up the park to attract new residents and paws and make it a safe and enjoyable environment for both dogs and their owners.
Event activities will include: community clean up, pet resources, adoptable dogs, food and a raffle featuring giveaways from local businesses.
Since it's inception in 2017, PAWS of Greenwich's founder Jessica Del Guercio works hand in hand with the town, area volunteers and dog owners, to address the safety concerns of the park, dog park behavior, waste pick up and more. To-date, PAWS has successfully spearheaded the planting of over ten trees and tall grasses, painting of dog park benches, refinishing and re-roofing of the community board, seeding of grass, installation of solar lights on the walkway, repairs to the fence and more. With the support of the town and donations from the community, PAWS hopes to raise funds for various projects.
To learn more about PAWS, visit pawsofgreenwich.com