May 14, 2018
WWII Veteran James MacKay's Honor Flight Experience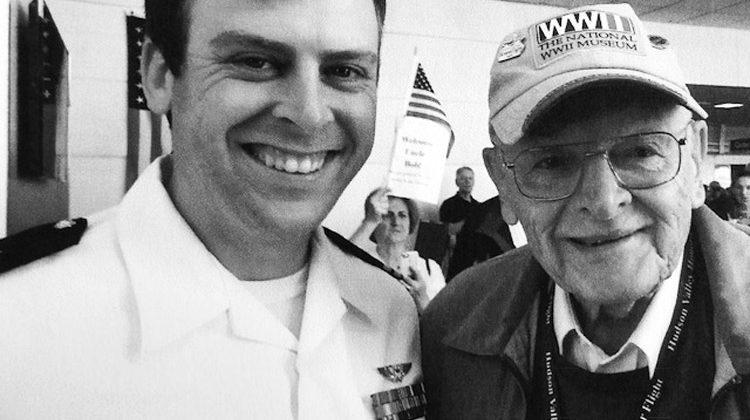 Greenwich residents Bonnie MacKay Caie and her father James M. MacKay, a World War II veteran, had the opportunity to join an Honor Flight and it was something both won't forget any time soon.
According to the Honor Flight Network website, they are a nonprofit organization created solely to honor America's veterans for all their sacrifices. They transport veterans to Washington, D.C. to visit and reflect at their memorials.
Below is the story of Bonnie and her father James, composed by Bonnie and quoted by her husband, as they experienced Honor Flight:
At 5 a.m. we rose, dressed and headed to Westchester County Airport. Coffee and pastry were provided. The efficiency of Honor Flight was exemplary and our first introduction to the day ahead of us was a motorcycle motorcade leading us from the airport to a private jet terminal. There must have been over 100 motorcycles with riders wearing the American flag on their jackets and flags flying from the cycles! The noise was deafening even for those of us wearing hearing aids! But it was very exciting as we anticipated the day!
Our bus transport delivered us to a large hanger and at 6:30 a.m. there were children of all ages waving American flags, Boy Scouts, a band playing patriotic songs in our honor, veterans from WWII, Korea, Vietnam and Desert Storm; all welcoming the 86 who would be going on their Honor Flight to Washington, D.C. 
A few speeches expressing their gratitude for our service were given, a lovely female cadet sang, and selectmen spoke. 
"My return to the States after WWII ended, had little or no fan-fare," said James MacKay. "There were no parades or accolades given. I was just grateful to still have a job at The Greenwich Trust Company (now Bank of America) on Greenwich Ave. Honor Flight was making up for what was missing back then."
Honor Flight is all over America, raising funds to honor vets with a day at the Capital of our great country. We were flown as a gift from a corporate sponsor on a beautiful jet which, as we were rolling on the tarmac, was given a "salute" from a fire engine spraying us with water. We then lifted off and in less than an hour were landing at Reagan International Airport.
"I was the first one off the plane greeted not only by bands playing but by my grandson-in-law in his Naval uniform saluting me," said James MacKay. "I thought for a moment that I was in the wrong place until his wife, my grand-daughter, another grand-daughter and three great-grandchildren squealed their delight to see me. They had all unbeknownst to me, arranged to be there as I deplaned. It was wonderful!
"A bus then picked us up and throughout our travels around D.C., motorcycles guided us and held back traffic to allow us to pass so that we could accomplish our mission," added James MacKay. People saluted our bus, clapping and waving."
The first memorial to visit was the recently finished World War II Memorial. It is magnificently well done, down to the minutest detail. It was here that we began to realize the magnitude of Honor Flight nationally. There were many buses unloading veterans and their guardians, each wearing their Honor Flight T-shirts and a plastic beaded necklace lest we get back on the wrong bus!  Again, the organization was remarkable lest anyone be lost.
"Again, bands of children played patriotic songs, greeted us, thanked us with hearty hand-shakes," said James MacKay. "It restored my hope that someone is teaching todays' children appropriate behavior; the history and sacrifice which was made for their freedom."
A delicious box lunch and adequate water was provided to be consumed on the bus or at our next memorial. Additionally, wheelchairs were beneath the bus should we become exhausted from the activity.
Our next three stops were all within wheelchair distance of each other; Lincoln, Korean and Vietnam memorials. 
"I had been to them prior along with Arlington National Cemetery and the Tomb of the Unknown Soldier while in D.C. with another Greenwich service group, The Exchange Club," said James MacKay.
It had begun to rain, so we drove by Iwo Jima and on to our final destination; dinner at a Hyatt Hotel restaurant. More bands and speeches of gratitude for our service. I was amazed by all of it.
"On our flight back to Westchester, Honor Flight had 'Mail Call' which was something we all looked forward to during the War," said James MacKay. "Upon returning to Westchester Airport, the son-in-law of my deceased younger brother who fought in the Pacific Theater, had orchestrated to have patriotic music playing as we deplaned. More family greeted us along with other vets' families, all singing and clapping to the beat of the music.
It was an incredible day for which I am grateful to my family for encouraging me to attend. 
"It would have been easy to have declined with my age, responsibilities of caring for my wife of 74 years and living independently still on the property where I grew up," added James MacKay. "Were it not for family to encourage and shoulder those 'cares,' I might well have missed the opportunity and privilege. I highly recommend Honor Flight to any Veteran!"
Tags:
Bonnie MacKay Caie
,
greenwich
,
Honor Flight Network
,
James M. MacKay
,
world war II