May 12, 2018
Greenwich Celebrates All That Mothers Are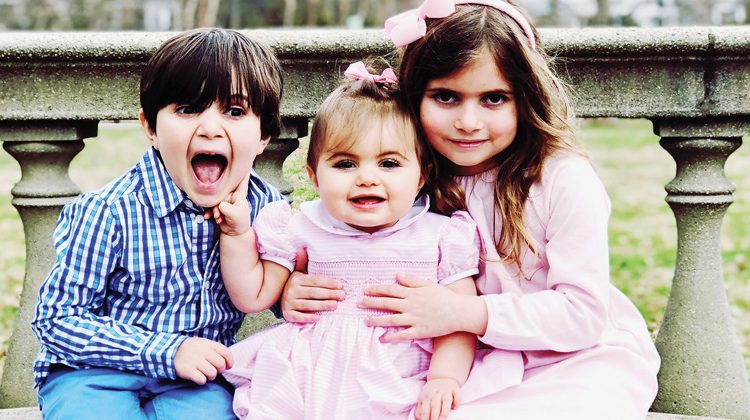 By Michelle Moskowitz
Sentinel Correspondent
Spring has sprung, and the vibrant cherry blossom trees have finally bloomed, just in time for honoring moms this Sunday, May 13.
Whether venturing on a nature walk at Babcock Preserve or at the Audubon Greenwich, writing a beautifully crafted note of gratitude (using fine stationery from Saint Clair Stationers), or simply celebrating the day with a great meal, Greenwich is brimming with a variety of ways to make this Mother's Day a special one.
The Greenwich Sentinel chatted with Greenwich native Layla Lisiewski, founder of GreenwichMoms.com, the definitive, curated network for all things mom, to find out what's in store for this weekend and get her personal take on the meaning of Mother's Day.
"Greenwich is a thriving and exciting town, offering a special place where raising children goes hand in hand with nurturing a love of community," said Lisiewski.
Greenwichmoms.com provides a user-friendly connection to all things the local mom needs in areas such as health, fitness, activities, beauty, schools, sports, philanthropy and so much more.
The mom network, which celebrates its two and a half years mark this Sunday, has already expanded to 14 other communities such as Darien, Rye, Stamford and Westport – proving itself to be an invaluable resource, with expansion plans underway among 22 local communities by years' end.
When asked how Lisiewski's plans to spend her Mother's Day, she didn't hesitate with the game plan, nor with her accompanying smile.
"I love to kick off the day with a local family activity followed by an afternoon of backyard barbecuing and "relaxing" with my kids, parents, in-laws, friends and whoever show up for a cocktail and a burger!" said Lisiewski.
"This year, we're going to Serendipity's Fun Run in Old Greenwich. The first 75 moms who stop by the Greenwichmoms.com table will receive a special gift."
No matter what your mom's interests may be, there is something festive to suite everyone's style and interest, and for some moms, that might just mean waking up without an alarm or an agenda.
Mother's Day Events:
The OGRCC Mother's Day Bike Ride
Sun., May 13, 8:30-11 a.m.
@ Old Greenwich Elementary School, 6-mile bike to and around Tod's Point
Visit myogrcc.org to register or call 203-637-3659
$10 adults/$25 family
*All proceeds support the OGRCC programs and Greenwich Safe Cycling.
35th Annual Riverside Run
Sat., May 12, 8:30 a.m. (3-mile run/walk) followed by Kids Fun Run (1/2 mile) at 9:30 a.m. Register at Riverside School at 90 Hendrie Ave. or call 203-637-1440
$30 adults/$15 kids
Serendipity Fun Run – to benefit the Town of Greenwich Parks & Recreation Foundation
Sun., May 13, 7:45 a.m. registration
Eastern Greenwich Civic Center, Old Greenwich
Adults $35, kids 16 and under free (tickets include food trucks, prizes, t-shirts, gift bags, face painting, pizza from the Dough Girls and more!)
Visit Serendipitysocial.com to register.
Mother's Day Matinee at the Connecticut Ballet, Petrouchka, the famous ballet set at a Russian carnival in 1830's St. Petersburg
Sun., May 13, 1 p.m.
Palace Theatre box office: 203-325-4466
Visit Palacestamford.org for tickets.
Jill Stuart & Morgan Curtis at the Delamar, Greenwich
Stuart and her daughter, Curtis, founder of Morgan Lane, the CFDA Vogue Fashion nominated brand, featuring lingerie, sleep and swimwear, will be hosting a mother/daughter "sip and shop" event at The Delamar Sat. May 12, from 11 a.m. to 3 p.m.
*The event is open to the public, and Bellini's will be served while all mothers and daughters shop and receive 15% off items, as well as a special gift from the Delamar Spa.
Basket Making for Mom – a special activity for moms, kids and the whole family
Sat., May 12, 10 a.m. to 2 p.m.; $10
Sam Bridge Nursery & Greenhouses, LLC. 
437 North St.
Sambridge.com
Shop Local "Gifting"
Christ Church Bookstore – for a great collection of books and gifts; all profits are donated to ecumenical outreach projects in the community.
254 East Putnam Ave.
Open Tues. – Sun. 10 a.m. to 5p.m.
Christchurchgreenwich.org
Splurge – unique gifts including home décor and jewelry offering a wide range of price-points.
39 Lewis St.
Open Mon.-Sat. 10 a.m. to 6p.m.; Sun. noon to 5 p.m.
Splurgegifts.com
Auburn Jewelry Pop-Up Shop at Vineyard Vines
145 Greenwich Ave.
Sat., May 11 and Sun., May 12 10 a.m. to 6 p.m.
Auburnjewelry.com
The Perfect Provenance – a luxe, upscale boutique featuring fine fashions, accessories, jewelry, gifts, and art. PP proprietor Lisa Lori, is offering 10 percent off their signature "Circle of Life" 18k jewelry collection. Each piece in the collection is named after special women in her family, including the Annette Ring named after her mother.
47 Arch St.
Store hours Mon.-Sat. 11 a.m. to 6 p.m.; Sun. 11:30 a.m. to 4 p.m.
Their Café 47 is open for dinner Fri. and Sat. evenings 6-10 p.m. and was selected 2017 Best New Restaurant by Greenwich Magazine. 
Theperfectprovenance.com
Greenwich Arthur Murray Grand Ballroom – offering special Mother's Day gift certificates for dance lessons.
6 Lewis St.
Arthurmurraygreenwich.com
Pampering and Indulgence
The Spa at Delamar Greenwich–
The Mother's Day deluxe revitalization package includes:
a 60-minute rejuvenating facial, designed to leave the skin luminous, toned and lifted.
A 20-minute Valmont eye collagen mask accompanied with a paraffin hand treatment.
Following mom's treatments, she will retreat to the relaxation room to unwind with a glass of chilled champagne and luxuriate with a book or some solitude.
$195; valid through the month of May.
Visit delamar.com to book an appointment.
Sportsplex Stamford – offering three one-hour massage sessions for $220 through the month of May.
Visit sportsplex-ct.com
Mother's Day Brunch Spots
L'escale
Hyatt Greenwich
Elm Street Oyster House
Terra
East End
Bistro Versailles
Harvest
JHouse
The Sentinel asked Lisiewski what Mother's Day means to her as a busy, working mom of three little ones under the age of five?
"Being a mother is a gift and a challenge, but the balance is made easier when you're surrounded by good people," said Lisiewski.
"My mom and mother-in-law have been supportive, positive forces in my life, and I will always celebrate them before myself on Mother's Day as I feel as though my journey of motherhood is only just beginning."
A beautiful sentiment from a mother who values the meaning and support of motherly love and spends her days supporting other moms to be their best.
As Mitch Albom said, "Behind all your stories is your mother's story, for hers is where yours begins."
Visit greenwichmoms.com for more information.
Tags:
ctshopping
,
greenwich
,
Greenwich MOMs
,
GreenwichMoms.com
,
Layla Lisiewski
,
mom
,
Mother's Day
,
shopping
,
Town of Greenwich