April 29, 2018
Column: Scooby-Doo, Luke Skywalker and the Holy Spirit?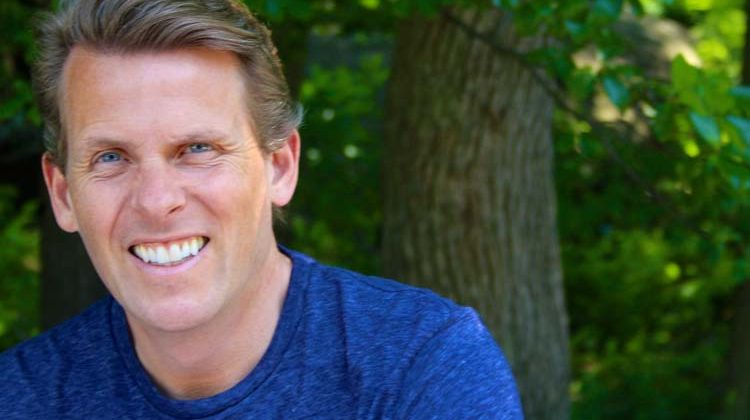 By Drew Williams
I was always very suspicious of the Holy Spirit. This started in my childhood. As a small boy, singing in a church choir, our prayers and singing often referred to the Holy Ghost. I was an avid "Scooby-Doo" fan and this encouraged a very odd set of thoughts and images. Then in the early 1980s, there was some Anglican liturgical reform and overnight the Holy Ghost was rebranded as the Holy Spirit.
This led to the enthusiastic singing of "Holy Gh-irit" as, mid-song, we forgot and then hastily remembered the new branding.
As I got older, the Holy Spirit became more enigmatic. I recall listening to an audio recording of a talk in which the preacher was keen to dissuade us from making any association with the Holy Spirit. In an attempt to convince listeners that there was no place for what he referred to as "magical thinking" or "supernatural phenomena" in our faith, his message ended with the Roman centurion standing guard at the foot of Jesus' Cross. He reminded us, "…the centurion and those who were with him, keeping watch over Jesus… said, 'Truly this was the Son of God!'" (Matthew 27:54). His point was that if this simple exercise in observation with your own eyes was good enough for the centurion, then this should really be good enough for you and me. His argument was convincing, not least because it did not demand too much from me. In later life, however, when reviewing that passage, I discovered that, inexplicably, the curtain of the temple was torn in two, from top to bottom; the earth shook, and the rocks were split; and tombs were opened and the dead were raised! So actually, quite a lot of supernatural phenomena was taking place! Therefore, not surprisingly, we read, "When the centurion and those who were with him, keeping watch over Jesus, saw the earthquake and what took place, they were filled with awe [emphasis mine] and said, 'Truly this was the Son of God!'" (Matthew 27:54).
There is, of course, a lot of mystery surrounding the Holy Spirit. Jesus, Himself, said, "The wind blows where it wishes, and you hear its sound, but you do not know where it comes from or where it goes. So it is with everyone who is born of the Spirit." (John 3:8). But there are also many things that can be understood about the Holy Spirit, so let me attempt to clarify what were at least my misconceptions. 
Myth #1: The Holy Spirit is a force that comes and goes, and gives you goosebumps.
I was ten years old when the first Star Wars movie was released. And remembering the Jedi command, "Let the force be with you!," I recall sitting in the choir stalls imagining that if the Holy Spirit was no longer a ghost then perhaps it was some kind of "force." The analogy of the wind (see John 3:8; Acts 2:2) certainly conveys the Holy Spirit's invisibility and power but does not immediately speak to His personhood. The imagery of tongues of fire that came upon the disciples (Acts 2:3) suggested some kind of purification, but again, it all seemed very impersonal to me.
The reality is that the Holy Spirit is not a force but a person. Jesus promised, "But the Helper, the Holy Spirit, whom the Father will send in My name, He will teach you all things and bring to your remembrance all that I have said to you." (John 14:26). The word "Helper" here is the Greek word "paraclete" and it can be difficult to translate. I am grateful to Oliver O'Donovan's simple definition as the "…one who stands beside us to help…."
That the Apostle Paul understood the personhood of the Holy Spirit is evidenced by the way he wrote about Him. In all of Paul's writings, the Spirit is the subject of a vast number of verbs that require a personal agent. The Holy Spirit searches all things (1 Corinthians 2:10), knows the mind of God (1 Cor. 2:11), teaches the Gospel to believers (1 Cor. 2:13), dwells among us and within us (1 Cor. 3:16; Romans 8:11; 2 Timothy 1:14), accomplishes all things (1 Cor. 12:11), gives life to those who believe (2 Cor. 3:6), cries out from within our hearts (Galatians 4:6), leads us in the ways of God (Gal. 5:18; Rom. 8:14), pours the love of God into our hearts (Rom. 5:5), bears witness with our own spirits (Rom. 8:16), has desires that are in opposition to our fleshly desires (Gal. 5:17), grieves for our sinfulness (Ephesians 4:30), helps us in our weakness (Rom. 8:26), intercedes on our behalf (Rom. 8:26-27), works all things together for our ultimate good (Rom. 8:28), and strengthens believers (Eph. 3:16).
As well as being a distinct person who acts personally toward us, the Holy Spirit is also a distinctly divine person. The first-century theologian Basil the Great was an advocate for Biblical theology and a great champion of the poor. On the divinity of the Holy Spirit, he helpfully wrote, "Through the work of the Spirit, Jesus will receive a glory from outside Himself that nevertheless has its ultimate divine source in the Spirit who shares His divine being and yet is distinct from Him."
And the Holy Spirit is not a feeling that comes and goes. Before Jesus returned to heaven, He promised to be with us always [Matthew 28:20b]. The Holy Spirit is the fulfillment of that promise. He is God's presence in us and with us. Paul wrote: "If the Spirit of Him who raised Jesus from the dead dwells in you, He who raised Christ Jesus from the dead will also give life to your mortal bodies through His Spirit who dwells in you." (Romans 8:11). The Holy Spirit is not far off, not distant, not remote; the Holy Spirit is really just as close as it is possible to get. Right within us, in the very seat of our will and emotions, immediately behind the ego and the false self that we would project upon the world, this is where the Holy Spirit takes up residence. Our ability to sense the Holy Spirit can come and go, but He does not. Just because we cannot feel the Spirit's presence does not mean He's not there.
A friend of mine took himself off to a silent retreat. He later shared with me his frustration with all the internal noise that surfaced in this supposed quiet time. But, he told me that after a few hours of persevering in noisy silence, he was suddenly aware of the presence of God by His side. A door banged nearby, and that awareness was shattered as his attention shifted to the distraction. What my friend glimpsed in those few precious moments was not the Holy Spirit arriving and then exiting via the back door with a bang, but His ever-present reality. Jesus is always there by His Spirit. So often we are just too preoccupied to notice. Our lack of awareness, however, does not change the reality of His presence.
Myth #2: The Holy Spirit only does spectacular things. The Holy Spirit certainly empowers us, but His power isn't reserved only for huge miracles, such as healing or deliverance. The Holy Spirit is at work in our lives all the time. The Holy Spirit helps us know what to say when we're having a hard conversation or when to encourage a friend with a simple text. He can gently nudge us to invite a co-worker to lunch, or stop by a friend's apartment and see how she's doing.
The key word for describing the Holy Spirit's engagement with us is fellowship. In this way, Paul wrote to the Church in Corinth with these words: "The grace of the Lord Jesus Christ and the love of God and the fellowship of the Holy Spirit be with you all." (2 Corinthians 13:14). Perhaps our first response to this word "fellowship" is to imagine our relationships with one another — if you like, the horizontal axis. But there is a vertical axis of relationship with the Holy Spirit (which, of course, feeds the horizontal) whereby the Spirit makes it possible for us to follow the Lord in the face of life's many challenges. At no point does the Holy Spirit bypass or usurp our will, making our decisions for us. And yet, at no point will He abandon us to our own (lack of) resources. Like the perfect Father, God never takes over and does it for us, nor leaves us to flounder and fall, frustratedly, by ourselves. Michael Lloyd wrote, "What matters is not the strength of our spirituality, but the grace of the Spirit of God."
Myth #3: The Holy Spirit is reserved for super Christians. This one is perhaps the biggest myth of all. When we read about Jesus and the disciples doing miracles, we can forget that His disciples were ordinary people like us. A.W. Tozer reminds us, "We can be in our day what the heroes of faith were in their day — but remember, at the time they didn't know they were heroes." The Holy Spirit is a gift to all Christians. It is not about achieving a level of spirituality first before the Holy Spirit will be with you. As I wrote above, the Holy Spirit is continually with us. That said, certainly, the Holy Spirit is the gift that keeps on giving. As we grow in fellowship with the Holy Spirit, we learn to recognize His voice, and even His sense of humor.
There are often three major barriers to people receiving. The first is doubt ("If I ask, will I receive?"). Jesus said, "So I say to you: Ask and it will be given to you…" (Luke 11:9). And you can imagine the disciples thinking, Mmm…not convinced. So Jesus continued, "…seek and you will find…" Still not convinced! "…knock and the door will be opened to you." You can imagine them thinking, Mmm, not sure. Maybe other people if they asked, but not me! So, Jesus made it clear: "For everyone who asks receives…" (Luke 11:10). "Everyone" includes you and me. Everyone who asks receives; everyone who seeks finds; and to everyone who knocks, the door will be opened.
The second barrier is fear. Again, we might imagine the disciples saying, "Okay, You have convinced me. If I ask, I'll receive. But do I want to receive? Would something terrible happen to me?" And so, Jesus told them (and I'm modernizing it here), "Look, some of you are fathers. Supposing your son comes to you at lunchtime and so you ask, 'What would you like for lunch?' And your son says, 'Oh, I'd love some fish and chips.' And you say, 'Great, there's a good fish and chips shop on the main street. I'll just pop down and get you some.' But instead of popping down to the fish and chips shop you stop at an exotic pet store and purchase a snake. You return home with your purchase, saying to your son, 'You know how you asked for fish and chips?  Well, here it is!' And you hand him the snake and invite him to take a bite."  What Jesus said was: "Which of you fathers, if your children ask for a fish [he forgot to mention the chips], will give him a snake instead? Or if he asked for an egg, will give him a scorpion? …If you … know how to give good gifts to your children, how much more will your Father in heaven give the Holy Spirit to those who ask him!" He's not going to give you something terrible! He's going to give you the Holy Spirit! And the Holy Spirit's presence is distinguished by love, joy, peace, patience, kindness, goodness and faithfulness [see Galatians 5:22].
Finally, the third barrier to receiving is inadequacy. We imagine, "Well, if I asked, I'm not going to receive, because God knows what I'm like and He knows that I don't deserve it. I can understand why holy people (you know, those who've been Christians for a long time) would receive, but I don't think God would give the Holy Spirit to me." Jesus' promise is not: "How much more will your Father in heaven give the Holy Spirit to missionaries and pastors (especially ones with British accents!)." No! He said, "How much more will your Father in heaven give the Holy Spirit to those who ask Him!" So why don't you ask Him?
Tags:
greenwich