April 27, 2018
Pennies for the Greenwich Pool – Kids Jump In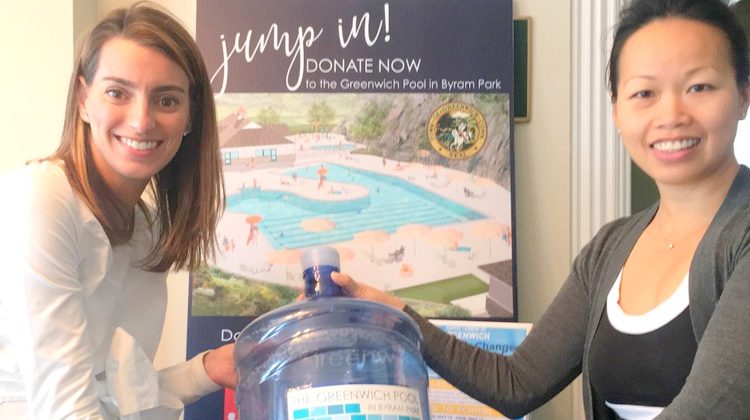 By Anne W. Semmes
News flash! The hunt is on for loose change and nearly 9,000 students from the town's 15 public schools are searching. While not all of these young coin collectors are necessarily enthusiastic swimmers, most of them have signed on to support the Town's new and only outdoor community pool, opening in June, in Byram Park.
The Junior League of Greenwich (JLG) has embraced the entire public school system in its "Youth Engagement Initiative, 'Bring Your Change to Make a Change'" to support the Greenwich Pool in Byram Park. "The goal of this Youth Engagement Initiative," says JLG President Debra A. McLaughlin, "is participation.  The Junior League wants all young community members to feel a sense of pride and ownership of our Town's newest recreational asset."
For its participation, adds McLaughlin, "each school will be recognized with an engraved brick in the donor walkway in the pool Pavilion." Sometime soon, the pitter-patter of young swimmers' feet will traverse those bricks that celebrate their school's effort to support the new zero-depth entry pool, kiddie pool and splash pad.
The student raid on piggy banks and sleuthing out Daddy's pockets for those nickels, dimes, quarters and pennies will culminate in a four-day grand collection, May 14-17, and all that loose change will be deposited in a sizeable Greenwich Pool coin jug set before an enticing pool rendering poster labeled, "Jump In – Donate Now."
Perhaps those students with the greatest investment in the Greenwich Pool are those in the elementary schools. "They will be the longest users of this incredible pool," says Jennifer Bencivengo, Principal of the Old Greenwich Elementary School and JLG Communications Director.
How each school organizes for "Bring Your Change to Make a Change'" project was explained by Bencivengo.  "It's each school's individual decision. My school is being organized through our student ambassadors, fourth and fifth graders, who will champion this project for us. They will work with their faculty coordinator, have a drive, and be out front collecting the change from the children as they come in before school."
Bencivengo sees the outdoor Greenwich Pool as a true magnet for her students. "It's a community that values time outdoors. Almost all of my students walk or bike to school. It's that kind of a neighborhood community. So having a town pool really speaks to who they are." She also sees the pool as a healthy alternative to hours spent in front of a screen.
Margo Cole and Kosanna Poon are the orchestrators of the JLG Youth Engagement Initiative and creators of the "Bring Your Change to Make a Change" project. As new members, the two stepped into what has become a multi-year, public-private partnership, since 2011, between the Junior League of Greenwich and the Town of Greenwich. "We are thrilled," said Cole, "to engage our greatest beneficiaries of the project – our students – in building awareness, excitement, and a sense of pride and ownership in the pool ahead of its unveiling in June."
The two have been "very pleasantly surprised," said Cole, to have engaged all 15 public schools. "This is the first time in many years that the League has partnered with the entire public school system."
Their modus operandi is working with each school individually, says Cole. "We're arming them with a number of materials. One is a fact sheet about the pool, fun facts about what's happening with the pool. We're also arming them with bookmarks typically more of a marketing material than informational. Those are the two things we are providing to the schools. We're also working with student groups to disseminate information and generate excitement about the pool opening."
The North Street Elementary School has come up with some eye-catching, show-and-tell, "Bring Your Change" posters. In addition, 8,000 book marks are to be given to all of the Greenwich public schools with information about the pool complex. On Friday, May 10, the results of the coin drive will be announced. The Junior League of Greenwich is almost at the goal of a $2.5M Capital Campaign, which includes the League's own $250,000 lead donation and a crowdfunding campaign to raise $100,000 to fund the Splash Pad.
Perhaps the greatest value generated by this public-private Greenwich Pool partnership with its Youth Engagement Initiative of "Bring Your Change to Make a Change" is its community building potential. "This pool is a vehicle for people to have life-changing experiences and intergenerational interactions," says McLaughlin. "The Youth Engagement Initiative creates opportunity for Greenwich youth to participate in their community."
Measure for measure, with so many Greenwich kids willing to step up for their new outdoor pool, every penny counts.
Tags:
Byram Park
,
Byram Pool
,
greenwich
,
Greenwich pool
,
JLG
,
Junior League of Greenwich