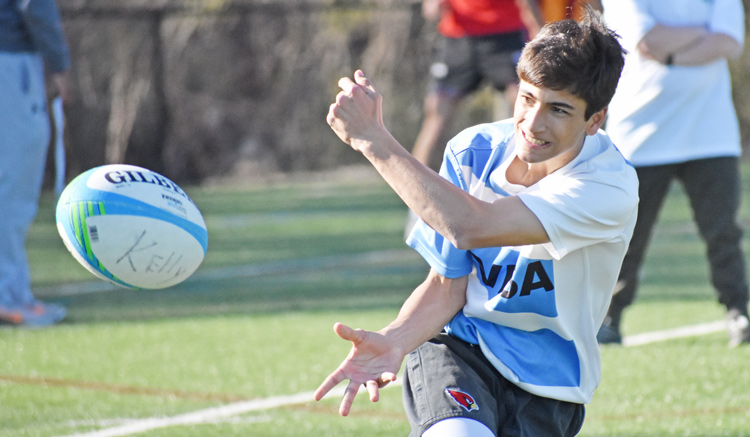 By Paul Silverfarb
Sentinel Editor
Every player on the Greenwich High School rugby team says that they take things one game at a time. However, whether they admit it or not, this Friday's game has been one that Big Red has circled since the schedule was finalized.
Head coach Joe Kelly, assistant Glenn Fox and the rest of the Cardinals always enjoy when they battle rival Xavier High School.
"We really have to put the work in during practice," GHS senior Eddie Schmidt said. "We call this week 'Xavier Week' for obvious reasons. We put in the hard work and put in the effort. We want to play our best against them because we know they will be bringing their best on Friday. It never gets old."
And for Greenwich to lace them up with one of the best teams in the country, in front of their home fans at Cardinal Stadium, is just the icing on the cake.
"This is the game that is circled every year," senior Finbar Doyle said. "It's the game that the school talks about all year. In the fall, everybody talks about Homecoming. In the winter everybody talks about the big senior night basketball game. In the spring, no offense to any other sport at the school, but everybody talks about the rugby Xavier game. It's at home and two years ago the atmosphere was absolutely amazing. It's not a typical game."
For senior John Duffy, playing in this game is a feeling difficult to replicate.
"It's an amazing game and one of our goals is to beat Xavier," Duffy said. "We are home this year and we will have a nice advantage. We get a nice crowd, so that will be good. There's always a rivalry there, but around this area there aren't a lot of nationally-ranked teams. So, being able to play them and with them being up there in the ranking is great. We want to prove ourselves."
"It has been six years in a row where we played Xavier and the outcome was in single digits between us and them," Kelly said. "We are the top teams in the Northeast. We love those close games. The more I coach, the more I don't want to see blowouts. I don't want to be on the good side and the bad side because they are boring. I want the game to be back-and-forth. Each of the last two home games we have had here have been back-and-forth. Everybody was at the edge of their chairs. I would like that again, but it does feel better when you're on the winning side of things."
Friday's game, which will be played at Cardinal Stadium, will kick off at 7 p.m.
"I definitely think we have what it takes to come away with the victory," Doyle said. "Everybody is going to show up and give it their best. But I think we have the talent to withstand their blows and throw our counterpunches."
"It's the biggest game of the season for us," said assistant coach Glenn Fox. "Excitement isn't even a word that I would use. We've been working for this game all season and every practice leading up to the game. It's going to take a lot of discipline, mental focus, remaining calm and trying to figure out how to control the excitement to beat Xavier. We need to pick our moments to attack and try things."
The Last time Greenwich hosted Xavier, they came away with the 34-29 victory in front of a packed house.
"In this game, it's an issue of whether they want it or don't want it," Kelly said. "It's a grueling game. You're out there making dozens and dozens of aggressive tackles a game. These players have it in them to make those aggressive tackles all game long. If they keep their aggression level to a very high point and go above 100%, they will most likely win the game. They will feel it afterwards. They will be tired and exhausted, but also so satisfied at the victory."
And the members of the Cardinals couldn't agree more that playing a competitive game will do nothing but help the team.
"It's an awesome game," Schmidt said. "It was awesome that we got to play them twice last year and lucky enough to win one of them. They are our big rivals and it's a huge game every year. We look forward to it and it's the biggest game on our schedule. We need to play our best game and do our best."
And the Cardinals agree that there's no atmosphere that compares to the crowd that descends on Cardinal Stadium for the battle against Xavier.
"It's so organic," Kelly said. "Football has its structure. It's a town sporting event that everybody goes to. Politicians are waving to the crowds and kissing babies. The cheerleaders and dance teams are there, with their parents in the stands. Our rugby event is organic. One team plays another team and people come to the field to see the game. When you fill the stadium with an organic situation like that, it seems like it's more electric."
For Doyle, playing in the game is something that is hard to explain.
"It's the most pressure I have ever felt in my life," Doyle said. "And that was even amplified last year when we played them at Nationals. I was able to start in that game and I played the entire game. The pressure was like no other. I played in the state championship in football this past fall and it's not even comparable to that."
And if people think the game is intense, just imagine what the practices leading up to the contest are like.
Every year, the week before Xavier is a big week," said Sebastiano Villani. "We always put in a lot of work just to make sure we are at the game and prepared. We want to try our best and bring the game home. If everybody gives 100% of effort, we can easily get the victory."
Kelly said that having his team focused for the week leading up to Xavier would be considered an understatement.
"We try to forget about distractions and I tell the kids to make sure homework is in, projects are done, kiss their mothers and not argue with their fathers," Kelly said. "They will sort out their loose ends so that they can totally focus for the week leading up to Xavier."
For Fox, he has the unique perspective with this rivalry. Not only has he coached in this contest, but he played in the game back when he was on the squad at GHS.
"As a player here back in 2005, it was exciting then and it's just as exciting now," Fox said. "It never gets old. I don't think it actually will ever get old."
Greenwich has played nine games and has won all but one. However don't think that Big Red's competition has been lacking. All but one of the games were against ranked opponents.
"We play only good teams," Kelly said. "All these top teams have helped us become a better team because we don't play too many lesser teams. Those games are great for confidence, huge for skill building and huge for character building.
When the dust settles from Friday's game and the crowd vacates Cardinal Stadium, Greenwich won't have too much time to catch their breath. In mid-May, Greenwich will hit the road and compete in the High School Rugby National Championships.
"Xavier is a big prep for Nationals because they are a very highly-ranked national team," Doyle said. "They are exactly the type of team that we are going to be playing on a national stage, day after day when we are down there."
"Nationals is another one of our goals, so playing a nationally-ranked team like Xavier before we travel to Nationals is good," Duffy said. "It shows how good we are and we get to see how the competition is.
Kelly said that he knows that Xavier is a top team, so if the Cardinals can play with them, win or lose, and keep it close, they have a chance at beating anybody at the national championships. Also at stake for Big Red is a higher ranking in the seeding at the national championship. If Greenwich wins, they will basically steal Xavier's ranking at be ranked third.
But first thing's first…and that's trying to take care of business against Xavier.
"It would be a huge deal to beat them," Duffy said. "We have only beaten them a handful of times. To be one of the teams that beats Xavier is a huge deal around here. We have the team to do it this year. We have the size and speed. I think we are good."