April 20, 2018
Brunswick Dominates Rams in Fairfield County Lax Showdown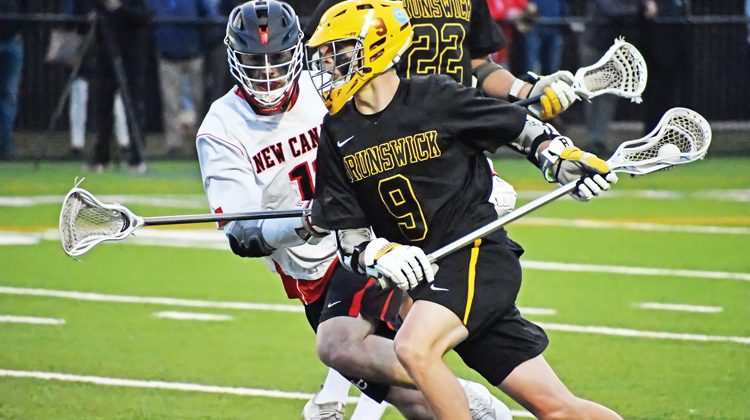 By Paul Silverfarb
Sentinel Editor
With score knotted at 1-1 in the early minutes of Brunswick's lacrosse matchup against New Canaan High School on Saturday, a back-and-forth battle seemed more than possible.
However, the Bruins had other plans. Showing exactly why they are the third-ranked team in the country, according to the most recent Inside Lacrosse/Under Armour poll, Brunswick stepped on the gas and never let up, taking a 14-1 lead to start the second half and cruised to a 19-5 victory at Cosby Field.
"I am hoping that we get more performances like that," said Brunswick head coach David Bruce. "If we do, we are going to be a really hard team to beat. It was a full team effort and I am at a loss for words with how well they played every single moment."
With the victory, the Bruins kept the good times rolling and upped its record to a perfect 6-0 overall this season.
"It was great tonight, being out here on Cosby with a great crowd," said senior defenseman Sean Amill. "New Canaan is a great team and it took everything we had to beat them, but I am proud of our guys and how we played today. We came out with energy today from the first groundball and it shows on the scoreboard. We came out firing throughout the game."
Leading the way for Brunswick School was senior Jack Montinaro, as the midfielder took home four goals and two assists. Not to be outdone was Xander Dickson, as the senior attacker added two goals and five assists.
"This was an awesome game," said defender Wilson Stephenson. "This game could have gone either way early, but we went on a 13-goal streak. That shows a lot, not just with our talent, but the character on the team too. It's a team effort to get 13 unanswered goals and we showed that today. Hopefully we can continue that with us for the rest of the season."
Junior Christian Ronda took home a hat trick and two assists, while senior midfielders Jack Ocken and Michael Gottlieb each finished with two goals. The group of Cooper Moore, Hugo Gorman, Tucker Slattery and sophomore attacker Michael Mauricio each finished with one goal apiece.
"We play like we play in practice," Brunswick senior Jordan Ginder said. "We play hard and floodgates kind of opened up for us in our favor. We kept on gassing it up.
While the goals were coming in at a fast and furious pace, a lot wouldn't have happened if it wasn't for the dominating play of Ginder. Taking the faceoffs, Ginder won 15 of the 16 that he took part in during the first half.
"This was really great today," Ginder said. "We have a great team and we practice really hard and everybody really loves each other. We play as a family and play together. Tonight we played a regular game and it came out in our favor. I practice against my younger brother, Tommy Kelly and other people on the team and they help me out a lot, especially during the offseason."
Bruce said that Ginder's faceoff performance was his best to date.
"He was great at the X and when he lost, he was off at the right time," Bruce said. "When he won, he pushed it hard and drew a bunch of penalties. I think he was as focused as he has been all year for us.
During that 13-goal unanswered streak, one thing that shouldn't get overlooked was the defense.
"Jordan was a big part of that because of how we won nearly all the faceoffs," Stephenson said. "Even when the ball comes down, we are such an experienced group of guys that we talk to each other and know where we are on the field. So that makes things very easy for us. Also, making things easy for us was Patrick Burkinshaw in net. If we did give up those outside shots, we know he's going to make the save."
In net, Burkinshaw ended the day with eight saves, while teammate Will Prout came in later in the game and finished with seven saves.
Throughout the first half, and most of the contest, New Canaan's attack wasn't able to establish itself and was consistently getting pressured from Brunswick's relentless defense. The Bruins were able to force countless turnovers, which helped push the play deep in the New Canaan zone.
"Right now our defense is playing confidently," Bruce said. "It's hard not to play confidently when you have a goalie that will probably bail you out nine out of 10 times. We haven't seen as good of a goalie as Burkinshaw in two years and that lets us take more chances out there."
While the Bruins face a lot of talented teams throughout the season, there's always something special about playing a local team from Fairfield County.
"[New Canaan] is a good team and we just played really well," Bruce said. "They are excited about it. It's New Canaan and they are local and it's a rivalry that stems back to youth lacrosse leagues. Again, this is a fun game. Even when we lost a couple of years ago, it was about our league. We try and play top out of conference teams and New Canaan is one of them. It's a great tradition and we've done this for four years now. I hope we continue it for a while. It's fun and brings a little different atmosphere, with the number of fans that they bring to the field."
And the way Brunswick played against the Rams was music to his ears. A game earlier against Taft, Brunswick came away with the commanding victory. However the head coach wasn't thrilled with the style of lacrosse his team was playing.
"I thought we lost our composure against Taft and played well to beat a good team by a bunch of goals, but we needed to refocus from that game," Bruce said. "We looked at this game and a couple of games ahead and knew we were going to see a couple of tough opponents. What we talk about is being focused on the next play and not worrying about what just happened. We need to focus on what comes next, whether it's the faceoff, the groundball or a turnover. We responded to everything and were ready for the next play."
Tags:
Brunswick
,
Brunswick Lacrosse
,
ctblax
,
ctlax
,
lacrosse
,
NCHS Lacrosse
,
NEPSAC
,
New Canaan