April 13, 2018
Greenwich Hospital's New Advances in Diagnostic Procedures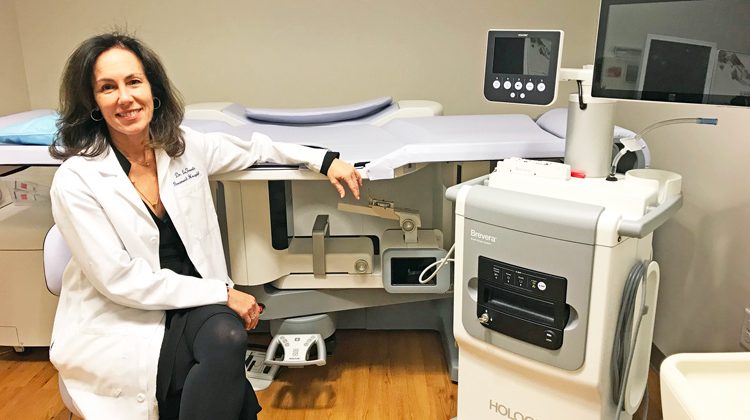 The addition of two new state-of-the-art diagnostic machines at the Breast Center make biopsy retrieval faster, more comfortable and extremely accurate, keeping Greenwich Hospital at the forefront of advanced diagnostic breast imaging technology.
Designed so the patient lies face down on her stomach (prone position) during the procedure, the Affirm Prone and Brevera biopsy systems work together to help diagnose breast cancer in its earliest stages with increased efficiency to reduce the patient's time under breast compression.
This technology was purchased with funds donated by the Greenwich Hospital Auxiliary. The donation was made in support of last summer's Under the Stars fundraiser "Wish List", a selection of items compiled by physicians and nurses based on their immediate needs.
This equipment enhances the ability to perform minimally invasive needle biopsy of masses and small calcium deposits seen on mammograms. Although most calcifications on a mammogram are associated with noncancerous conditions, clusters of calcifications can be a sign of early cancer cells. When calcifications need to be biopsied, stereotactic needle biopsy has become the procedure of choice because it enables sampling under local anesthesia with a minimally invasive technique that takes only 15 minutes.
Providing 3D images and 360-degree access to breast lesions, this new system makes it easier for a physician to biopsy even the subtlest irregularity and allows for real-time imaging with instant sample verification. This confirms that the calcification is present in the biopsy sample while minimizing the handling of tissue samples prior to examination by the pathologist.
Patients who cannot lie on their stomachs due to severe neck or back arthritis have an alternative – the Affirm biopsy upright system allows patients to sit in a chair during the procedure. The upright system also makes it easier for doctors to reach tissue abnormalities located too far back in the breast to biopsy in the prone position. Greenwich Hospital has been using the upright system for more than a year.
Greenwich Hospital is the only hospital in Connecticut to combine both biopsy systems. Together, these enhance our ability to obtain tissue samples of even the most difficult lesions, increase patient comfort by decreasing procedure time by at least 25 percent and deliver a more positive experience for patients.
The Breast Center is one of the beneficiaries of Greenwich Hospital's annual Under the Stars event on June 22. For the past 20 years, Under the Stars has raised significant funds for Women's and Children's Health. For information about the event, please visit giving.greenhosp.org/uts2018.
Tags:
Affirm Prone
,
biopsy
,
Breast Center
,
Brevera
,
greenwich
,
Greenwich Hospital
,
Under the Stars