April 9, 2018
'Wild Bees' Photography Exhibition Opens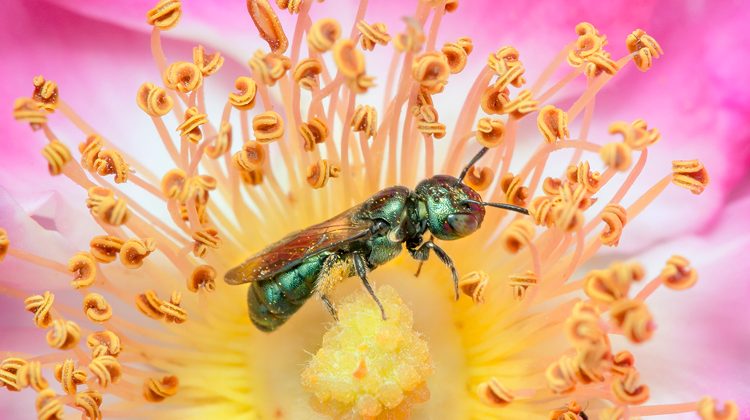 The exhibition "Wild Bees: Photographs by Paula Sharp and Ross Eatman," opening at the Bruce Museum on April 14, features approximately 26 photographs of wild bees in their natural habitats, along with native bee specimens that can be viewed under a video microscope, an interactive website, bee houses, and giant model bees at 20x scale.
While many people are aware of the collapse of European honeybee populations, fewer know that native insect pollinators are declining globally due to a combination of habitat loss and fragmentation, pesticide use, pathogens, and invasive species. Native bees pollinate both wild plants and agricultural crops – many of which cannot be pollinated by honeybees. Wild bees are important pollinators of wildflowers, garden flowers and commercial crops including fruit trees, berries, melons and garden vegetables, yet their significance in sustaining healthy ecosystems is often overlooked.
The photographs in the exhibition are part of a three-year wild bee project undertaken in July 2014 by photojournalist and writer Paula Sharp and nature photographer Ross Eatman to document wild bees inhabiting New York's Rockefeller State Park Preserve and neighboring Stone Barns Center for Food and Agriculture.
For additional information, call 203-869-0376 or visit brucemuseum.org
Tags:
Bruce Museum
,
greenwich
,
photography
,
Wild Bees