April 3, 2018
New Leb. Fundraiser Serving Up Fine Italian Food, Fun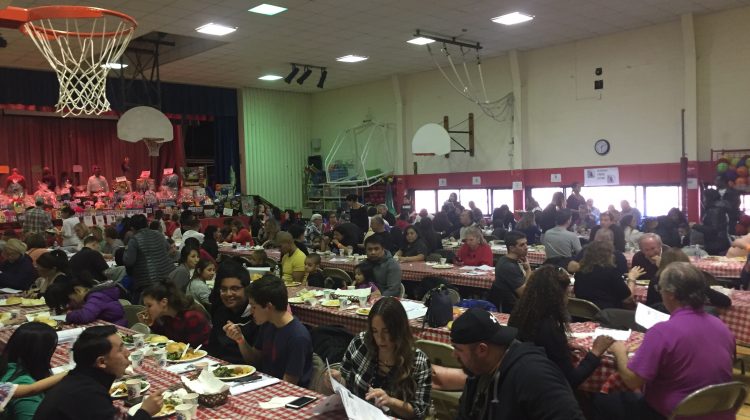 By Richard Kaufman
With classic Italian tunes playing in the background, the local community gathered in the New Lebanon School gymnasium back on March 24 for the school's 36th annual Spaghetti Fundraising Dinner.
Approximately 350 students, parents and faculty came together to feast on spaghetti, meatballs and salad, catered by Planet Pizza, for the school's largest fundraising event of the year.
Long tables stretched across the length of the gymnasium floor, each adorned with red and white checkered tablecloths and baskets of Italian bread. The cafeteria was used, as well, to accommodate the large crowd.
"It's an annual tradition that's been happening for many, many years now. It feels like one big family dinner the way it's set up, like a little italian restaurant with the tablecloths and everything," said New Leb Interim Principal, Klara Monaco. "It really is fun for everyone to get together and have a nice meal, but also raise money. We hope it brings some fun, and helps supplement everything we do here."
Up on stage for all to see sat 126 raffle prizes, each donated by members of the community, nestled neatly and shimmering underneath the lights above. 
As if at a rock concert, students gathered at the base of the stage and peered up at the treasure trove. Prizes included gift cards to various local businesses, as well as assorted experiences, gift baskets and toys.
The most talked about prizes were the Xbox One game/console bundle, tickets to the annual Greenwich Town Party, and the famous $100 money tree and scratch-off lottery tickets.
Class baskets were also up for grabs, as each grade decided on a theme and organized a basket of items. The most sought after was the "Let's Go "Apple" Picking" basket, compiled by the 5th grade. Valued at $725, it featured an Apple IPad, Beats Headphones, a bluetooth wireless speaker, and an iTunes gift card.
All proceeds from the dinner will be put back into the school to support the mission of the PTA. The money will fund assemblies, field trips, books and vital after-school programs.
"We run [the after-school programs] not to make profit; we run them for participation. For some children, will they ever experience a Karate class if we don't offer it? It's not just having some place for your child to be after school, it's a true enrichment for them," said PTA co-president, Clare Kilgallen.
Aside from the prizes, the night was about community and relationships with local businesses.
"If you look at the prize list, it's not just about getting prizes donated, it's about our community partnerships," said PTA co-president, Clare Kilgallen, who noted that donors reached out from all corners of town because Greenwich realizes how important fundraisers like this are.
Monaco, who has now been to five spaghetti dinners, said her favorite part is sitting down to a family-style meal, talking with and meeting other members of the community. 
Fifth-grader Anthony Colmenares said Saturday was his first spaghetti dinner. While he enjoyed the food, he said he was eyeing the money tree. 
"I like that we get to join in, get prizes and come together," he said. 
The dinner is truly a team effort and takes a lot of organization and dedication each year to make it happen.
"We have highschool volunteers helping run the tickets and trying to keep everything moving smoothly," Kilgallen said. "We have teachers who come just for tonight; they don't have to be here. It's really a collaborative, community dinner."
Even New Leb alumni, who experienced the spaghetti dinner as students, come back to help out. Wendy Figueroa participated in the event over 25 years ago, and has helped organize it for the past nine years. She has pledged to continue to volunteer until she reaches her goal of raising $10,000. Figueroa said her favorite part of organizing the dinner is seeing the support from donors, and then finally giving away the prizes to students.
But, the 35th annual Spaghetti Dinner had a different feel to it this year, since it's likely the final one in the current building. The school's new facility is on track to be completed this December, and students should be able to move in just in time for next year's fundraiser.
Figueroa believes that a bigger and better building will translate to an even bigger and better spaghetti dinner. Kilgallen echoed those sentiments.
"This is super exciting," she said. "We'll have more space; we won't have to have people in the cafeteria for dinner. Just having everybody in one room will be nice, and I think people will be very excited to see what the building looks like. They've seen it in drawings and illustrations, but it is going to be very exciting."
Tags:
byram
,
greenwich
,
New Lebanon School
,
Town of Greenwich