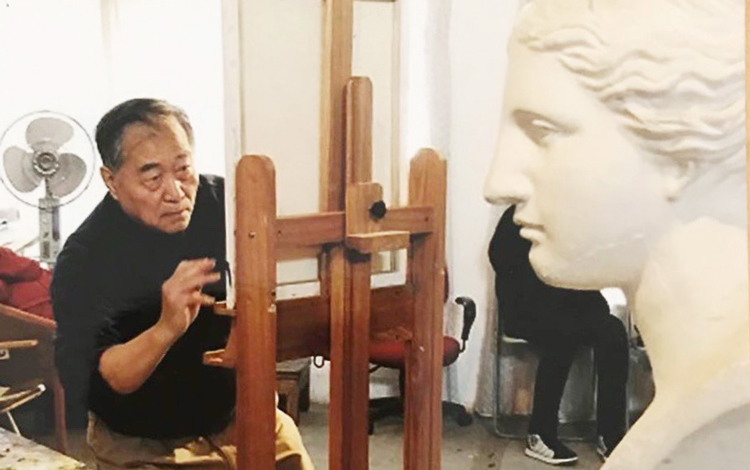 Bai Ji Kong, a 28-year Greenwich resident, passed away on March 12.
Born in Shanghai in 1932, he has long been regarded as an important figure in China's contemporary art movement. His works are included in the permanent collections of The Art Institute of Chicago, The National Art Museum of China in Beijing, The Shanghai Art Museum, Harvard University, Lincoln Center in New York, Smith College Museum of Art, The Soyanzi Art Museum in Tokyo, The Peace Museum in Hokkaido, Japan, and the sacred Kinpusenji Temple—The Temple of Golden Peaks—a designated national treasure in Nara, Japan.
He immigrated to the United States with his family in 1986, and, in 1987, Kong's work was included in the first North American exhibition of contemporary Chinese art after China's Cultural Revolution, which took place at the USC Pacific Asia Museum in Pasadena, California. Henry Kissinger wrote the forward for the exhibition catalog.
Bai Ji Kong's work is closely associated with China's Mogao Caves—located in the ancient Buddhist city of Dunhuang in China's Gobi Desert. In 1979 Kong made a pilgrimage to this site, which is now a UNESCO World Heritage Site and is also known as the Caves of the Thousand Buddhas. He was greatly moved by the delicate and beautiful rock carvings, which span a period of 1,000 years, housed in the numerous caves.
During a 2011 exhibition at the University of Pennsylvania titled "Post-Mao Dreaming: Chinese Contemporary Art", Joan Lebold Cohen, one of America's foremost experts on contemporary Chinese art, commented, "I felt of the artists I saw, which were many, who had gone to Dunhuang, none ever captured the spirit of Buddha as well as Kong Bai Ji."
In 2007, The Art Institute of Chicago acquired an oil-on-rice-paper painting by Kong entitled "It's Spring Again". On Nov. 16, 2009, U.S. President Barack Obama and then Secretary of State Hillary Clinton met with Shanghai's mayor Han Zheng in front of Kong Bai Ji's large mural at the Xijiao State Guest House, China's equivalent of Camp David, in Shanghai. In 2010, Kong's paintings were on display in a special exhibit in the China Pavilion at the World Expo in Shanghai, and, in 2012, China Central Television produced a two-part documentary on Kong that aired globally.
In 2012, The National Art Museum of China, one of Asia's leading art museums, honored Kong with a solo exhibition showcasing 100 of his paintings. In total, 20 paintings from the show became part of the museum's permanent collection. The event served as a retrospective of the work that Kong, who turned 80 the month before the exhibition, produced during the prior 60 years of his life.
Kong is survived by his wife of 63 years, Qing Li Feng, his two daughters—Greenwich resident Sasha Kong and Westport resident Xiao Mai Kong—by his brothers Bai Liang Kong and Bai Jun Kong, who reside in China, by his sister Ru Fang Kong, who also resides in China, by his three grandchildren, Bay Hodge, Tallon Hodge and Claudia Chen, by his son-in-law Peter Hodge, of Greenwich, and by his son-in-law Wei Chen, of Westport.
Kong continued painting until the last year of his life. His immense strength and grace, his extraordinary talent, and his passion for life deeply touched the souls of his numerous students, friends and followers throughout China and the West, and will live on in the many wonderful paintings he left behind.