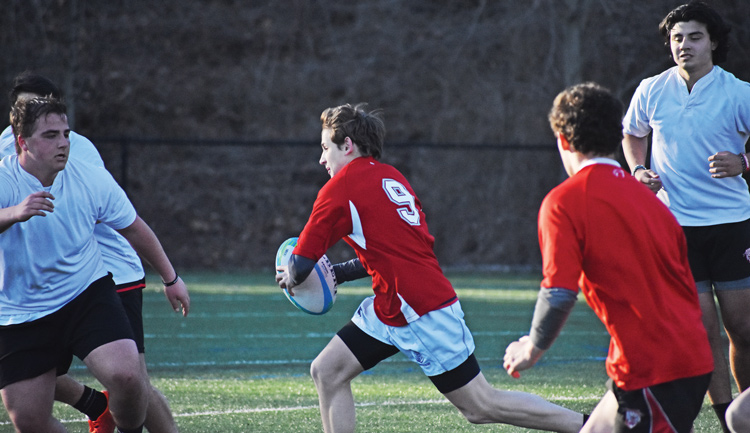 By Paul Silverfarb
Sentinel Editor
It's not every day that coaches find themselves in the position of head coach Joe Kelly and longtime assistant coach Glenn Fox. They have been a part of something special with the Greenwich High School rugby team.
Their Cardinals have traveled throughout North America to compete against the best of the best, they have been to the boys' high school national championship for six consecutive seasons now, they have captured the state championship for the past decade, and when they aren't ranked as one the top 10 high school teams in the country, it just doesn't feel right.
Not too shabby of a resume.
And, it's hard for the duo not to smile when looking at the athletes on the roster during another tough, but fun, practice at Field No. 7, at Greenwich High, and think about the past and what the future holds.
"It's awesome," said Fox. "Every day, I look forward to sneaking out of work a little early and getting as much time as I can with the team. It's an absolute joy. The guys are a pleasure to work with, and it's their enthusiasm and effort that makes it all worthwhile."
Kelly said that back at home, he and his wife refer to his coaching as a mid-life hobby, albeit a highly productive, hardworking and enjoyable one.
"They are a great group to be around, and it's so rewarding," Kelly said. "We push them to the point where they are trying to find a balance between really enjoying themselves and making it competitive. What's great for me every year is helping the kids that are new to the sport or not athletic to learn the sport and adopt the sport. Maybe it changes their lives for the positive. We try to mix that with the training of high-performance and incredible athletes to go on and try and compete for a national championship. It's a wonderful mix and satisfying for me. It takes a lot out of us, but it's so rewarding," he added.
And, as usual, this year the expectation for Big Red is through the roof. With a slew of talented and experienced rugby players, as well as some up-and-coming talent from the underclassmen, Kelly and the rest of the Cardinals have their sights set on some lofty goals.
"There are some big expectations here," said senior captain Finbar Doyle. "We have had so many great and successful years in the past, obviously with the 10 straight state championships and multiple years of going to the national championships. But I think that we definitely have aspirations to win our first national championship. I think we can bring it home this year. We've been talking about winning a national championship for years. We've played against these teams, and, when it comes to our banquet at the end of the year, I would love to sit next to all my guys and say that we did it."
And that's exactly what Greenwich wants to do.
Last season, Big Red traveled to the Boys High School National Championships in Kansas City, Mo., and had its best performance to date. In its first match of the tournament, Greenwich fell to Penn 33-12. However, that was the last loss for the Cardinals, who upended St. Edward, 31-26 in overtime, and then bested rivals Xavier High School by winning on kicks with the score knotted at 22-22.
The win gave Greenwich a fifth-place finish, but also something a lot more meaningful.
"Because of last year's outstanding performance, winning two of the three games at Nationals, we are invited right away and there are high expectations," said Kelly. "They ranked us fifth at the start of this season and are now sixth due to a couple of other games before we even got started playing. We are doing well and doing what we have to do to start out."
"With the depth that we have and the number of guys that were on the starting side that were at Nationals last year, they have the experience and know what needs to be done," Fox said. "They know the tools that we need to bring in order to get it. They are also getting the guys that weren't there up to speed and on the same page," he added.
This year, Greenwich will be led by captains Doyle, John Duffy, Nick McIntosh, Eddie Schmidt, Bennett Tiedy and Sebastiano Villani.
"It's awesome to play for this team and be a leader here," Schmidt said. "We are a national powerhouse and it feels good to be such a big part of this team and to lead. It really feels good seeing all these guys out here every day. We have over 100 kids between four squads, so it's really awesome. We expect hard work in practice and we expect focus and that everybody is focused because that is what it comes down to when you play these nationally ranked teams."
As every year, assigning captains is far from a formality for the Greenwich rugby program. An athlete might be an amazing athlete, but Kelly also wants an amazing leader as well.
"We want our captains to know how to lead and earn the respect from the people they are leading," Kelly said. "I want the captains to get a life lesson out of being a captain here, not just given a badge that says people need to listen to them. They are a person that has to earn the respect," he added.
Schmidt, a flanker for GHS, showed his strength in the team's game against Play Rugby USA. With Big Red trailing against a team that they shouldn't be trailing, Schmidt took over in the final frame and scored four trys to ice the contest.
"He took the weight of the game on his shoulders and scored another three or four trys to secure the victory," Kelly said. "Eddie is certainly one person that we are going to look for as a lead and as an outstanding player."
McIntosh and Duffy, two props, will be looked upon for great things. Kelly said that Duffy's size and strength will be huge for Big Red. D.J. Brown will be Greenwich's big man this season, while Emilio Camou has been coming on strong early this season.
In the backfield will be Villani, who will be the team's No. 9. To say he's ready for the season is an understatement, as Villani just returned from a pro tryout in England. Also playing at the halfback position will be Doyle, and a lot is expected from him this season, both on and off the field.
"It's absolutely amazing to be a leader on this team," Doyle said. "I've lived and played rugby in Greenwich for basically all my life and I have been looking up at this team and all its success. It's absolutely surreal to be a captain and leader of this team."
Kelly said that one of the strengths of Big Red this year will be the team's chemistry and ability to adapt to different situations.
"We have teams in the past where there's been some internal unsettled situations and this team isn't like that," Kelly said. "They really like each other. That can help us because we don't have to over manage the situation at times. We can just let it manage itself."
While the wild winter weather has caused preseason fits for teams up and down the school, Kelly said that it's basically been business as usual for his group of Cardinals.
"It's hasn't been an issue," Kelly said. "It's only been a day or two and hasn't been like two or three years ago when we had that two inches of solid ice and snow on the field. That made it impossible to come out. Now it's not bad. We visited the gym once or twice and between snow storms we have been practicing."
While it's no secret that the Cardinals would like to continue the good times this season and repeat what was done last year, it's obvious there are only one or two goals on Big Red's radar.
The first is the national championship, in May. For the sixth year in a row, Greenwich will be competing against the best of the best. However, gone are the days of hoping to gain a victory against one of the top teams there.
"Our real goal is the national championship," Kelly said. "We have been there and most of the guys on the team were there in some capacity, so there's no intimidation that we run into at Nationals. We understand it. We know it, and we are no longer the underdog. We are expected to do well at Nationals. Everything is lined up properly. Now we just have to make sure we keep our guys healthy, build them fitness wise and put a good game plan together."
While the majority of the focus is on the upcoming national championship, there's still a huge game coming up at Cardinal Stadium. On April 27, Big Red will be in action against perennial powers and rivals, Xavier High School.
"That's the game that we love," Kelly said. "I tell the people that partially pay attention to the sport or don't really see it too much, that if they only go to one game in this area, that's the one you go to. There is a buzz at the same and the crowd that's there loves the sport. Guys say that they wish they played when they were younger after watching that game. Everybody really enjoys the game."
Game time for the Xavier battle is slated for 7 p.m.
"We always have similar goals each year, but our goals this year are to be Xavier at home, which is a big goal that we have every time they come to Greenwich High School, and to win the national championship," Schmidt said. "We are really working hard to it this year and I think we have a good shot at winning it this year."
While the pressure is certainly on Greenwich this season, it's something that the team not only expects, but uses to thrive.
"This is something very special," Fox said. "Every year we look forward to it. We have a great group of guys this year. We have a lot of depth and experience and I am excited to see how the season turns out. The focus, the work rate and the preparation on this team are amazing. We have our goals set at the beginning of year, and we obviously take it day-by-day, but in the back of our minds where we need to be and all the work that has to go in to getting there."
"I think our team has done a great job of staying together, believing in each other and trusting each other throughout this whole process," Doyle said. "We've been together and have had great coaching throughout the years, especially in my class."