March 16, 2018
Greenwich's Camillo to Seek Sixth Term in Hartford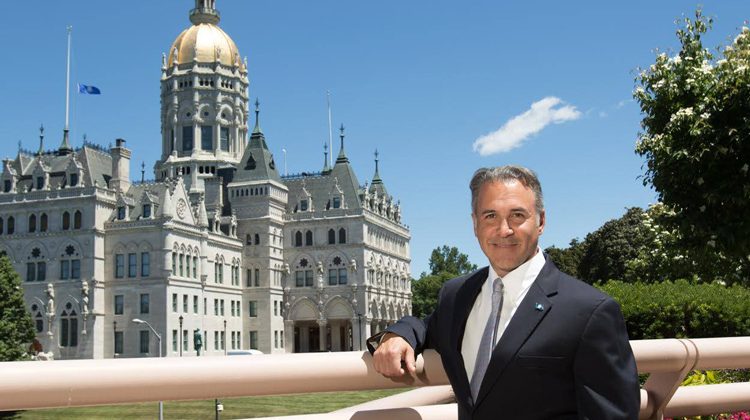 By Paul Silverfarb
Sentinel Editor
Anybody that knows Greenwich resident Fred Camillo would expect nothing less when hearing him using a baseball reference to describe his time as being the State of Connecticut Representative for Greenwich's 151st House District.
"I am very proud and grateful to serve the town," said Camillo, a huge New York Yankees fan. "Like they say in baseball, you are only as good as your last year. You built up a lot of good will, which is great. But at the end of the day, we do two things when running for government: we run on our record, so you have to make sure you have a record that you're proud of, and also what your vision is for the next two years. If you do both of those things, and you work hard, you will be fine. People will understand that because you're being honest with them."
And Camillo's vision for both Greenwich and the State of Connecticut is why he's seeking a sixth term in office representing the state's 151st District in Hartford.
While Camillo has been elected to represent the town in Hartford since 2008, with each time he knows how grateful his is that Greenwich trusts him in helping make the community a better place.
"At the end of the day, the only opinion that counts is that of the voters," Camillo said. "Every two years they have been kind to me. I always work hard to make sure that they don't regret that vote. I work extra hard to the people that call me, email me, texts me or even people that just stop by my house. Sometimes announced, sometimes unannounced. It's a part of the job and I love it. I love serving the people and there's no greater feeling, along with getting legislation that you wrote and introduced passed, than helping someone with a problem with state government when they are at wit's end on any given issue or problem. That's what keeps you going."
Camillo made his announcement in front of 50 of his supporters and fellow government officials at Redmen's Hall in Greenwich. There were several things that helped persuade Camillo to seek a sixth term in the Connecticut House of Representatives.
"You're always working on initiatives and I have been pretty fortunate to write and introduce bills that become law," Camillo said. "It's such a great feeling that goes along with that and I am still working on many issues. Also, the fact that the legislature is so close in number."
Back when Camillo was in his first term, the Republicans were in a super minority. He said that, like most legislators, he is driven by the desire to serve people who sent him up to Hartford, but it was discouraging for Camillo to see lots of bills that today wouldn't be introduced, be introduced and passed because the Democrats had a huge majority up in Hartford.
"Now we are so close to parity that there's an absolute chance that the Republicans could be in the majority after November," Camillo said. "That helped fuel my drive a little bit more, in addition to continuing to want to serve."
Camillo said that because the House is so close to being even, a lot of good things were in last year's budget, which he believes would have never happened if the Republicans were still a super minority.
"Bonding and spending caps were always an issue for a lot of us and we got that into the budget," Camillo said. "We also got a phase-out of a tax on social security because we are one of 12 states that taxes social security. We also got a phase-out over the next three years of a tax on pensions. Those are things that will help keep people in the state. You talk to all these financial planners and accountants and they tell everybody that you don't want to die here and you don't want to retire here. We want to change that. That was a great start. We even got to debate and vote on union contracts, which Democrats never allowed us to do before.
"There were a lot of great things in there, but because the state has been going down the wrong path for so many years, it's going to take several years and several more reforms to be enacted before it's truly turned around," Camillo added. "But it was a good start."
Since Camillo has made the trek to Hartford's State Capitol building in 2008, he has been quite active, especially on numerous topics.
One that's near and dear to his heart is animal welfare. When he first got up to Hartford, Connecticut was in the top 20 in terms of animal friendlessness in the country. In 2009, Camillo, along with some of his fellow representatives, formed the country's first ever animal welfare caucus. Since Connecticut formed the caucus, California and Colorado have followed in the Nutmeg State's footsteps.
"With all the work that we've done now, we are now rated No. 5," Camillo said. "But our goal is to be No. 1. We are really ahead of schedule, but that's one thing that I really want to do. I want to keep pushing until we're number one. But we have made great strides and there's still some more work to do."
Camillo has also been involved with a lot of public safety issues. He was able to write and introduce a bill that became law that arguably became the strongest volunteer protection law in the country.
"But I still want to get a bill passed that would protect off-duty police officers that are targeted," Camillo said. "We have had three or four instances in Connecticut that I am aware of, including one in Greenwich where one was targeted. If the police officer is targeted because he wears the uniform and is off-duty, you have to protect them. They are always on-duty. They are doing a great public service.
"There's been some resistance to that from the majority party, so although we have gotten it out of committee a few times, it's hard to get the bill called," added Camillo. "Most of the legislation agrees, but there's been a few that don't like it and were pretty vocal about it last year. That may be one of those things where a change in leadership, where if the Republican party was in control, I am very confident that bill will be called and passed."
When it comes to commerce, Camillo has been front and center there as well.
"We have such an overall bad reputation for business in the country that it's going to take several years," Camillo said. "We have a lot of good things implemented through the commerce committee, but we still have some more to do. We want to make sure that people look to Connecticut again as they once did when we were a leader in business and commerce. If you're a leader in commerce, that means you have a healthy economy. That means people are coming here and there's more money for the environment, schools and to keep taxes reasonable."
Camillo said that Connecticut lost its advantage when it comes to being a great place to host a business to a neighboring state like New York.
While New York still has county government, which is another layer of taxation, Connecticut, which abolished county government in the 1960's, still continued to throw around taxes and fees. Because of the taxes and fees, Camillo said that Connecticut lost its advantage to New York, despite their county government.
"To see companies leaving Connecticut and going to New York or Massachusetts, which were two states that were known for being high tax states, shows that we unfortunately turned everything upside down," Camillo said. "In order to get back our standing in the country when it comes to business friendliness, we're going to have to create more tax payers, not more taxes."
While Camillo can't wait to hit the campaign trail and experience the moments that he treasure during every reelection campaign, it was his first year running that stands out as his most memorable.
"It was such a unique experience that you never can repeat," Camillo said. "But each time you walk into the state capitol, my hair still stands up on my arms and you get that same feeling of responsibility that you have to represent people. It's an honor you don't take lightly and you work extra hard at it, so people will never regret their choice to send you up there."
Tags:
151st House District
,
Connecticut
,
CT Representative
,
Fred Camillo
,
greenwich
,
hartford