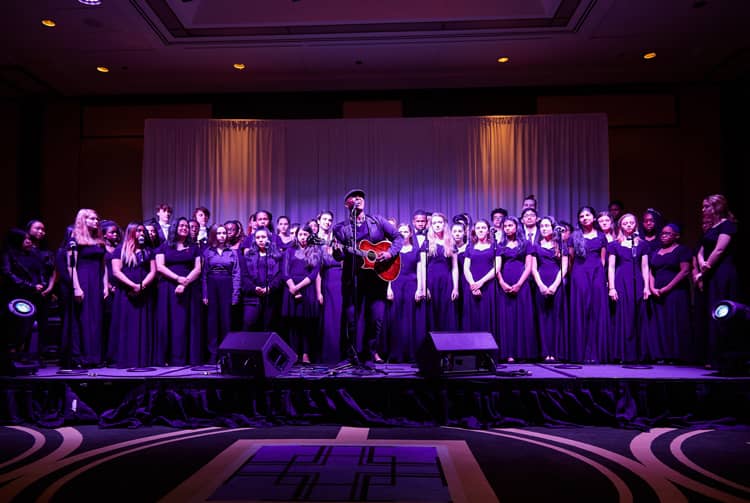 Hundreds of community leaders, food and music enthusiasts and community-minded area residents gathered together at the Pacific House Close To Home Dessert Tasting and Youth Concert Friday night at the Hyatt Regency Greenwich. The event raised $160,000 to help homeless youth and the Pacific House Young Adult Program.
This community tradition offered incredible food and dessert tastes from local restaurants, bakeries and chocolatiers, as well as live music performed by talented musicians from Brunswick School, Greenwich Country Day, Greenwich High School and Sacred Heart Greenwich. A highlight of the evening were performances by Javier Colon, winner of NBC's hit show, The Voice. Colon performed on his own and together with the students.
"This event is a tremendous example of what can be accomplished when our community comes together to support those that need it most," said Rafael Pagan, Jr., Executive Director of Pacific House. "We are grateful to all the performers, vendors and attendees for making this event a success. Funds raised will help many homeless young adults get the services they need and prevent a lifetime of homelessness."
One year ago, Pacific House emergency shelter began a Young Adult Program in response to the significant number of young adults coming into the shelter. These young men, ages 18-24, have nowhere to live and are currently calling the shelter home. In addition to providing food and shelter, the Pacific House Young Adult Program provides an array of services that help these young people gain employment, re-start their education, find housing and more. These services change the trajectory of their lives.
Pacific House is grateful to the evening's generous corporate sponsors. Concert Sponsor: Olympus Partners; VIP reception sponsor: Webster Bank; Coach Sponsors: First County Bank, Harbor Point, Purdue Pharma, and Stamford Hospital Foundation; Guide Sponsors: Renewal by Anderson, Pitney Bowes, Sympl Co., Shoprite and Creative Video Corporation; as well as Media Partners: Fairfield County Look, 95.9 the FOX, CTbites and Hey Stamford. Additional thanks are extended to all the schools and students who participated in the event, those schools include: Brunswick School, Darien High School, Greenwich Country Day, Greenwich High School, King School, Sacred Heart Greenwich and Stamford High School.
Pacific House would also like to thank the restaurants, bakeries and chocolatiers that participated in the evening, including: A Chef's Choice, Bad Louie's Fudge, Chocolate Works Darien, Dimare's Pastry, Filicori Zecchini, Izzi B's Allergen Free Bakery, Le Rouge, Little Pub, Longford's Ice Cream, Pasta Vera, The Granola Bar and Tomatillo.
Pacific House is the only regional men's emergency shelter, serving the towns of Greenwich, Stamford, New Canaan, Darien and beyond. Since 1985 the organization has served our area by providing food, temporary shelter and an array of support services to homeless men and young adults, including workforce development, recovery programming, and job readiness training. Shelter case managers work with each individual, helping them obtain housing and becoming more self-sufficient. Visit www.PacificHouse to learn more, or to make a donation.