March 9, 2018
Brunswick Squash Rolls to Seventh Straight New England Championship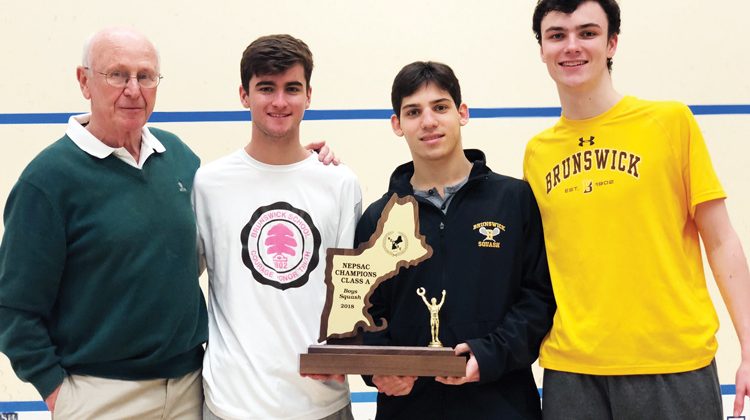 By Brett Holey
Special to the Sentinel
It's been a fantastic February for the Brunswick Squash program. Three weeks ago, the Varsity A squad won its third National Team Championship in the past four years while Varsity B finished 9th out of 108 teams.
This past Sunday, Varsity A captured its seventh consecutive New England Class A Championship, at Choate Rosemary Hall School, in Wallingford.
The undefeated Bruins used their depth and talent to pull away from a field of quality opponents, compiling 113 out of a possible 119 points in the three-day event. Their nearest rival, Avon Old Farms School, tallied 93 points.
The New England Championships use a unique format for a team tournament in which each player in the 16-team field competes against the players at his level on other teams' ladders. Number ones play number ones, twos versus twos, and so on. Points are awarded for finish position, starting with one point for 16th place and adding a point for each higher position. The winner in each division receives a one-point bonus and 17 points for winning his draw. The total from all divisions determines a team's score.
All seven Bruins cruised through the first two rounds without losing a game against some strong competition. Senior tri-captain Max Finkelstein had a key win in the ultra-competitive number one division when he beat Will Curtis from chief rival Avon. Dartmouth-bound Finkelstein had lost his two previous meetings this season against the crafty Avon senior who hails from Perth, Western Australia. But Max, whose no-drama style has led to some of the team's most dramatic victories, was the master on Saturday, winning in three grueling games, 15-13, 11-6, 13-11.
In the semifinal round, on a rainy Saturday evening, the Brunswick victory train rolled along as sophomores Pierce Henderson at No. 7, Dana Santry at No. 6, Brian Leonard at No. 5, Nick Spizzirri at No. 4 and Pat Feeley, a senior captain who's headed for Yale at No. 3, each dispatched his adversary in three games. Though the inevitability of a Bruins' victory was in the warm, humid air of the Choate courts from midday, it was Feeley's semifinal victory, combined with a loss by the top-seeded Avon player, that clinched the tournament for Brunswick. With 72 matches left to be played in the tournament, it became mathematically impossible for anyone to pass the Bruins. The only mystery left was who would finish second and how big could the Brunswick victory be?
The semifinals in the tough, top two divisions showed that the boys from Greenwich were actually human. In the No. 2 draw, second-seeded Will Holey lost a close, 4-game match to the third seed from St. Paul's School and Finkelstein found himself outgunned in an 0-3 loss to Aly Hussein, the top seed and eventual champ from Egypt via Tabor Academy, in Marion, Mass.
As Sunday dawned with nasty weather, the team's spirits and resolve could not be dampened. One by one, with machine-like efficiency, Henderson, Santry, Leonard, Spizzirri and Feeley dispatched the second best player in their draws in straight games to become individual New England Champions. Though many of their opponents pushed them to the edge, none dropped a game.
In the match for third place in the No. 2 draw, Will Holey faced a tough opponent from Noble and Greenough School, who desperately wanted to help his team capture the runner-up position in the tournament. Holey fell behind early in the first game, but after trailing 7-10, facing four game points against him, Will rallied to take the game 15-13. From there, the senior captain who will play at the University of Virginia next year, made short work of a capable player, winning 11-3, 11-4. Finkelstein's last opponent defaulted to deliver him third place and give Brunswick the largest margin of victory in memory.
After the tournament, Brunswick's long-time coach Jim Stephens reflected on the victory, the season and the team.  "This is certainly one of the best performances by any Brunswick team and maybe the most dominating result the tournament has ever seen." Stephens added, "It is no accident that we went undefeated and won the New England and National Championships. These young men competed with poise and dignity. We were led by our captains Will, Max and Patrick. They set the tone early on and established goals for the team. They were great role models and helped the coaches all season long." On Wednesday following the tournament, Finkelstein and Holey were announced as First Team "All New England" selections. Spizzirri, Leonard and Santry were named "All New England-Honorable Mention." This was the first year NEISA has chosen an All New England team; players were selected by a vote of coaches from around the region. Brunswick led all schools with five selections.
The team not only finishes undefeated, but as winners of the Brandes Cup for best match record in New England, in addition to the New England and National Championships. This quadruple feat has only been accomplished twice before, both by Brunswick in 2015 and 2016.
The senior captains Holey, Finkelstein and Feeley finish their Brunswick Squash careers with a remarkable record of two National Team Championships, three New England Team Championships, three Brandes Cups, four individual New England Championships and a team match record of 36 wins and 1 loss. The sole loss came in the 2017 National Championship Final. According to Coach Stephens,
"The future of the Brunswick Squash program is very bright, but these boys have had a great impact and will be greatly missed."
Tags:
Brunswick
,
Brunswick Squash
,
ctsquash
,
Jim Stephens
,
new englands
,
squash