March 4, 2018
Column: How On Earth Can You Say You Know Jesus?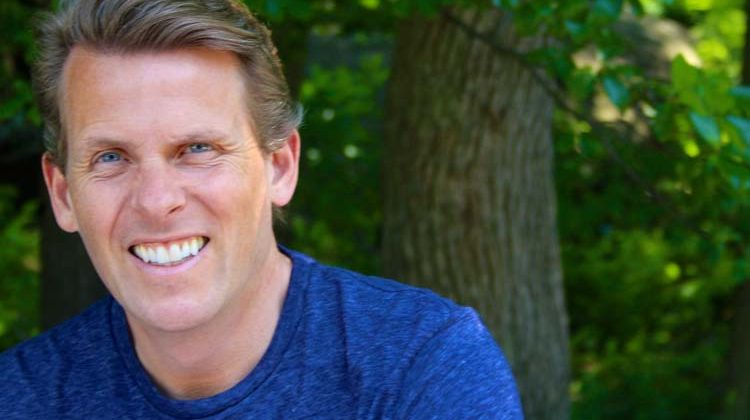 By Drew Williams
In my first semester at university, I recall going out to dinner with a crowd of potential new friends. Our table was set close to the restaurant window and a young woman in our party blew upon the window and then in the misted impression where her breath met the cold glass, she wrote, "I love Jesus." I remember my incredulity. I was not a Christian at the time. What on earth would possess her to do such a thing? What does it mean, "I love Jesus"? How can you possibly say that about someone who walked the earth some two thousand years ago?
There is a dazzling array of images of Jesus. You'll find cartoons, paintings, sculptures, mosaics, stained glass windows, car stickers and even plastic ornaments. It is clear that Jesus exists in our cultural consciousness in many different guises. In some depictions Jesus is a smiling baby encircled by friendly barnyard animals. There is Jesus as a muscular superman. There are depictions of a serene Jesus, sitting quietly in a garden surrounded by flowers. This is in stark contrast to Byzantine art which presents Jesus as a man with drawn cheeks and a sour expression, pointing upward (perhaps to something unpleasant that he has spied upon the ceiling?). And then there is the "Robert Powell Jesus" from Franco Zeffirelli's 1977 TV epic "Jesus of Nazareth." As a kid, I vividly recall being camped around the TV on a Sunday night, eating sandwiches with my family and watching the actor's portrayal of Jesus healing people while an orchestra played somewhere in the background. Far from being seen as a real person, Jesus exists in our modern cultural psyche as a stylized caricature. We have sanitized Him in saccharine jargon, wrapped Him in religious baggage, framed Him in funereal stained glass. Not surprisingly, for many, Jesus has altogether ceased to be a real person.
What is it to know Jesus? Is it possible that it begins with encounter? Maybe slowly at first, but little by little there is, if you like, a kind of mystical awareness — a sense that we are being pursued by God… because we are? C.S. Lewis certainly felt this way. He wrote, "You must picture me alone in that room in Magdalen [one of the colleges at Oxford], night after night, feeling, whenever my mind lifted even for a second from my work, the steady, unrelenting approach of Him whom I so earnestly desired not to meet. That which I greatly feared had at last come upon me. In the Trinity Term of 1929 I gave in, and admitted that God was God, and knelt and prayed: perhaps, that night, the most dejected and reluctant convert in all England."
Ten years later, on a gray day in February, Avery Dulles, then a senior at Harvard, was walking along the Charles River in Cambridge when he noticed a tree in bud and experienced a profound moment. Later he wrote, "The thought came to me suddenly, with all the strength and novelty of a revelation, that these little buds in their innocence and meekness followed a rule, a law of which I as yet knew nothing. That night, for the first time in years, I prayed." He was an agnostic by the time he started at Harvard. According to his obituary in The New York Times, "His conversion in 1940… shocked his family and friends, he said, but he called it the best and most important decision of his life." He went on to become a Jesuit theologian and a Cardinal in the Catholic Church.
When I come to think of it, over the years I have never met anyone who found God by simply deciding to develop faith and then carry out his or her own plan. Everyone in some way or another described it as "being pursued by God."
But more than just an awareness of His presence, there follows a growing knowledge or familiarity with His personality. Author John Eldredge puts it well when he suggests that there are certain people you would want at your side if you were summoned to appear in court. And then there are others you would take with you to a party. There are also the people you would take with you on vacation and they might not necessarily be the same people you would entrust with the care of your children! But what if you found that all in one person? What if he were an incredible pillar of strength and mighty defender in the courtroom, someone who enjoyed your sense of humor, thought you had great taste in movies, would be willing to go on a road trip with you at the drop of a hat, someone you would certainly entrust your children to, and someone you would entrust with your deepest, darkest, most shameful secrets? Jesus is this man.
In contrast to the two-dimensional coloring book portrait of Jesus, the Gospels present a Jesus who is a captivating, multi-dimensional person. Consider these snapshots of His life that are recorded in the Gospels. There's the Jesus who could hang out with the guys (on the beach, cooking fish), and the Jesus of fierce righteous anger (clearing the Temple) and deep compassion (touching the man with leprosy). There's the Jesus who was unafraid (infuriating the Pharisees by healing on the Sabbath) and the Jesus who was tender and patient, and willing to flout convention (speaking with the Samaritan woman at the well). There's the Jesus who wept for the misery of the whole human race (weeping before Lazarus' tomb) and the miraculous Jesus who was not beneath providing the best wine (the wedding reception at Cana). There's the Jesus who displayed nobility (His silence before His accusers) and the Jesus who suffered (His trial and His torture). Finally, there's the Jesus who could be almost playful in his interaction with people (on the Emmaus road). The vast richness of this portrayal is utterly enthralling.
And in all of this, we begin to know this Jesus: the One who is truly alive. In multiple letters, Paul and other New Testament writers wrote clearly and emphatically of Jesus this way: "He has been raised…" (see especially 1 Corinthians 15). This means Jesus is alive and can be known today. And He knows us. Paul understood this process: "For God, who said, 'Let light shine out of darkness,' made His light shine in our hearts to give us the light of the knowledge of the glory of God in the face of Christ." (2 Corinthians 4:6). Paul is talking about us, people who have never seen the historical Jesus, recognizing His presence and coming to know His personality. The Holy Spirit delights to bring us into the self-revelation of Jesus. It is like seeing the sun and knowing that it is light and not dark. John Eldredge writes, "Jesus is not merely a figure for devotions. He is the missing essence of your existence. Whether we know it or not, we are desperate for Jesus. To have His life, joy, love and presence cannot be compared. To know Him as He is, is to come home."
The Rev. Drew Williams is senior pastor at Trinity Church in Greenwich.
Tags:
greenwich