February 27, 2018
Seaside Center Presents 'Return of the Osprey'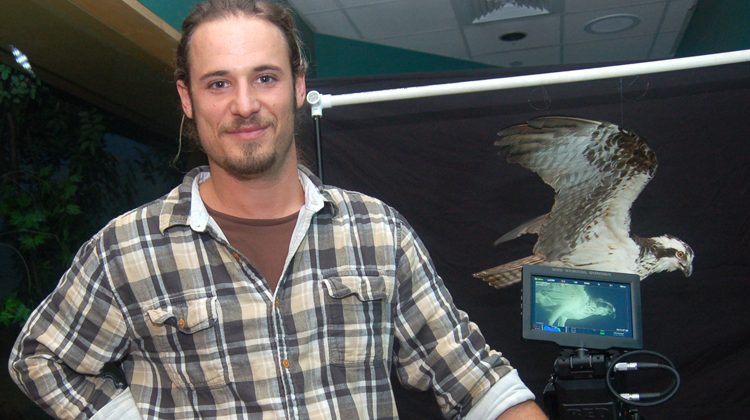 By late March, the first migrating ospreys return to the shores of Connecticut to reclaim and rebuild their nests and reconnect with mates. One pair of these majestic fish-eating hawks that makes its summer home in Greenwich waters has been the subject of documentary filmmaker Jacob Steinberg. Writer, producer, and director, Steinberg will present two showings of clips from his film on Sunday, March 4. Steinberg will be joined by Genevieve Nuttall, former coordinator of Connecticut Audubon's Osprey Nation citizen program. Nuttall will explain how the public can become involved in monitoring osprey nests around the state to better understand the health of Connecticut's osprey population.
The event is part of the Bruce Museum's Fred Elser First Sunday Science Series at the Seaside Center, held on the first Sunday of each month, 1:30 to 4 p.m. Steinberg has been following the migration of ospreys with his cameras since 2012 and will show highlights of his feature-length documentary, which will debut this spring, as well as offer a question-and-answer session at 1:45 and 2:50 p.m. Nuttall will discuss the Osprey Nation program with a slide presentation at 2:30 p.m.
Family friendly activities on the osprey theme will also take place from 1:30 to 4 p.m.
The Fred Elser First Sunday Science programs are supported in part by Osprey Private Client and are organized by the Bruce Museum. This event is held at the Innis Arden Cottage/Seaside Center in Greenwich Point Park. For more information, contact Cynthia Ehlinger at cynthiae@brucemuseum.org or 203-413-6756.
Tags:
Bruce Museum
,
greenwich
,
monitoring osprey nests
,
osprey population
,
Seaside Center