February 27, 2018
Greenwich Boys' Swim Team to Start Its Postseason Run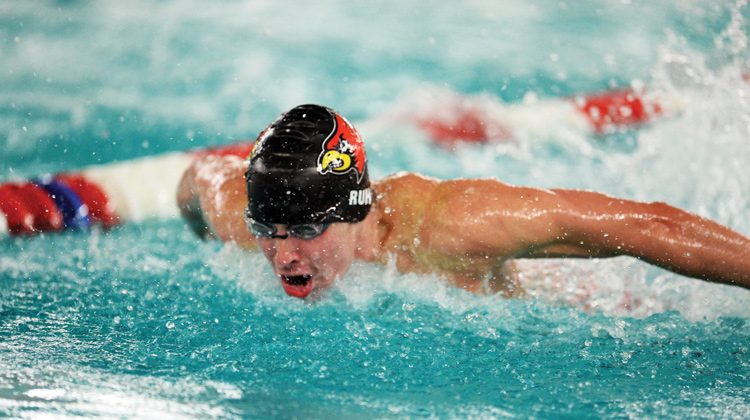 By Paul Silverfarb
Sentinel Editor
It's time to see if all the hard work will pay off for the Greenwich High School boys' swimming and diving team.
After going through the grind of countless practices and a challenging dual meet season, the Cardinals are preparing to step onto the big stage and compete in several postseason meets.
"We always try to use the dual meet season to set us up for the championship season," said legendary GHS head coach Terry Lowe. "We try and work our way through our tough dual meets without spending too much energy on them because we want to keep our training going very hard for the championship meets at the end of the season. We really, at this point, are looking forward to the fact that we put in a lot of hard work and that we can overcome some of the adversity we faced during the course of the regular season."
And Greenwich has some motivation for both the conference and state tournaments. During the regular season, Greenwich fell victim to both Ridgefield and Staples high schools. Lowe said that the Cardinals are happy to get the postseason underway, with the hopes that they can kind of avenge a few of their losses from the regular season.
"We are going into the FCIACs as kind of underdogs against Staples and Ridgefield, who pretty much hammered us at the dual meets during the regular season," said Lowe. "Yet we think we are in a position where we can perhaps sneak out with a championship, regardless of all that."
The Fairfield County Interscholastic Athletic Conference trials will take place tonight at Greenwich High School and the FCIAC finals will get underway Thursday night.
Lowe said that this year's squad is quite the interesting team. In the season opener against Ridgefield High School, Big Red lost every swimming event to the Tigers and believes that it could happen again if Greenwich and Ridgefield battled each other again in a dual meet.
"I don't think we are going to see that many Greenwich swimmers at the top of the podium at FCIACs and LLs, but I think we are going to see a lot of Greenwich swimmers scoring and adding up some points," Lowe said. "I think it's really symbolic that, if we do win any championships this postseason, it's because of the team and not because of a couple of stars leading the way."
Leading the way this season has been the stellar swimming from junior Stephan Todorovic, who will be swimming the individual medley and butterfly during the FCIAC championships.
He was top five during last year's CIAC class LL 200-yard individual medley finals, posting a time of 1:57.45 that was good enough for fourth. That was one better than his performance in the 100-yard butterfly, as his time of 52.72 was good enough for fifth overall.
"That's an interesting combination for him," Lowe said. "Although he is very good at it, it's not his preferred combination. But it's what fits best for this team, both in terms of relays and the individual talent that we have for other events. We expect a big performance from him throughout the tournaments."
In addition to Todorovic, Lowe is looking for his captains to step up their game this postseason.
Kirk Schultz has had a standout senior season and will be looking to make some noise in both the 200- and 500-yard freestyle events. Last year at the LL meet, Schultz grabbed 11th overall in the 500-yard freestyle event, netting a time of 4:52.69. In the 200-yard free, he was a top 10 finisher, posting a ninth-place time of 1:48.04.
"It's been great for us and his hard work throughout the season will have an outstanding impact on the team," Lowe said.
Another captain, Ryan Lynch, has been a workhorse throughout the course of his four years on the team. This postseason, Lynch will be looked upon to give Big Red some key points in both the individual medley and 100-yard breaststroke event.
In last year's class LL finals, Lynch was sixth overall in the 100-yard breaststroke (59.54), as well as the fastest swimmer in the B-finals of the 200-yard individual medley, netting a time of 1:58.59.
Matt Li will be leading off the team's medley relay as the backstroke and will also swimming the sprint freestyle event, as well as the 100-yard backstroke. Last season, Li took 17th in the 50-yard freestyle at the CIAC class LL meet (22.85 seconds). But he fared better in the 100-yard backstroke, taking 10th overall with a time of 54.99.
Jack Bound has been coming on strong towards the end of the dual meet season in the butterfly events and will be looked to score key points for Greenwich High throughout the postseason. During last year's class LL event, Bound was 10th in the 100-yard butterfly (54.23).
"We are both a young and deep team, with quality swimmers up and down the roster," Lowe said. "I think the kids have really bought into the concept that this is a team and we will be stronger in the FCIAC and state LLs than we would have in a dual meet. They have been really focused, right from the beginning, on getting to the dual meet season while putting in the training and hard work that would make them a championship-caliber team at the end. I feel like they've done their job and that we are ready to shine in both FCIACs and LLs."
Big Red's trump card throughout the postseason will once again be its diving, which has dominated both the FCIAC and state meets both last season and this one. Returning to the lineup, after some time away from the team, is senior Devon Satir.
During last year's CIAC class LL and state open meet, Satir was second at the divisionals with 520.20 and was bronze at the state open meet with a score of 514.60.
Joining Satir will be fellow senior Sergei Shaw, who is no stranger to the pressure of the postseason. Last year at the LL meet, Shaw took home fourth place overall and 438.25 points. His score of 406.15 was good enough for 12th place overall in the state open meet.
Rounding out the divers will be Joel Satir, a freshman, who has improved significantly after nearly every dual meet he competed in this season, as well as junior Michael McNulty, who Lowe said has started to take off and improve. During last year's CIAC class LL meet, McNulty took home a top 20 finish, netting 325.85 that was good enough for 16th place.
"Our core group of divers are going to be a really important piece of the action for us," Lowe said.
And what makes this year's squad so successful, even before the postseason kicks off, is the team's hard work and determination to improve.
"I have never had a team that overall practices so well as this team does," Lowe said. "Both the assistant coaches and I marvel at the practices that they have put in and how consistent they have been. They have been working hard throughout some very hard practices. They really make the most of the talent that we have here. There are a lot of young swimmers on the team that are going to score and their development has been critical to the success this team might have this postseason."
While the Cardinals have used the dual meet season to improve and set their sights on the postseason, battling in the highly-competitive FCIAC championship will also do nothing but help Big Red improve and prepare for a talented CIAC class LL meet and State Opens.
"I think, from what has happened in the dual meet season, the FCIAC meet is critical to their confidence in terms of moving ahead into the state championship season," Lowe said. "I don't know where we are going to stand for the State Open championships. I think that's going to be a real long shot for us. With that said, we have to think about the class LL meet, where I am hoping our depth can handle the star-studded teams that we will be facing there. I think we should make a solid run at the LL meet and we are going to have to see what the results are of all those divisional championships to see if we even have a shot to be a contender in the state open. But we were a long shot last and were able to pull it off with the six-point victory. So I am certainly not going to count us out at this point."
Tags:
Big Red
,
ctdive
,
ctswim
,
FCIAC
,
greenwich
,
Greenwich Diving
,
Greenwich High School
,
Greenwich Swimming
,
Terry Lowe