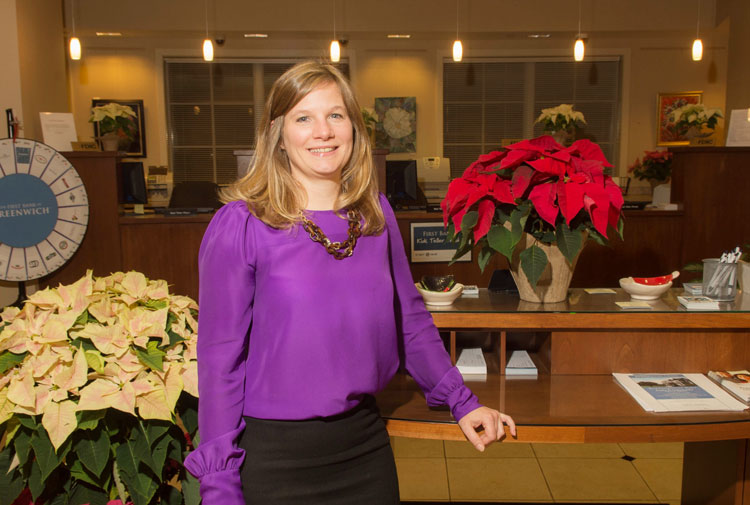 By Anne White
Walking into The First Bank of Greenwich is actually fun for children, who are welcomed as customers in their own right.
The first thing that catches your eye is a large blue wheel with the names of local businesses on it.  Nearby is a step stool.
Those two items are part of the Start2Save program for children.  This bank's philosophy is that it's never too early to start saving, and that there's no better way for kids to begin their financial journey than with a strong savings program.
So every child who visits the bank is eligible to spin the large blue prize wheel to win a prize from participating Start2Save Merchants. The step stool is so that kids can use the teller window to make their deposits.
Whether it is the prize wheel, the kids teller window, or the cookies that are in constant supply, The First Bank of Greenwich says it makes an extra effort to be friendly and local.
According to Emily Newcamp, Vice-President, Retail Banking Manager, customer service is a priority.
"Here you can find everything," she says. "From the tellers to the branch managers to the COO to the CEO, we're all under one roof. It makes is easy to get things done quickly."
While the existing trend among banks is to automate as much as possible, The First Bank of Greenwich is focused instead on getting to know customers and developing relationships.
That means you can walk into the bank and talk with someone you know but it means something else too.
The First Bank of Greenwich tag line is "The bank that comes to you." This means that a person will arrive at your doorstep and pick up deposits for you. It also means the bank's management is out around town.
Frank Gaudio, the Bank's President can be seen at events  throughout town and makes the extra effort go to customers to support them and their businesses.
Newcamp does the same. "It is important to support the businesses that support Greenwich," she says.
Gaudio's enthusiasm for helping businesses succeed is remarkable and he is quick to tell you that the bank is the best place to apply for a residential or commercial loan, but the products launching now are to help customers save more by earning more interest on their savings.
"Everybody's looking to earn a little more interest on their money," says Newcamp, "especially in a rising interest environment."
Newcamp says they are launching three new products to remain competitive in the market, serve their existing customers and to attract new customers looking for higher rates.
Along with their new products, they are launching new ad campaigns.
Small local banks, like locally owned shops and businesses, are becoming more and more rare, yet are the very things most residents point to when talking about what they love most in their town.
These products are another example of this bank's ability to compete, while maintaining a character all their own.