February 2, 2018
Greenwich High Girls' Track Golden at FCIAC Championships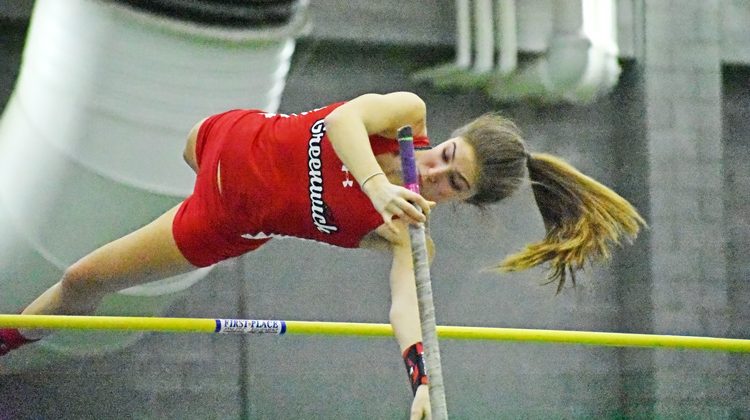 By Paul Silverfarb
Sentinel Editor
It was very easy to find out how the Greenwich High School girls' indoor track and field team fared during Thursday night's Fairfield County Interscholastic Athletic Conference championship. All town residents had to do was open a car or house window and listen towards the East.
The screams of joy, relief and excitement were so loud from the GHS athletes, parents and coaches during the final few minutes of the conference championship held at the New Haven Athletic Center that Greenwich resident might have been able to hear a faint noise from nearly 50 miles away.
"This is literally the best feeling in the world right now," said senior Genevieve DeWinter. "I can't believe that we are the FCIAC champions. We haven't been champs since 2012 and before that was 1981. So this was huge for us. We worked extremely hard at practice, fought off the cold weather and I think that it's awesome that we were rewarded."
For the first time since the 2012 season, the Lady Cardinals entered the FCIAC championship and came away with the top overall prize. Greenwich finished golden with 122 points.
"I am over the moon right now," said Dubin, after watching his team do a well-deserved victory lap around the track. "I am proud of each and every one of them. They worked so hard throughout the year, so for them to have this reward, with hopefully more still to come, is a happy moment. I am glad they are savoring it because this doesn't happen to us every year. We are going to enjoy it and we have tonight, but tomorrow we are back to work."
Not only did Greenwich win, but they did so in convincing fashion. The next closest team was Danbury, as the Hatters took second with 100 points.
"We have been waiting for this moment for all of my high school career," senior Lia Zavattaro said. "There's no greater feeling than winning but winning as a team made it even more special. It was very important for us to work together this season. The team has become much closer and the coaches were all very united. There's no I in team and it's really incredible what we have been able to accomplish this season."
Fairfield Ludlowe was third with 72 points and Ridgefield placed fourth with 35 points. Brien McMahon rounded out the top five with 29.66 points.
"I told the team all year that it's going to be great to have that number hanging on the banner in the gym," Dubin said. "Whenever they come back to visit the school, they can look up and say that I was a part of history. Hopefully other people in the school will hear about the success and decide that they want to be a part of a winning program."
Dubin knew his team was having a good day from the start of the event. In the first event of the night, the 4×200-meter relay, the foursome of senior Olivia DiLascia, juniors Jordan Numme and Abril Martinez-Arraya and sophomore Jada Williams edged out Brien McMahon and came away with the fastest time, posting a time of 1:48.02. The Senators took second with a time of 1:48.71.
With the fast start, Dubin thought something special could happen during the 3,200-meter run, a race Big Red didn't even win. Working hard throughout the season, the girls in the two-mile run stepped up in a big way Thursday night.
Hetty McMillan finished the event second overall, netting a time of 11:28.98. Right behind her was Meghan Lynch, who grabbed the bronze with a time of 11:34.34. Not to be outdone was Caroline Webb, as the junior ended the day fourth with a time of 11:37.79. Those three girls totaled 18 points with their performance and helped the Cards get over the hump.
"Those girls that ran the 3,200 were amazing," Dubin said. "For us to go second, third and fourth was absolutely an exclamation point on the day. Going into that event I knew we could do well. I believe in the talent that we have there, but those three to go out there, run as a pack and we are taking second, third and fourth was outstanding. Hats off to all of them."
Overall, Big Red had a plethora of top finishers. Emily Philippides, a senior, was over two seconds faster than the competition in the 1,000-meter run, posting a gold medal time of 3:00.33.
"It's amazing that we were able to come out of here with a win," said Philippides. "We had such a successful cross-country season in the fall, so getting a championship in the indoor season feels so good."
Not to be outdone was fellow senior DeWinter. Competing in the 600-meter run, she outlasted Ridgefield's Emma Langis and took the top spot with a time of 1:37.10. Langis' time was 1:38.07.
"Everything that we have been working for came together today," DeWinter said. "Everyone in their individual races worked extremely hard and got huge points for us. On top of that our relays ran really hard and it showed. The teamwork was there. I did all I could for the team and did whatever was needed to help us win.
In addition to helping her team claim gold in the 4×200-meter relay event, Numme wouldn't be denied in the individual events. In the 300-meter dash, the junior was the lone athlete to race under 42 seconds, posting a top time of 41.55 seconds.
When it came to the field events, no one had a better day than senior Lia Zavattaro. The only athlete to break double-digits, Zavattaro smoked the competition, jumping to a height of 10-06 that was good enough for another FCIAC championship. The next closest athletes were Danbury's Maria DeSouza and Trumbull's Aleksandria Misiewicz, as they each reached a height of 8-06.
"It was a very different atmosphere than last year," Zavattaro said. "Although my height didn't quite match last year's performance, the team was outstanding and amazing. I couldn't ask for a better team. They were all silently cheering for me, since they know I don't like cheering loudly when I am running down the runway. They all came up close to me on my final attempt. When I made it over, I don't think you could hear anybody's voice. All you could feel was the rumble of all of them."
In addition to the 4×200-meter relay team, the Greenwich relay teams overall had a night to remember. Both the 1,600-meter sprint medley relay and the 4×400-meter relays teams joined in on the fun and were lights out, picking up top times and a total of 30 points for the team.
The 1,600-meter sprint medley team of senior Maggie O'Gorman and DeWinter, junior Olivia Caan and sophomore Zoe Harris left the competition in the dust, finishing tops with a time of 4:20.79 that was just under four seconds faster than second-place Danbury.
In the event where the Lady Cards could almost taste the FCIAC championship trophy, the foursome of O'Gorman DeWinter, Philippides and Numme ended the track portion of the championships in grand fashion. They breezed past Danbury and claimed the top spot in the 4×400-meter relay with a time of 4:04.85.
The Hatters grabbed the silver with a time of 4:07.51.
"The goal tonight was to go out and score as many points as possible for the team," Philippides said. "I knew it would be a tight win team-wise, so my goal was to get out there, not worry about my times and just tried to get as many points as I could. Although I didn't feel my best out there, it's all about the team. I couldn't be happier."
Although Greenwich's 4×800-meter relay team didn't find their way to the top of the podium, they were just as solid as the rest of Big Red's relay team. The foursome of senior Kate Ragone, McMillan, Harris and Lynch gave the team eight points and second overall with a time of 9:43.93.
They were just under three seconds away from Ridgefield, who won the event with a time of 9:40.63 but were also a whopping 20 seconds faster than the third fastest team in the event, Fairfield Ludlowe (10:03.97).
"All of those athletes did superb," Dubin said. "Not everybody did the best they've done all year, but they did the best they needed to do today and that was the strategy. If they had multiple races, we weren't looking for personal bests in all the races. We just wanted them to win a race and move on to whatever event was next. It was great."
While there were top performances up and down the scoresheet, Greenwich had a bunch of other clutch performances throughout the meet.
In the high jump competition, Big Red had two athletes in the top five. Capping off her performance in the 4×200-meter relay, DiLascia took silver in the high jump, reaching a height of 5-00. In addition to DiLascia, sophomore McCallum Harkins placed fourth, also reaching a height of 5-00.
Another event where Big Red showed off its depth was in the 1,600-meter run. Lynch grabbed the bronze on the day, posting a time of 5:20.08. Not to be outdone was Philippides, who took home fourth overall, netting a time of 5:21.12. Taking 10th on the day was Ana Mafalda Gasper, as the junior ended the night with a time of 5:34.84.
In addition to DeWinter, several other athletes were lights out in the 600-meter run. Harris took home fifth overall, netting a time of 1:42.28. Helping out in 10th place was sophomore Demarest Janis, as she crossed the finish line with a time of 1:45.25.
Joining Philippides on the podium after the 1,000-meter run was McMillan, who finished sixth overall with a time of 3:08.92. Picking up two points in the fastest event of the night, the 55-meter dash, was Williams, as the sophomore finished fifth overall with a time of 7.60 seconds.
"This was truly a team effort," Dubin said. "Yes, we had individuals that did very well, but we wouldn't be having this conversation about an FCIAC championship if it wasn't for the whole collective team. In every event, where we needed people to step up, they executed to the way we needed them to. It really was a spectacular day."
And the best part for the Cardinals is that the season isn't finished yet. On Feb. 10, Greenwich will be in action, competing in the Connecticut Interscholastic Athletic Conference class LL tournament. The meet gets underway at 10 a.m.
A week later, Greenwich High will battle in the CIAC state open meet. The event, as the same New Haven Athletic Center, will get underway at noon.
"This sets a great precedence for States, State Opens, New Englands and even Nationals," DeWinter said. "We're looking to build off what we did at the FCIAC championships. We are really close and extremely supportive of each other. Our coaching staff is amazing, and we are looking forward to keeping the good times going."
Tags:
CIAC
,
cttrack
,
Evan Dubin
,
FCIAC
,
FCIAC Championships
,
GHS Track
,
greenwich
,
Greenwich High School Greenwich track