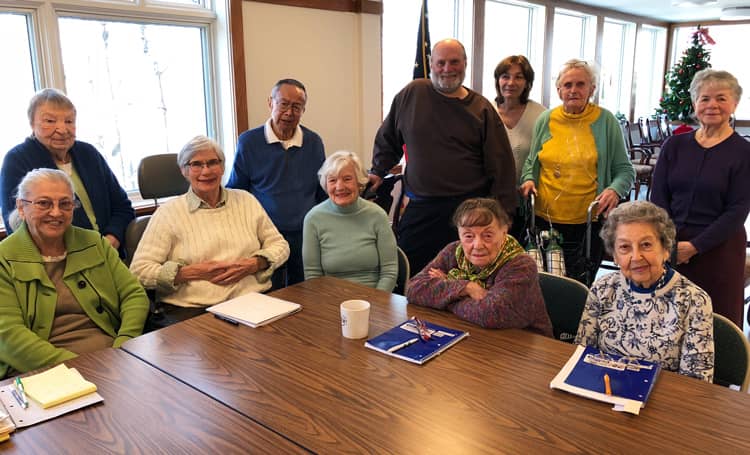 By Michelle Moskowitz
Sentinel Correspondent
When Anne Lamott was asked why she chose to become a writer she said, "Because of the spirit. Because of the heart. They (books) deepen and widen and expand our sense of life: they feed the soul."
Today, many inhabitants of the Hill House Senior Residence are embarking on their own book writing journey by taking part in a newly implemented writing program titled, "Stories from my life."
Hill House, located at 10 Riverside Avenue, is a congregate senior residence facility, consisting of 61 apartments catered to well, elderly people age 62 or older, who are of low to moderate income.
Founded in 1979, the mission at Hill House is to provide a comfortable, yet affordable, residence that encourages elders to remain independent and active, while at the same time, benefit from basic services such as housekeeping, meal service, and 24-hour emergency coverage. Served by many dedicated volunteers, Hill House is an independent, non-profit, non-sectarian corporation.
While the Hill House residents have enjoyed a full roster of on-going classes, such as art, knitting, chair dance, movie night and prayer group, Lisa Crowley, the social service programmer and resident services coordinator, had another program idea in mind – one that could be everlasting and cherished by family and friends, as well as the community-at-large.
Appointed to Hill House this past June, Crowley has had ample experience in the social services arena, having served as a hotline counselor for 11 years at the Sexual Assault Crisis & Education Center in Stamford, a case manager at the Jewish Family Services in Stamford, and an employee at St. Luke's Lifeworks (now Inspirica). During her time at St. Luke's, Crowley implemented a popular writing program which had a tremendous impact on its constituents.
Crowley felt that the process of working on the "Stories from my Life," project would not only foster independence for residents, but also be a great way to reflect on personal events that steered their lives in some way.
The class meets twice a month, giving writers ample time to chronicle meaningful events and thoughts to share during class.
This reporter attended one of the classes, which started promptly at 10:00 a.m., and witnessed an eager group of attendants, greeting one another cheerily, gather around a large conference room, windowed with bright, natural light. Every seat at the table was filled.
"The project has become quite popular among residents, both with those who are writing, and those who come to listen, as it evokes conversation about life, values, changes in society, personal priorities, past experiences and more," said Crowley.
Crowley co-facilitates the workshop with Bill Bushel, poet, host of the Hudson Valley writers open mic group, and a long-time host of a radio show on Hellenic TV.
Even after just a few minutes into class, it was evident that the duo's combined warmth and genuine engagement provided an ease with which partakers could share their memories. Some residents touched upon their unfortunate struggles, such as the loss of a spouse or a difficult family issue.
Crowley's writing strategy entailed having participants share just a sliver of their lives, as opposed to writing a full memoir, to get them started.
"The format is different than other book writing series, in that writing chapters as stories, rather than writing full biographies is just as effective in putting together a snapshot of participants' lives, and is less of an overwhelming process," said Crowley.
One participant in the group, Happy (Joe) Imm, a Chinese immigrant, shared in stark detail his family's journey to the U.S. in the 1940's that spanned New Orleans, Mississippi, and New York (including his father's rise to success in the supermarket business).
"That was extraordinary, Happy, wow, but next time I want to know what it meant to you – living in New Orleans, what it felt like, tasted like, sounded like at that time," said Buschel.
Crowley provides a tape recorder for those who struggle with putting pen to paper, and she herself transcribes word-for-word, some at great length.
"Because our population varies in terms of ability, both physically and cognitively, we offer assistance in the way of taping and transcribing their work," said Crowley.
In fact, on the day of the class that this reporter had attended, Crowley had been up until 3:00 a.m. transcribing Evelyn Fiore's work so it would be ready for class.
But while Crowley admitted to being perhaps a tad bit tired (although she didn't show it), she reveled in the excitement of Fiore's encounter with Frank Sinatra and getting to gaze into those blue, blue eyes.
Fiore, a writer herself, had attended Hunter College and had a storied career as a journalist at publications such as the "Bronx Home News," "The Gasoline Retailer," and a Hollywood magazine called, "Photoplay," which was what led to her introduction to Sinatra.
"There is a great myth out there that women didn't work back then, but many of us did," said Fiore. "My husband had served in the war."
As the class progressed, it became increasingly evident how the sharing of such collective life lessons and experiences had fostered an intimate, open forum for discussion, and even friendship.
"I think the best part of this whole experience is how we are all truly surprising ourselves and surprising one other," said Rita Lynch, who wore an amiable smile throughout the class, particularly when a resident was sharing their work with the group.
"Lisa has done so much for us and really excites people's imaginations," said Lynch. "It's just wonderful as we approach this next step in our lives."
Crowley said that some family members have also gotten involved with their loved one's writing projects, and they, too, are learning a lot of colorful details for the first time.
"My grandchildren were so thrilled to learn about some of the stories from my past, which is just wonderful," said Mildred Cogliandro. "This process has brought back good memories for me, and it's nice that they want to hear about them."
"In fact, my daughter who is a teacher in Framingham, MA, is implementing a similar writing program in her classroom," said Cogliandro.
Cogliandro also shared a vivid story of when she was a young child summering in Italy with her aunts and cousins in 1936, convinced that she had seen a ghost in the middle of the night.
At the end of the writing workshop, each participant will become a published author and receive several copies of his or her own hard-cover book to be shared with family, friends, and kept in the Hill House library.
"The stories in people's lives have so much to offer all of us, and we all want to have a legacy," said Crowley.
"I feel so honored." said Crowley.
In the near future, students from Greenwich High School will attend Hill House for a "career day" workshop in which the students will hear residents discuss their careers paths and invariably gain a vast amount of important life lessons.
A book-signing event is on the horizon as well.
Hill House is governed by a volunteer Board of Directors, and is financed by the State of Connecticut Department of Housing, the Town of Greenwich Community Development Block Grants, and the contributions of individuals, corporations, civic organizations and religious groups.
For more information on Hill House, visit www.thehillhouse.org or call (203) 637-3177.