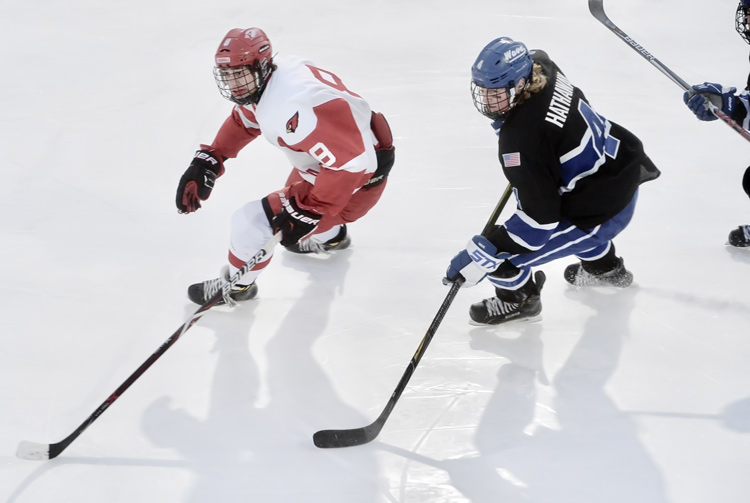 By Paul Silverfarb
Sentinel Editor
Although the rink at the Greenwich Skating Club isn't as big as what both ice hockey programs at Greenwich and Darien high schools are used to playing on, it didn't bother both the players and coaches during Saturday's game.
In a first in the Fairfield County Interscholastic Athletic Conference, the Cardinals and the Blue Wave took to the ice and brought the game of hockey outdoors, as the GSC hosted the first annual Holiday Winter Classic.
"This was something that I was looking forward to and it's something special," senior Alex Mozian said. "You really don't get a lot of opportunities to play outside in high school hockey and to have this opportunity is something that makes you proud to play hockey. When coach told us going into the season that we had this, we were all so excited."
The event started around 1 p.m., when the Greenwich High School girls' hockey team took to the ice and battled the Amity-North Haven-Cheshire combined hockey team. With the Lady Cards winning their game 6-1, it was the boys' turn to hit the ice at 4 and try to make it a home sweep for Greenwich.
"It snowed earlier for the girls' game and that was amazing," Rurak said. "A little snow for our game would have been nice, but the fact that it was crisp and clear playing under the lights and the way that we planned to start the game in the daytime and transfer into the night was perfect. You couldn't draw it up any better."
And a sweep is exactly what happened, as the GHS boys' team outlasted Darien High School 4-3 to claim victory.
"It's great," said senior Matt Baugher. "We have a huge rivalry against Darien. To do this, outside and in front of all these people, was a dream come true. Chemistry is a huge part of this game. It can't be just one line or one player. It has to be everyone. We all have to be meshing. We have to keep our heads up. We are all brothers here and love each other."
For Greenwich it was a true team effort, as four different athletes tallied goals. Charlie Graves, Nikita Kovalev, Baugher and Matt Davey each found the back of the net, with both Davey netting two assists and Baugher taking home one assist.
"I think we started off strong," Graves said. "As we slowly started to gain our goals, that gave us more and more motivation to keep going. For us, once we get our goals, that just pushes us and we go on from there. It's great that tonight's win helped us start the season 3-0. That will help us a lot and give us more confidence, which is what we need."
Although it was Greenwich on the power play in the second period, it was Darien that took home the short-handed goal and gave the Blue Wave a 1-0 lead. However, the lead didn't last long. A little over two minutes since Darien took the lead, Davey found Graves in front of the Blue Wave net to tie the game at 1-1 with 5:35 to play in the second period.
With 2:23 to play in the period, it was Kovalev's turn to light the lamp. The sophomore gained control of the puck and darted down the ice. His shot on Darien goalie Henri Pfeifle was initially blocked, but Kovalev was there to pick up his own rebound and bury the puck in the corner of the net for the 2-1 lead.
"I felt great out there today," Kovalev said. "I have played for many different teams and getting my first goal on this team was the best feeling. The fans and everyone were amazing tonight. It was all about pressuring the defensemen. They are, most likely, going to make a mistake eventually, so I just picked that puck up and fired it home."
With 12:26 to play in the game, it was Baugher who built a two-goal lead for Big Red, as he unloaded a shot from just inside the blue line that went landed into the top corner of the net.
Although Darien cut the deficit back to one with a goal on a 5-on-3 power play with 4:41 to play in the game, Davey grabbed the rebound off of a shot from Baugher and scored just over a minute later.
"It's definitely great to get revenge on them from the football game," Mozian said. "To end 2017 with a record of 3-0 is a special feeling because there are so many contenders in the FCIAC and state. To win this game is going to make a good impact on our season this year."
GHS goalie Ben Nash finished the game with 21 saves, while his counterpart, Darien's Pfeifle took home 25 saves in the losing effort.
"It was a great victory," Rurak said. "Obviously you want to win all the games you play, but with an event like this, a win is arbitrary. It's early enough in the season that it doesn't hurt either of us either way. It's more for the kids and the experience, but we will take the win for sure."
And that experience is something both teams won't soon forget. The Greenwich Skating Club was filled to capacity, as a packed, and raucous, house watched an outdoor game between two rivals.
"It's wonderful," Kovalev said. "These are the origins of the hockey game. It started off on the pond and this is where we should play. It was exciting and the first time doing this in high school hockey, so it was very exciting."
The weather was nearly perfect for the game, as the ice held us nicely against the frigid temperatures.
"It was a little bit of an adjustment because of the snowfall, but you really couldn't have asked for better conditions," Mozian said. "We had to make some adjustments at the beginning, but in the end you get used to it and it's not so bad. A lot of kids here grew up playing on this ice, so it's easy to get used to it."
While the rink was in great shape, one thing quite different for both schools was the smaller-sized rink.
"There's a huge difference playing on the rink outside than going inside," Baugher said. "It's a lot smaller rink here and our game is actually better when we are on a bigger ice."
But for a plethora of kids on the Greenwich roster, this rink was nothing they haven't seen before.
Rurak said that for numerous kids on the roster, they grew up playing ice hockey for the Greenwich Skating Club, starting when they were still learning how to walk and playing through the Bantam-A program.
"I have played out here my whole life, as I played from squirts all the way up to bantam here," said senior JT Lawrence. "Coming back here while in high school for one more time was fantastic. I really liked it and love coming out here with my high school friends because of the different variety of people here. Having 300 people out here was outstanding and especially playing Darien during our Christmas break is an awesome experience."
"This is the best," said Graves. "I played here for the last 13 years and it's awesome playing here. With the snow on the ground and everything, it's a lot of fun."
While the athletes couldn't be more excited to play in the Holiday Winter Classic, they weren't the only ones that couldn't wait for the puck to drop.
"It was so much fun to coach in this game," Rurak said. "I am a member here and I have twin 12-year-old boys that I coach here as well. It's sad when the kids finish Bantam-A and they play their last minutes on this ice. To be able to give those kids on the team one more game on here really hits home for them and they really appreciate it."
On Wednesday, Greenwich traveled to Hamden for competition against a talented Hamden High School squad. Although the No. 3 ranked Cards were the underdogs on the road against second-ranked Hamden, it was all Greenwich, as Big Red came away with the commanding 7-0 victory.
Against the Green Dragons, it was Mozian and Davey who each netted two goals to lead the way. Connor Santry, Kovelev and Baugher each finished with one goal to pitch in during the winning effort.
Big Red will return to action Monday afternoon at the Dorothy Hamill Ice Rink when they host the Norwalk-McMahon combined hockey team at 5 p.m.
"We have 17 games in eight weeks now, so we are about to find out what we are all about," Rurak said. "So far we are optimistic and positive. I think we are primed and ready. We work hard in practice."
"We are going to continue to work on our speed and how to be physical and handle big teams like Darien and their physicality," added Mozian. "Darien did a good job working us on the power play, so we definitely need to work on that and handle the penalty kill better."