December 15, 2017
New Yoga Studio Aims to Restore Body and Mind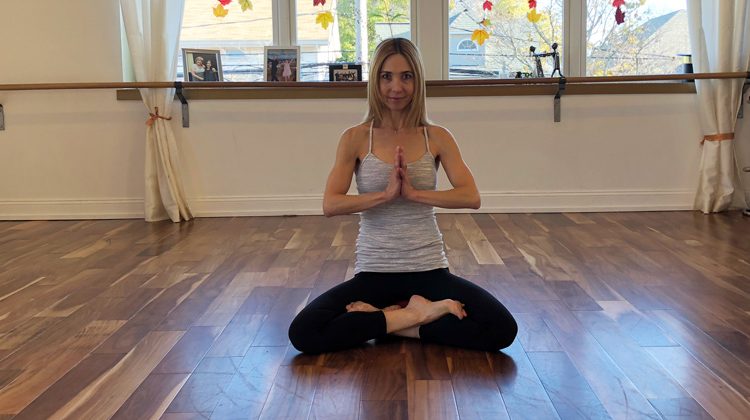 By Michelle Moskowitz
Sentinel Correspondent
Yoga, the Hindu spiritual and ascetic discipline, including breath control, simple meditation, and the adoption of specific bodily postures practiced for health and relaxation, can be traced back to the 5th and 6th centuries.
In the Western world, the practice gained widespread momentum in the 1980's, when it became a fixture at fitness clubs.
Then, a variety of classes popped up, such as "power yoga," offering fitness enthusiasts an alternative workout to gain strength and flexibility.
What are some of the core attributes that one can benefit from the practice?
One local Greenwich resident has made it her mission to infuse the "heart, soul, and breath" into yoga, and share her passion with anyone who steps his or her bare feet onto a yoga mat.
"Yoga and meditation are a magical gift, and I hope to bring that gift to others," said Danit Schreiber, proprietor of the new boutique yoga studio, Yoga By Danit.
Schreiber, who taught at the popular Kaia Yoga, in Greenwich, for almost ten years (with additional locations in Darien and Westport), decided to "take a risk," and open her own boutique studio, which she had been envisioning in her mind's eye for quite some time.
It was at Kaia Yoga that she was truly able to master her expert teaching skills and requisite certifications, incorporating hundreds upon hundreds of hours of training with Gina Norman and Stan Woodman.
"To teach ten classes, you need to take one thousand," chuckled Schreiber.
Schreiber also trained at OM, in New York City. and completed her meditation certification with the well-known yoga teacher and trainer, David Nichtern.
She is certified in Vinyasa, Restorative, and Yin, and Reiki healing and has achieved the certification level of E-RYT 500 and YACEP.
Over time, Schreiber was able to develop her own unique style – one that encompasses precision, depth and a deep respect for the body/mind connection, thus fostering a loyal, steady following over the years.
"Life is full of constant change and I want to provide a tool kit that people can take outside the yoga studio and use in their daily lives."
The studio, located at 36 Sherwood Place in the Fred Astaire Dance Studio on the 2nd floor, offers a tranquil respite from the bustle of day-to-day life in town.
Both the yoga studio and the mini-lounge where people can "rest and connect" before and after a class, transmit an abundance of natural light emitted through large glass windows – giving one the sense of openness and awakening throughout the practice.
Subtle leaf motifs are dispersed throughout, while the room's natural warmth and light wood flooring offer a natural peacefulness before one even starts flowing through her poses.
In addition to the convenience of the studio's location just a few blocks from the Avenue, is the free on-site parking which makes it easy for yogis to arrive stress-free and on time.   
There are eleven classes offered each week and they include: beginners, flow open, vinyasa (all levels), meditation (all levels), and gentle flow, yin and restore. Tuesdays are reserved for private sessions and there are no regularly scheduled classes on Saturdays.
"I don't have to conquer the world; I just want to bring happiness to others," said Schreiber.
This reporter inquired as to Schreiber's yoga routine as the petite and seemingly nimble woman possesses an effortless energy that is boundless, and yet sturdy.
She naturally wakes every morning (including weekends) between 3:30 – 4:00.  With just a small cup of coffee, Schreiber hits her yoga mat and does either flow yoga or vinyasa every day, no matter what is going on in her life or how she is feeling.
Schreiber does not have a yoga studio in her home as one might expect, rather just her yoga mat, which she aligns next to the piano in her living room (which she plays, by the way), calling it her "perfect spot for restoration and alignment."
"I usually do the class myself that I am about to teach in the studio and hope to bring a similar experience to others," says Schreiber.
"Every person is a whole world for me."
Having opened with a soft launch this past August, through word of mouth, Schreiber has already garnered over 500 yogis of all levels, and even has many couples who come together on Sundays.
"When someone feels safe or comfortable within, they are more capable to bring that unconditional love to others," said Schreiber, quite apropos to the 'Me-Too' movement that is spanning all industries.
Schreiber, born in Tel Aviv, Israel, was a child actor, appearing in an Israeli TV sitcom, and dancer, which is not surprising when one witnesses the grace with which she runs her classes.
As is mandatory in Israel, Schreiber joined the army at age 17, where she served in the air force.
After serving in the army, Schreiber decided that she wanted to do something that would have an impact, and so she attended law school and became a successful litigator.
Schreiber continued to work in the corporate world before relocating, in 2001, with her family to Rye, New York, where her husband grew up.
After settling in Rye, Schreiber encountered a yoga class (as a change from the many other classes she took including Pilates and dance), and said, "It just made me feel better and find better alignment."
After that, she was hooked and dedicated herself to the practice where she would eventually cultivate her own yogic practice and voice.
This reporter took one of Schreiber's vinyasa classes and can attest to the power of her healing hands, where just a simple adjustment in a downward dog pose quickly alleviated strain in the lower back.
And what sets Schreiber's boutique apart is the focused meditation classes, which oftentimes are difficult for people to do at home, particularly since she helps guide you through the process.
When asked what effect meditation can have on a person?
"It gives us the ability to find space between our thoughts, and consistent practice is what makes the difference," said Schreiber.
"She is an amazing instructor who is attentive, upbeat and committed to each student in her class. After class, I always feel both energized, and yet blissfully calm," said Sue Ellen Nethercott, a Greenwich resident.
Another Greenwich-based student, Dassi Yechiely added: "She has such a positive and calming energy that she brings to her practice."
When asked what is the best gift of yoga, perhaps for those who are still reluctant to try, Schreiber said, "When you feel good, you have a natural tendency to make better choices."
"I want this studio to serve as a place to help people find their center," she added.
Schreiber's favorite pose? After a thoughtful pause, she replied, "Probably the heart opener."
First-time students get an introductory offer of 4 classes for $44, and prices vary according to group packages.
To register for a yoga or meditation class, please visit yogabydanit.com, call (203) 479-9360 or download their app.
Holiday gift certificates are available, and drop-ins are always welcome.
Tags:
Danit Schreiber
,
greenwich
,
yoga
,
Yoga By Danit
,
Yoga studio