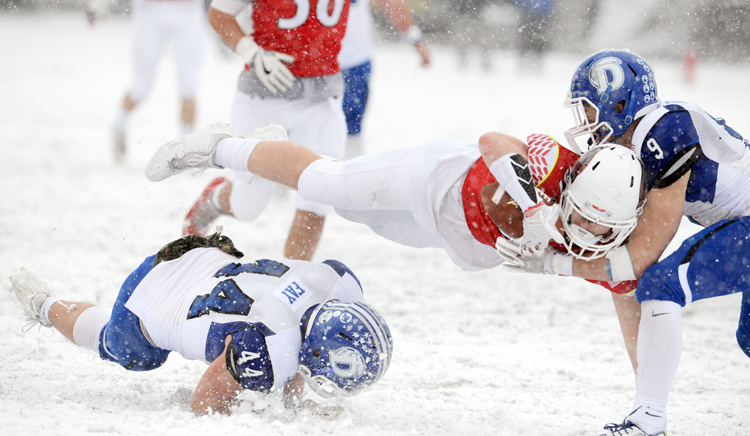 By Paul Silverfarb
Sentinel Editor
The Greenwich High School football team came close on several occasions, but were unable to break through against Darien High School, falling 31-22 to the Blue Wave in the Connecticut Interscholastic Athletic Conference class LL championship game.
"Halftime we were pretty positive and upbeat, but we just couldn't score touchdowns when we got inside the red zone," said John Marinelli, Greenwich High School head coach. "We were moving the ball on offense and kept on getting down there, but I just felt that if there was a penalty, it put us out of field goal range. We kept on fighting and fighting. We were right in it until the very end and we just fell short."
Playing through a constant snowstorm at Boyle Stadium, the Cardinals fell behind early but mounted a comeback that saw them trail Darien 24-22 with less than four minutes to play. However, a late Blue Wave touchdown put the game out of reach and ended Big Red's 12-game winning streak and gave Darien its third-consecutive class LL title.
"They are a great group of kids. This week of practice was probably the most fun," said Marinelli. "They were loose and excited. I wish I could have done more in a game like this. We just couldn't overcome early miscues and couldn't put the ball in the end zone when we had to. All season we were converting on special team and I don't think the weather helped, but we just couldn't get out of that hole."
Junior quarterback Gavin Muir had a standout game, throwing for just under 290 yards and two touchdowns. In addition, kicker Zach Moore connected on three field goals, which was quite the accomplishment because of the slick field that was covered with snow.
In addition, Tysen Comizio led the way rushing the ball, taking the ball 27 times for 113 yards. Henry Saleeby picked up four receptions for 65 yards and one touchdown, while Jael Negron had two receptions for 81 yards and one touchdown. Elias Gianopoulos had a reception that was good enough for 52 yards.
Greenwich trailed early in this game. After going three-and-out on its first possession, a low snap on a punt forced Moore's knee to hit the ground, ending the play and giving Darien the ball on the Greenwich 10. Two plays later, the Blue Wave found the end zone with 10:03 to play in the quarter.
Darien pushed the lead to 14-0 when Jack Joyce took the handoff and bolted 41 yards down the field for a touchdown.
Big Red got back in the game midway through the second quarter. Keyed by a 36-yard run by Comizio, Muir stepped back and found Saleeby open for the 5-yard touchdown.
Darien came right back, as TJ Cornacchia found the end zone on a 22-yard touchdown pass from Joyce to make the score 21-7. But Greenwich wasn't finished in the half and scored late, as Negron took the pass from Muir down the sideline for the 42-yard touchdown completion with less than four minutes to play in the half.
Although it appeared that GHS connected on the two-point conversion, the referees said Comizio was stopped just short of the goal line and the score remained 21-13.
The second half was dominated by field goals. After Moore connected on a 26-yard field goal, Darien's Austin Hagander netted one of his own. Moore then came back with two more successful field goals, one from 35 yards away and the other from 38.
"Our senior class was 2-8 as freshmen and most of their friends went to prep school or somewhere else," Marinelli said. "The message to them is that hard work pays off. Although we lost the game, the direction of the program and how we develop young men, on and off the field and in the classroom and community, we have come a long way. Unfortunately this is probably going to hurt for them, but they should hold their heads up high. The way they represented the town and this program was great."
To read more on Saturday's game, check out next week's Greenwich Sentinel.