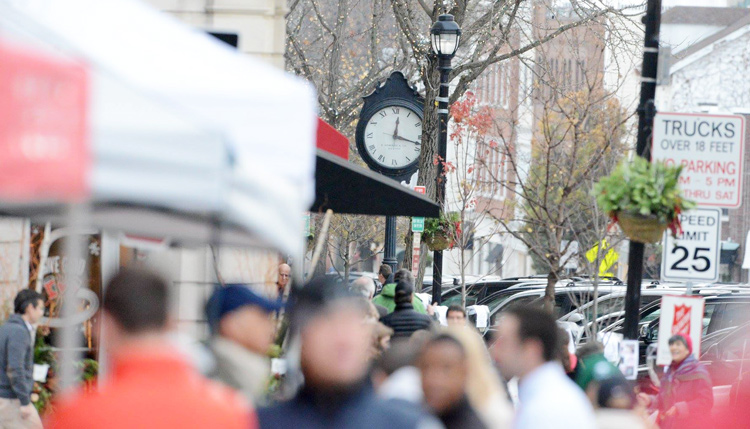 By Michelle Moskowitz
Sentinel Correspondent
While the town has been fully ornamented with decorative lights and crisp, winter greens, residents and out-of-towners alike officially embraced the holiday season at last weekend's 9th Annual Holiday Stroll down Greenwich Avenue, presented by Whole Foods Market.
Holiday enthusiasts started off the festivities with access to free parking provided by Richard's Department Store, Barbara Zaccagnini Real Estate and Moffly Media, encouraging a slow-paced day for families and friends to embrace the holiday spirit.
Live, melodic music and holiday treats were abundant at the more than 110 participating merchants who took part in the celebratory weekend – providing steep discounts on merchandise, raffles and prizes – requisite with a Santa mailbox for letter writing to Mr. Claus.
Early risers queued up to be first in line for the complimentary horse-drawn carriage rides that trotted down the Avenue, to Richards and then up Mason Street, a perfect way to take in the singing carolers and live entertainment, provided by artists including Barbara Occhino's Serenade, The Pop Music Academy, Greenwich Public Schools Honor Choir and Connecticut Playmakers.
Amblers popped in to the various retailers primed for the gift-giving season such as Marmot Mountain, who offered a craft beer tasting by Val's Putnam Wines & Liquors and a 'spin to win' discount game that rendered up to 40 % off savings.
Perfect Provenance, an up-scale boutique for high-end women's and men's fashion and unique gifts, welcomed guests with a cup of hot cider or cocoa to imbibe while embarking on significant savings on their fine wares, like decorative candles and wool coats – with their 'Holiday 100,' – offering a $100 savings with a purchase of $250.
The 'Holiday 100' will be in effect throughout the month of December.
Other local businesses, such as Allegra Dance Greenwich, who has been providing local dancers with strong dance techniques and a passion for the art of dance through its ballet, jazz, modern, hip-hop and tap classes since 1972, also had special holiday giveaways.
This past Saturday, kids were able to sample some new dance moves with Allegra's free hip-hop class, offered throughout the day in their studio.
When kids got tired out, they indulged in a sugar break of full-sized candy canes and Hershey kisses, decked in red, white and green.
After working up an appetite, strollers indulged in a much-needed nosh break at the food truck village where gourmet food trucks sponsored by Boxcar Cantina, LobsterCraft and Wendy's Weenies offered their culinary delights.
"It's such a lovely vibe to see such holiday cheer around town," said Marlene Roth, who lives in Long Island but often visits family who live in Greenwich.
In honor of the Christmas spirit, many passers-by took in the Live Nativity dramatic representation of Christ's birth, hosted by the First United Methodist Church of Greenwich, featuring a camel, donkey, cow, goats and sheep. This has become a true, local holiday landmark.
In addition to free home-made baked goods and a coupon for a free cup of coffee at Le Pain Quotidien, the Greenwich Baptist Church displayed a festive booth providing free Bibles, booklets and DVDs of "The Case for Christ," documenting journalist Lee Strobel's journey from atheism to faith through his two-year investigation of the Bible.
"We are offering a taste of Christmas to everyone this weekend," said Pastor Lloyd Syvertsen.
The Greenwich Baptist Church will be hosting a Christmas Eve Candlelight Service at 5 p.m.
A big crowd pleaser from seasons' past was the professional ice sculpture demonstration, held at the Greenwich Senior Center Front Lawn, provided by professional ice carvers from Apple Ice in New York City.
Many of the event's participating merchants will be continuing their great savings throughout the holiday season.
Be sure to check the Sentinel's weekly calendar of upcoming events for a holiday that's merry and bright.
"A Christmas Carol," the live play will be held at the Western Greenwich Civic Center on Wed., Dec. 13, at 4 p.m.
The Maccabeats Hanukkah concert, featuring a beat-boxing workshop and menorah lighting ceremony, will be held on Sun., Dec. 17, at Greenwich High School. 
Doors open at 11 a.m.; visit ChabadGreenwich.org for ticket information.