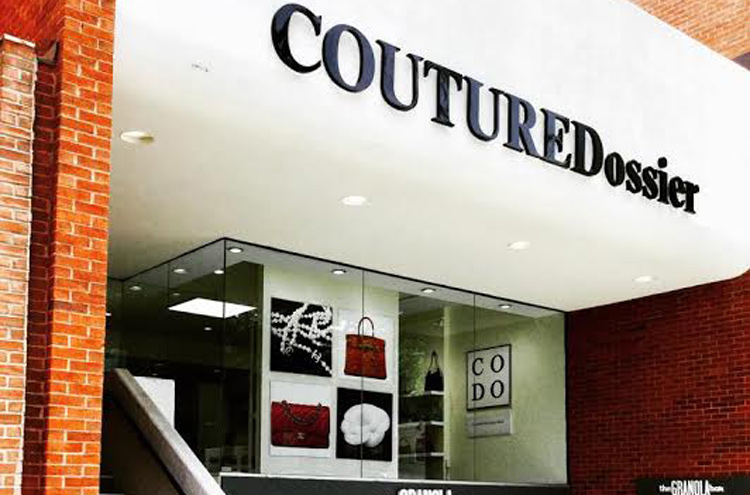 By Michelle Moskowitz
Sentinel Correspondent
Coco Chanel said, "Fashion is not something that exists in dresses only. Fashion is in the sky, in the street, fashion has to do with ideas, the way we live, what is happening."
Luxury vintage apparel and accessories has never been more accessible than it is today — thanks to Yulia Omelich, proprietor of Couture Dossier, an upscale Greenwich boutique providing retail, re-sale and up-cycling for fashion mavens.
Much like the classic Audrey Hepburn ambling by Tiffany's on 5th Avenue, just one glimpse of the colossal glass windows donning Omelich's latest curated fashions is all it takes to be inducted into her world of sophistication.
The boutique, located at 43 Greenwich Ave., right above The Granola Bar, boasts 2,500 square feet of luxurious pieces from high-end brands such as Stella McCartney, Loro Piana, Missoni, Brunello Cucinelli to coveted vintage handbags from Chanel, Hermes, and Louis Vuitton.
Omelich's carefully selected assortment of luxury goods exude a classic femininity, a quiet, elegant power.  She calls these goods "forever pieces" – artfully sourced, beautifully crafted, and meant to serve as a staple in one's wardrobe.
To date, Couture Dossier has worked with over 3,000 clients who come from all over; they include celebrities (such as Catherine Zeta-Jones), high-powered financial women, local politicians, stylists and passers-by.
After speaking for just a few minutes about Omelich's collections, she pulls out stylish wares showing their details and fine cut. 
She puts as much emphasis on curating enduring, classic pieces as she does on working only with brands that stand behind the business ethics and etiquette, valuing especially authenticity, sustainability and human rights.
Omelich says that all of the brands that she showcases are "labor conscientious," and she is invested deeply in their compliance.
"I want people to feel good about what they wear, but you do get what you pay for," said Omelich. "We vote with our wallet."
Eight years ago, Omelich first launched her boutique in Chappaqua, N.Y. where the shop was awarded "Best of Westchester 2011" for best vintage apparel.
When Omelich and her family decided to move to Greenwich a few years ago, it was Omelich's husband and business partner, Andrey, who had the vision to launch Couture Dossier in town when he first spotted the space on the Avenue.
Moreover, he transformed the vacancy into the coveted fashion sanctuary that it has quickly become since opening its doors on June 1.
"It's because of his continuous support that I'm able to do what I do," says Omelich.
The serenely open and yet linear space exudes an open-airy flow, emits natural, bright sunlight and offers a quiet, yet luxurious respite from the bustle of the Avenue. 
Sought-after bags and accessories are perched on custom, display cases – such as the classic Chanel double- flap Maxi bag featuring a deep burgundy lambskin interior – which Omelich said commemorates the color of Coco Chanel's uniform growing up as an orphan in France.
At the back of the boutique sits an intimate, glassed-in office, a cozy work area whereby Omelich often sketches designs for her private label collection CODO (which in Spanish means smart with your money) launched in 2012 featuring classic, elegant pieces at even better price points.
The label is produced in New Rochelle, N.Y.
Partaking of Chanel's view that fashion is in "the way we live" relates to another successful segment of Omelich's luxury business – up-cycling.
A client brings Omelich a vintage heirloom – a grandmother's fur wrap, or even a beautiful fabric that is going un-used – and Omelich (and her team) skillfully reconstructs that piece and turns it into a one-of-a-kind item. It's still less expensive that buying a similar piece off of a rack, but it carries sentimental and historical value as well.
"These pieces carry such memories and I put my heart and soul into recycling them." 
Omelich, whose family is from Moscow, grew up in Tatarstan, the largest and wealthiest state in Russia; she describes her childhood there as quiet and deliberate.
It's fair to say that Omelich's steadfast determination started as a young girl, when her family declared their greatest wish for her was to attend Moscow State University of International Relation (MGIMO) – the so-called Harvard of Eastern Europe.
"My whole life, since elementary school was in preparation to get accepted to that school.  I did not have a childhood or even a date, I just studied," said Omelich with a smile.
Proud to take on the challenge and honor her family, Omelich excelled in every area, particularly math, foreign languages (she speaks Russian, English and French) and literature.
"Catherine the Great, Tolstoy, and Dostoevsky – that filled my DNA," said Omelich.
Omelich says she was fond of American writers as well, such as J.D. Salinger and Hemingway.
After much determination and diligent study, Omelich got the news that she would be the first person in her family (as well as in her city of Kazan) to be enrolled in the prestigious school, which the crème of the crème of the Russian elite attended.
"My Mom collapsed on the ground when I got accepted," fighting back tears as she recalls her triumph. "It is by far my biggest accomplishment yet, other than giving birth to two human beings."
After graduation, Omelich moved to the United States and embarked on a stellar career, both in diplomacy and finance.
Omelich served as the Credit Risk Manager at United Nations FCU, where she covered structured finance products. 
Her Wall Street experience included being a vice president at Barclay's Capital, where she worked in the consumer/luxury goods sector, and working as an analyst at HVB, where she met her husband.
It was through these lucrative positions that Omelich learned a great deal about the luxury market and became quite interested in textiles as well as the manufacturing side of the business, ultimately prompting her to start her own luxury niche market.
Not surprisingly, though, the fashion seeds had already started budding when Omelich was just five years old and started designing her own dolls and pillowcases for fun. 
In elementary school and then high school, Omelich was creating most of her own fashions – her style embodied clean lines, high-quality fabrics, and cuts that exuded a sophistication – much like what she wears and presents for her clients today.
Omelich says today, many high-fashion houses (such as Gucci and Chanel) are incorporating Russian infused-style pieces representative of European nobleman from the 18th century.
Now becoming a fixture in the local community, Couture Dossier is hosting a sponsorship initiative with the Breast Cancer Alliance – "The Black Caviar Party" – on Fri., Nov. 17, where guests will be introduced to their new CODO collection as well as have the opportunity to up-cycle a special fur coat.
Each guest will also receive 15 percent off her entire purchase, even more delightful after sipping Veuve Clicquot champagne and indulging in black caviar –a perfect pairing when trying on some of her great, vintage finds.
Omelich said, in deference to Tolstoy, "Elegance is much more to help you portray who you are," said Omelich. 
Store hours are Monday through Saturday, 10 a.m. – 5 p.m.; the store is closed on Sunday.  Call (203) 900-1600 for more information or to schedule an appointment.
Don't forget to Follow @COUTUREDossier on Facebook and Twitter. For more information, visit Codogirl.com.