November 14, 2017
Greenwich Resident Honors Nurse with Daisy Award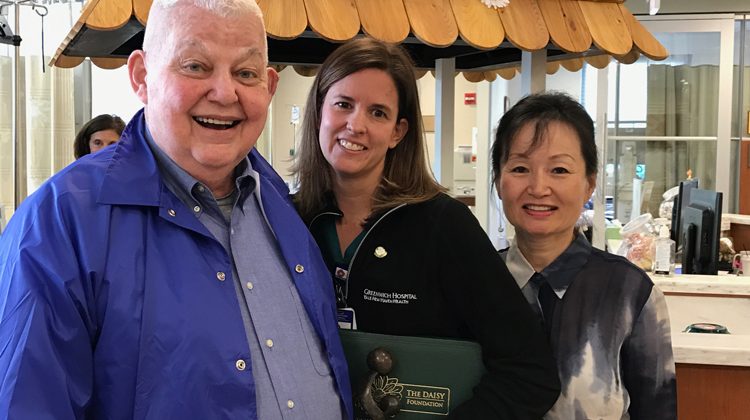 Imagine being told by your health insurance company that it will no longer cover your chemotherapy treatment for prostate cancer.
Now imagine having a nurse who goes the extra mile to ensure you receive the recommended treatment, no matter what.
That nurse is Kate Grabiec, RN, recipient of Greenwich Hospital's Daisy Award last month. The international award recognizes extraordinary nurses who make a difference in the lives of the people they care for every day.
An oncology nurse for 17 years, Grabiec was nominated for the Daisy Award by John Bartels, a Greenwich resident who credits the nurse's efforts with adding years to his life. Bartels has nonsurgical prostate cancer.
"Kate has kept my spirit up by her enthusiasm and medical excellence. Every month, she cares for me and many other patients under worse circumstances with unfailing caring, advice, treatment and support," said Bartels.
"She literally helped me add many years to my life and she has done it with a smile and optimism," he added.
"I am humbled and honored by Mr. Bartels kindness, and thankful beyond words to be given this award," said Grabiec of Trumbull. "As long as I can remember, I wanted to be an oncology nurse. It's difficult to express, but I love the interaction and long relationships we establish with our patients and their families."
An acronym for Diseases Attacking the Immune System, the Daisy Award was established by a family who was moved by the nursing care provided to their son.
"Daisy Award honorees personify Greenwich Hospital's remarkable patient experience," said Anna Cerra, DNP, RN, chief nursing officer and vice president of patient care services. "They consistently demonstrate excellence through their clinical expertise and extraordinary compassionate care. They are recognized as outstanding role models in our nursing community."
If anyone would like to share a story about a special Greenwich Hospital nurse, visit greenwichhospital.org/tools/thank-a-caregiver/daisy-award.aspx
Tags:
Daisy Award
,
greenwich
,
Greenwich Hospital
,
Kate Grabiec