November 11, 2017
Greenwich-based Couple's Philanthropy Raises Money for Veteran Care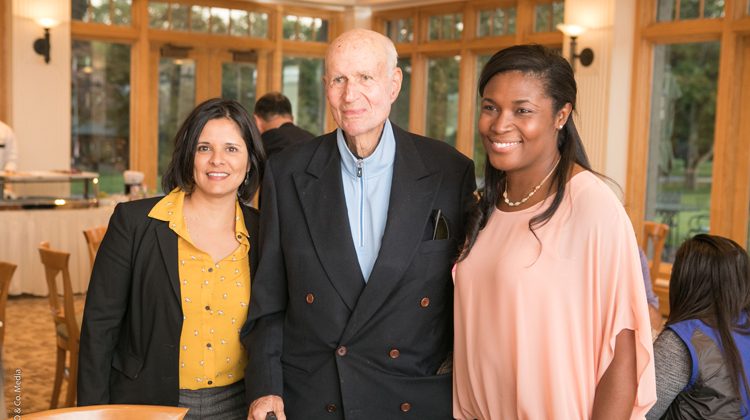 On Oct. 3, the Jonas Center for Nursing and Veterans Healthcare – a philanthropy co-founded by Greenwich residents Barbara and Donald Jonas ­– hosted its 6th Annual Jonas Golf Classic at the Quaker Ridge Golf Club in Scarsdale, N.Y. Nearly 70 guests turned out for the daylong event, which raises funds for the support and advancement of care and treatment for veterans. This year's event raised $235,000 – bringing the total raised from the Golf Classic to $1.7 million since 2012.
Guests enjoyed an exclusive golf clinic with PGA professional Michael Breed – star of the Golf Channel's "The Golf Fix" and one of the Top 50 Golf Instructors in America by both Golf Digest and GOLF Magazine. Brigadier General (Ret.) William Bester, Senior Advisor of the Jonas Veterans Healthcare Program, gave opening remarks prior to the shotgun start, and the day concluded with a dinner program, awards ceremony, and remarks from William H. Ahmanson, President of The Ahmanson Foundation. The Golf Classic was co-chaired by Donald Jonas, Jonas Center co-founder, Jonas Center Advisory Board member John Jonas, and event sponsor and Advisory Board member Adam Usdan. The event was made possible by the support of several generous sponsors, including gold sponsor, Olympus Partners.
The Golf Classic benefits the Jonas Center's Veterans Healthcare Program, the premier national initiative to support the graduate education of Nurse leaders focusing on veterans' healthcare. Given that veterans face critical healthcare challenges, the Veterans Healthcare Program advances nurses who respond to the complex needs of America's wounded veterans, with focus areas including post-traumatic stress disorder, traumatic brain injury, suicide prevention and polytrauma. The program's goal is to increase the number of Advanced Practice Nurses with expertise in caring for the veteran population and prepare academic faculty to educate future generations of nurses on veterans' healthcare needs. To date, the program has supported nearly 300 Scholars in 40 states.
Tags:
Barbara Jonas
,
Donald Jonas
,
greenwich
,
Jonas Center for Nursing and Veterans Healthcare
,
Jonas Golf Classic
,
Philanthropy