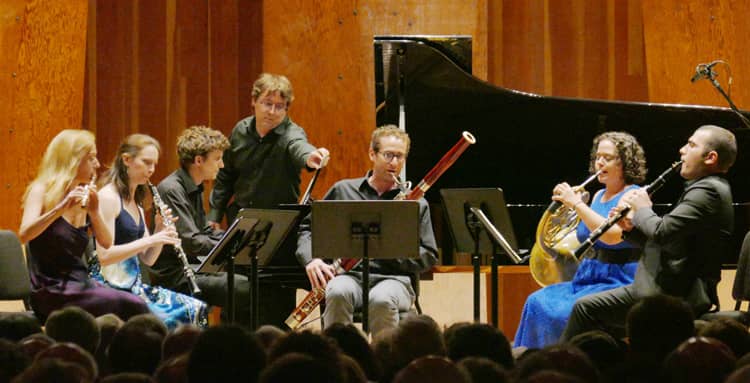 On Sunday, Nov. 12 at 4 p.m., the Friends Cole Concert Series presents Wonderful Winds, the first Marlboro performance of the 2017-2018 season in the Cole Auditorium.
The season opens with four popular and varied classics: Ligeti's Six Bagatelles for Wind Quintet, Barber's beautiful Summer Music, and, with the addition of piano, Beethoven's Quintet in E-Flat Major, Op. 16, and Poulenc's virtuosic Sextuor.
Artists include Marina Piccinini on flute, Mary Lynch on oboe, Michael Rusinek on clarinet, Wei-Ping Chou on horn, Brad Balliett on bassoon and Ieva Jokubaviciute on piano.
Musicians from Marlboro offer audiences across North America a sample of the spirited music-making that is characteristic of Marlboro.
Now in its 53rd season, Musicians from Marlboro, the touring extension of the Marlboro Music Festival in Vermont is noted not only for their joyous and thoroughly prepared performances but also for offering valuable touring experience to artists at the beginning of their careers and for featuring programs of unusual as well as beloved chamber repertoire. Visit marlboromusic.org for more details.
Doors open at 3:30 p.m. For more information, please call the Friends Office at 203-622-7938.