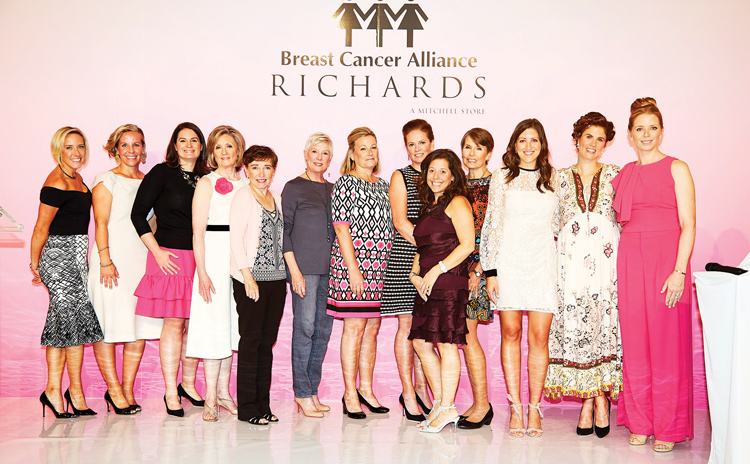 By Michelle Moskowitz
Sentinel Correspondent
More than 1,000 women donning pink scarves and dresses or adorned with a splash of pink courage came out to "rise, fight and inspire"—the central theme at the 22nd Annual Breast Cancer Alliance Luncheon & Fashion Show, held at the Hyatt Regency in Greenwich last week.
This year's event garnered the highest attendance ever—a testament to the determination and fierce advocacy that is necessary when battling a disease that affects 1 in 8 women, according to breastcancer.org. 
Based in Greenwich, the BCA is one of the largest private breast cancer organizations in the United States, which, while regional in scope, makes a national impact.
Since its inception in 1996, the BCA has awarded over $22 million in grants, supporting its mission to improve survival rates and quality of life for those impacted by the disease through awareness, prevention, early detection and treatment, with the ultimate goal of finding a cure.
While survival rates continue to improve with better, more targeted treatment, an estimated 252,710 new cases of invasive breast cancer are expected to be diagnosed this year. 
With two devoted staff members, Executive Director Yonni Wattenmaker and Executive Assistant Crystal Stoute, and a dedicated board of directors, advisory council and medical advisory board, the BCA is on the cutting edge of innovation: It provides scientific venture capital for groundbreaking research that is not yet developed enough to qualify for funding from institutions like the NIH.
As Gretchen Bylow, BCA's co-chair, said in her introductory remarks, "Eventually, no one goes untouched by cancer."
As guests gathered under a colossal white tent illuminated by one of the last bright skies of autumn, women shared their stories of survival, of struggle, and of hope.
One such woman was Noreen Agri, who recently completed her treatment after being diagnosed with breast cancer at the age of 71. 
When she noticed a lump on her breast, she called her daughter, Jennifer Zulli, an active volunteer with the BCA for the past three years. Jennifer insisted that her mother go and see her gynecologist immediately.
Shortly thereafter, Agri was diagnosed with breast cancer, underwent a lumpectomy, and is now doing quite well as she completes her final rounds of treatment.
"A lot of women of my generation are not big on getting mammograms or getting checked, but I think and I hope that will start to change," said Agri. "I'm extremely lucky, as it could have been much, much worse."
Attendees buzzed amid the thrill of bidding on hundreds of auction items such as a "Wellness Reboot Package," donated by Fairfield Family Acupuncture, a five-pack series donated by SoulCycle, a "three-course lunch with Chef Geoff Lazlo" donated by Mill Street Bar & Table, and much more.
Over $1.4 million was raised on the day—funding that will go toward improving and saving lives. 
"Real dollars from donors like you are making doctors smarter, tougher, and detection better. I beat breast cancer because of funding," said Hillary Corbin, co-chair of the BCA and a breast cancer survivor.
Tables were decked in pristine white linen with bouquets of bright, plump roses (provided by Something Special Flowers). Lunch plates were accented with decadent gluten-free, dairy-free cookies (provided by By the Bakery) with the following words emblazoned on each cookie: "Love. Rise. Survive. Thrive. Brave. Fight. Strong. Fierce. Inspire. Faith"—a vivid reminder of the human characteristics required to fight breast cancer or support a loved one going through it.
At each table of eight, the woman who had her most recent mammogram was the recipient of the prized bouquet—a celebratory reminder that yearly mammography screening is essential, since early detection gives women the best chance of survival.
This year's benefit speaker was Amy Robach, a news anchor for ABC's "Good Morning America."
Robach has traveled the globe covering major news events, including the terrorist bombings in Belgium; the Sandy Hook elementary school shooting; and election night from Trump headquarters. She even took viewers into an ice sinkhole more than 100 feet deep utilizing drone technology to give viewers a front-line view of climate change.
"I have literally been to the ends of the earth," said Robach.
"But nothing prepared me for what happened to me exactly four years ago on Oct. 30, when doctors told me that I had breast cancer."
Robach received her diagnosis literally on the job—after conducting her first-ever mammogram live on ABC in a mammo-van in Times Square with over 5 million viewers watching her undergo the test. 
At first Robach was reluctant to take on the assignment since she felt perfectly healthy and had no family history of the disease.
But ABC's Robin Roberts, a breast cancer survivor herself, offered Robach the following words of encouragement: "Show women it's not that hard, it's not that uncomfortable, and that it's important (to have a mammogram) —you will save a life."
That was all the inspiration that Robach needed.
But after the live mammogram, she got the call that there was something that needed a closer look. 
And after additional mammograms, a sonogram, followed by a biopsy, Robach was diagnosed with Stage 2 invasive breast cancer that had spread to her lymph nodes. She then underwent a bilateral mastectomy, the removal of both breasts.
"The more we all tell our stories, the more women we can save from this insidious disease," said Robach.
"We know that mammograms aren't perfect for sure, but they are the best test we have and they do save lives," said Robach.
"I am a completely different person than I was before cancer, as I know many of you are in this room.   For starters, by the way, I take all of my vacation days," she said, drawing a resounding cheer from the audience. 
"Today is a gift, tomorrow is not guaranteed: That is true for every single person in this room, whether you are fighting cancer or not."
Each guest was given a copy of Robach's New York Times best-selling book "Better," a candid memoir retracing the year following her diagnosis and how it transformed her life. 
As is customary each year, there was also a survivorship runway show on the glossy white catwalk.
This year, 13 beautiful models who are breast cancer survivors or currently fighting the battle strutted the runway in the latest fashions provided by Richard's, a longtime sponsor of the event.
Each woman radiated beauty, grace and power on the stage, bringing the audience to their feet.
After the survivor show, Richard's presented a spectacular haute-couture runway show of the newest collection by Oscar de la Renta, showcasing gorgeous tea-length gowns embroidered with gold sequins and white silk faille leaf appliques—perfect for a Greenwich black-tie event or an extravagant date night with a loved one. 
Greenwich resident Layla Lisiewski, founder of GreenwichMoms.com, an online resource for busy moms-on-the-go, attended the event in support of a dear friend, who at age 35 was diagnosed with the disease—but luckily caught it in time.
According to the American Cancer Society, the guidelines for a woman to have a baseline mammogram start at the age 40, although women who are at high risk may need to start earlier. 
Several survivors celebrated at the event were diagnosed with the disease in their 30s, such as Corbin, who was diagnosed with invasive ductal carcinoma and DCIS at age 34 after finding a lump herself. She was "told she was too young to have a mammogram," but persisted anyway.
Another was Caroline Brown, who also felt a lump herself and was diagnosed with Stage 2 ductal carcinoma at age 30, with no family history.   
This year, The Deborah G. Black Memorial Research fund was created in honor of the late Debbie Black, a beloved board member, president and co-chair of the BCA's research grants committee.
The award was presented by her children, Heather and Taylor, with pride but also with heartfelt sadness: "We are honored that the Deborah G. Black Memorial Research Fund will continue our mom's work on behalf of the BCA for year to come," they said.
The BCA has dedicated over $10 million to areas of breast cancer research including metastasis, triple negative breast cancer, as well as immunotherapy treatments.
They also invest in surgery fellowships at more than 25 of the nation's leading institutions (such as Memorial Sloan Kettering Cancer Center and Rutgers Cancer Institute of New Jersey) and provides regional educational outreach. It also provides screening and care for underserved women who would not otherwise have access to quality healthcare.
A few of the BCA's project research grants went to Sidi Chen, Ph.D., at Yale University for "discovering inhibitory factors of T-cell function in metastatic breast cancer immunotherapy" (supported by the Mitchell family); and E. Premkumar Reddy, Ph.D., at Mt. Sinai for "a targeted therapy for triple negative breast cancer stem cells."
Visit breastcanceralliance.org for information on resources, upcoming events and how to get involved.