November 3, 2017
Column: A Deep Dive into the High-End of Sales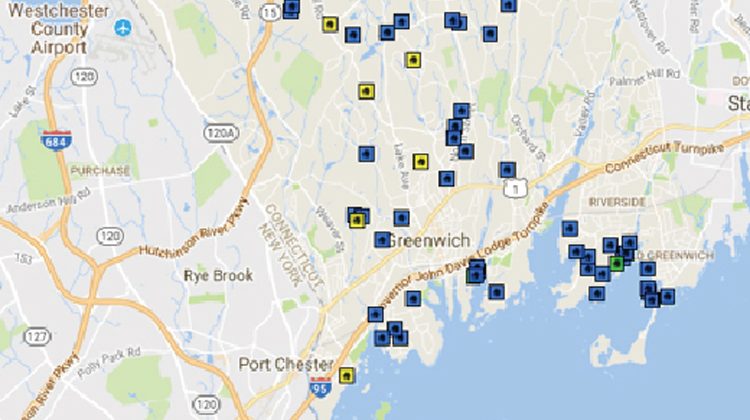 By Mark Pruner & Cesar Rabellino
The first 10 months of 2017 has seen very good sales for our high-end market above $5 million. So far, this year we have had 52 sales over $5 million in the first 10 months of 2017 and another 11 contracts waiting to close. This compares to only 39 sales for all of 2016.
Figure 1 – Greenwich Sales & Contracts Over $5M through Oct. '17
When you look at where these additional sales are, there has been a significant expansion in Old Greenwich and Riverside waterfront this year compared to last year. In addition, mid-country sales last year were concentrated between Round Hill and North Street last year. This year we are seeing sales spreading out toward Glenville and east of North Street in mid-country. Curiously, we have seen the same number of sales in backcountry Greenwich, but this year Conyers Farm has been the hot spot with 4 sales.
2- Greenwich Sales $5M for all of 2016
Now the story that has been going around is that owners have been listing their houses for years and selling them for deep discounts and many of them are taking a loss. While some of this is true, the picture is actually more positive than some folks would have you believe. Of our 52 sales so far, this year, 26 or half had never been listed before by their present owner who averaged 9 years of ownership. For those owners that hadn't listed their house before, the ratio of initial list price to sales price was 87% on average. These owners also sold for an average of $2.7 million above their purchase price and sold on average in just over 6 months on the market.
For the properties that had been listed before, the sale price to initial list price was .69 and the closing averaged 451 days after the house was put on the market. These properties not only had been on for well over a year, but they had gone through an average 2.8 listing.
At the extreme end, one mid-country property was listed back in 2010 for $29,000,000 and finally sold this year after 8 different listings totally 1,037 days on market for $7,699,998 or 27% of its initial list price. This property had been purchased in 2006 for $6,000,000 and a new house built in 2009. An anomaly like this make for good stories about how the market has depreciated, but they don't represent the heart of the market.
Only 7 of the 52 houses or 13% sold for less than their purchase price, which would appear to put the lie to houses selling at steep discount. The problem with this data is high end buyers want the house the way they want it. They have the money to fix-up or renovate the house the way they want to do so. So, comparing the raw sales price to purchase price doesn't give you a good idea of how the owners came out on their investment. Of the 52 high-end sales this year 10 owners put additions on their properties and 15 more listed their house as being renovated.
Now the problem is that there are no standards on listing as to what constitutes a renovation. For some listing agents new kitchen cabinets are a renovation, while others think any short of a gut renovation is minor not worth reporting and others never even enter the data one way or another. What is true is one family's improvements are another family's negatives only to be replaced with something appropriate for the new family, so customizations in and of themselves don't necessarily add value to a house at any price level, and particularly at the high-end where owners are particular.
While these are properties investments, they are also homes. You can't live in a stock certificate, so renovations are kind of like buying new clothes. You pay for what you want and shouldn't worry about whether someone else likes your taste or wants to buy your used improvements/clothes.
From the investment viewpoint also, house are not stocks and bonds, they move on a different timetable and make for a good place to diversify a portfolio. This may be what's driving the increase in high-end sales in Greenwich and the rest of Connecticut. As the stock market has soared to repeated highs taking some money off the table and investing in Greenwich real estate can seem like a good idea.
With the Connecticut budget not only put to bed, but in probably the most responsible budget in years things in Connecticut and the Greenwich high-end are looking up.
Mark Pruner is a Realtor with Berkshire Hathaway and one of the five members of the "New Team" at BHHSNE. He can be reached at 203-969-7900 or mark@bhhsne.com
Tags:
greenwich
,
High End
,
Real Estate
,
sales