October 20, 2017
Greenwich Country Day Steps Up Big for Niblock, ALS Fight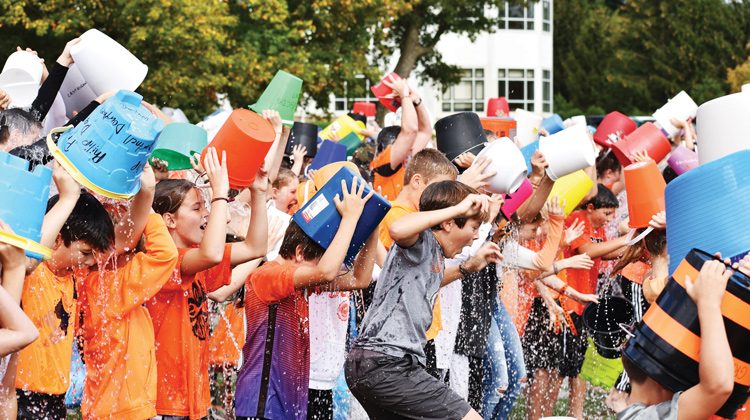 By Paul Silverfarb
Sentinel Editor
While Greenwich Country Day School's Andrew Niblock is battling amyotrophic lateral sclerosis (ALS), it's quite obvious that he's not battling the disease alone.
The GCDS community showed Niblock how much they care and support their former head of the lower school Friday, as over a thousand students, faculty and administrators took to the field in the middle of the campus and got wet…and also quite chilly. All for an amazing cause, as well as showing an amazing individual that the school is 'all in.'
"We are fully supporting the journey that he is on," said Jen Donnalley, director of community service at Greenwich Country Day School. "I say this to everyone, that I work for the best school on the planet, where if you have a crazy idea like getting 1,100 buckets of ice water on a field, it gets done. There's an army of people that are all in. 'I'm in' is the perfect phrase because everybody rallies around it here."
So on a cloudy and cool Friday, students and teachers filed onto the field. They stood in front of a bucket of ice water and completed the ALS Ice Bucket Challenge, with Niblock accepting the challenge as well.
"It's remarkable and overwhelming, said Niblock. "It's the way that this community does this sort of thing. It's with a full heart and full of energy. There is no better feeling than when this whole group gets together."
Leading up to the challenge, it was easy to see that everybody involved was excited to accept the Ice Bucket Challenge.
"I'm excited," said Tim Helstein, director of physical education at GCDS. "It's great. The meaning behind this makes this an exciting act. This is just a wonderful place, with the community that we have. We are all in it for each other and all in for everybody here. Whether it's this, or walking the campus for the walk-a-thon, it's just what we do here. We care and are there for each other."
And by the reactions of students and teachers touching the water prior to getting soaked, it was certainly cold enough. Despite the chill, people were walking around with bags on ice for those who were feeling a little more adventurous.
With students, faculty, administrators and Niblock ready to rock, Greenwich Country Day School headmaster Adam Rohdie took the microphone and got everybody fired up. Rohdie screamed "Country Day" and the student body screamed back "Tigers" several times.
"Look around. We are all here together, and when we do things together, we make a big difference," Rohdie said. "Today, every ice bucket out there earns $1 for ALS. So, you're saying 'What's $1?' Well look around and imagine all those dollars."
Rohdie then went through a practice run with the participants. Shortly after, it was time to get the party started.
When Rohdie gave the word, participants picked up their bucket and everybody at once counted down from three. However, instead of dumping the water, everybody screamed "I'm in," Niblock's two words that he's been using to wage his battle against ALS, prior to getting wet.
"We are teaching our children here what it means to come together for the community when times are tough," Donnalley said. "I think there's no better message that you can show children."
While the world record for people dumping ice water on their heads at the same time is 782, Greenwich Country Day School easily broke the record, but not officially.
"We aren't going for the official record because the rules are so strict and our little kids may or may not pour water on their heads," Donnalley said. "Then you could get disqualified, so we are not aiming for any records. But in our hearts and minds, we definitely are breaking the record."
For Donnalley, she was brainstorming with some fellow members of the Greenwich Country Day School community on how to show support to Niblock and his family and let them know that the school is all in.
That's when the thought of the Ice Bucket Challenge came into play.
So the night before the event at GCDS, people were out in force, collecting buckets and filling them up with water. Before the sun was able to rise on the day of the event, even more people were outside, organizing those buckets of water and filling them up with a healthy dose of ice cubes.
"People were out here late in night and early in the morning to make sure this was a success," Donnalley said. "If you didn't work in a place where you have people that rally around each other, you could never pull events off like this."
Some of the buckets were in the shape of pumpkins, baseballs and basketballs, while others looked like they belonged on a beach and not a grass field. The Force was strong with a couple of buckets, while others showed some love to beloved cartoon characters, Power Rangers and ninja turtles.
While there was a plethora of different buckets, all were put to great use, as the content inside the bucket was dumped over people's heads, completing the Ice Bucket Challenge and showing Niblock, who also participated in the Ice Bucket Challenge, that the GCDS community is all in.
And one could only imagine what this type of event at GCDS meant to Niblock.
"It's amazing," Niblock said. "If this is an opportunity for the students to learn about the impact that they can make, whether it's for them or for us, is great.
The Ice Bucket Challenge was started in 2014 as a way to raise awareness for ALS, as well as money to help find a cure to the disease. During the eight-week period back in 2014 when the Ice Bucket Challenge went viral, it raised $115 million. Since the challenge started, $89 million has been dedicated to research and four new genes have been discovered.
ALS is a disease of the nerve cells in the brain and spinal cord that control voluntary muscle movement. The disease attacks certain cells in the brain and spinal cord needed to keep muscles moving. Some of the signs of ALS, also known as Lou Gehrig's Disease, are muscle cramps and twitching; weakness in feet, hands or ankles and difficulty speaking or swallowing.
ALS doesn't come quickly, as there is a slow, but typically steady, progression. And there's currently no cure, however advancements are being made consistently.
Tags:
ALS
,
ALS Ice Bucket Challenge
,
Andrew Niblock
,
GCDS
,
greenwich
,
Greenwich Country Day School
,
Ice Bucket Challenge