October 12, 2017
Splurge to Donate Scarves to Cancer Patients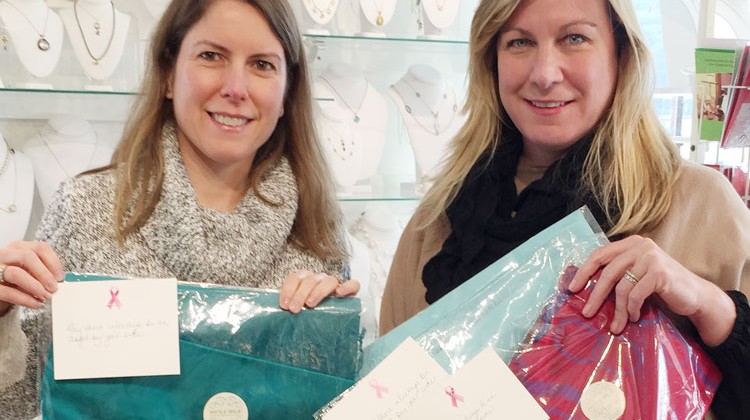 For the seventh consecutive year, Splurge is partnering with Smilow Cancer Hospital's Greenwich Hospital Campus to donate scarves to patients undergoing chemotherapy treatments. Through Oct. 31, with every purchase of $150 or more, Splurge will donate a pashmina scarf to a chemotherapy patient. Splurge customers are invited to hand write an encouraging note to the patient receiving the scarf. In the event that a customer would like to donate a pashmina scarf without meeting the minimum purchase, scarves are available for sale at a discounted price of only $20 each. At the end of the month Splurge will match the final quantity of donated scarves and double the gift. To date, Splurge and its customers have donated nearly 600 pashmina scarves to Smilow's Greenwich Hospital Campus.
Splurge owner Sonia Sotire Malloy shared, "Everyone I know has been touched by cancer in some way, and as a result I feel that it is important to support National Breast Cancer Awareness Month with a program to support patients going through treatment. With this annual program, our goal is to deliver comfort and encouragement to those who are going through treatment, and hope that these scarves provide a bright spot on a difficult day for Greenwich Hospital's chemotherapy patients."
Kristina Capretti, Program Director of Oncology Services at Smilow Cancer Hospital's Greenwich Hospital Campus added, "Through SPLURGE's generosity and thoughtfulness, patients undergoing chemotherapy treatment at our campus are able to enjoy a beautiful gift that brings a wealth of joy. Patients are appreciative of the handwritten notes of encouragement and look forward to wearing the gorgeous scarves, especially during the cool fall months. It is truly wonderful that SPLURGE is continuing this great tradition for our patients."
Splurge is located at 39 Lewis St. and open Monday through Saturday, 10 a.m. to 6 p.m.
Tags:
cancer patients
,
greenwich
,
Greenwich Hospital
,
Smilow Cancer Hospital